Scripture
Alma 46:16
And therefore, at this time, Moroni prayed that the cause of the Christians, and the freedom of the land might be favored.
Hymn
God of Our Fathers, Known of Old | Hymn #80
1. God of our fathers, known of old,
Lord of our far-flung battle line,
Beneath whose awful hand we hold
Dominion over palm and pine:
Lord God of Hosts, be with us yet,
Lest we forget, lest we forget.
2. The tumult and the shouting dies;
The captains and the kings depart.
Still stands thine ancient sacrifice,
An humble and a contrite heart.
Lord God of Hosts, be with us yet,
Lest we forget, lest we forget.
3. Far-called, our navies melt away;
On dune and headland sinks the fire.
Lo, all our pomp of yesterday
Is one with Nineveh and Tyre!
Judge of the nations, spare us yet,
Lest we forget, lest we forget.
Lesson
*Suitable for All Ages*
Begin by asking: What does it mean to be patriotic?
Read aloud: Patriotism is love and loyalty to your country. Many people show they are patriotic by waving a flag and celebrating national holidays. However, Ezra Taft Benson said there is much more to patriotism. He said:
"Patriotism is more than flag-waving and fireworks. It is how we respond to public issues. If we ask only, 'What's in this proposal for me?—What do I get out of it?'—we are not patriotic and we are not good citizens. But if we ask, 'Is this right?—is it good for the … people?—would it preserve and strengthen our freedom?'—then we deserve to stand in the company of [great patriots]. Patriotism is trying always to give more to the Nation than we receive. It is selfless service."
Ask: With this in mind, how can we be more patriotic? Possible answers include:
-Serving veterans and those currently serving in our military by writing letters, showing respect, and saying thank you.
-Showing respect for the flag of your country and its national anthem
-Participating in civil meetings, activities, and electoral processes
-Obeying the laws of the lands
-Respecting others who think differently than we do
-Learning more about major issues our country faces
Read aloud: Patriotism is important. Joseph Smith even included the mandate in the Articles of Faith that we believe in obeying, honoring, and sustaining the law. Jesus Christ told us to serve and to love others. All of these things are patriotic!
Finish by bearing testimony of why patriotism has been important in your life. If time permits, consider sharing stories about relatives or friends who have been an example of patriotism.
Featured Products
We know that George Washington was a moral man and an inspiring leader, but did he possibly know more than we suppose? Was he a national covenant maker like Moses, Abraham, Lehi, or Captain Moroni? did he understand that he was fighting for the liberty of a promised land protected by God, a place where the Lord's holy temples could be built?
The Washington Hypothesis explores the intriguing evidence that Washington and the other Founding Fathers knew the Lord had a greater purpose for America. It takes us on a fascinating historical journey through the miracles of the Revolutionary War to the foundational documents of this great nation to the symbolism evident in every corner of the nation's capital. Exploring how Washington's beliefs framed his every action, author Timothy Ballard draws compelling conclusions about the divinity of that great leader's calling. As we see the evidence of the Lord's hand in Washington's life, we may discover a much grander design at work in the founding of our nation—and thus a greater desire to strive to preserve those promised blessings.
Treat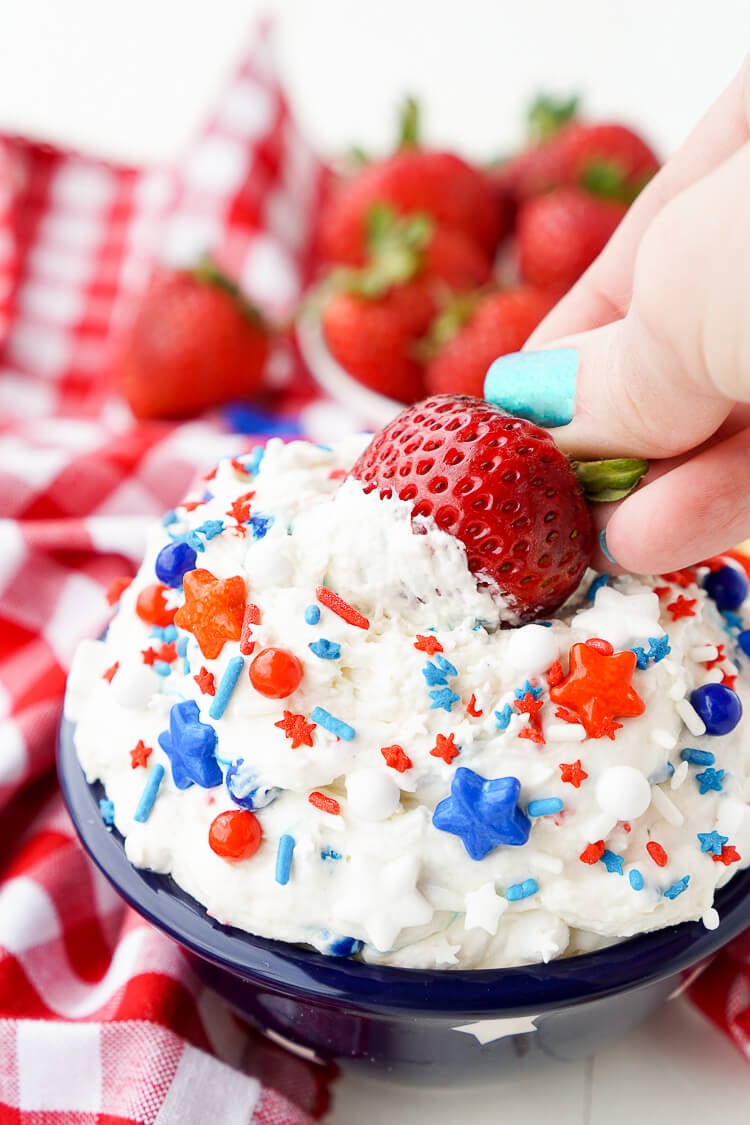 Red, White, and Blue Cake Batter Dip

Ingredients:
-8 oz whipped cream cheese
-4 oz cool whip, thawed
-1 cup white cake mix, dry
-1/2 cup sprinkles
Directions:
Beat or stir together the cream cheese, cool whip, and cake mix until fully combined. Stir in the majority of the sprinkles. Transfer to a serving bowl and sprinkle with remaining sprinkles. Serve with fruit, crackers, or cookies.
(Courtesy of Sugar and Soul)
Activity
Patriotic Bingo

Click here to print off these fun patriotic bingo charts! The last page is so you can cut them up and draw them out of a small bowl. Use small candies as markers. Courtesy of Crazy Little Projects.
Comments
comments