Are you looking for talk summaries, quotes, or a recap of the April 2022 General Conference? Here is our recap of the Saturday Afternoon Session.
Sustainings
The session began with the sustaining of Church leaders and the calling of the new Relief Society and Primary General Presidencies. You can learn more about the new Presidencies here.
Elder Jeffrey R. Holland
A humorous letter from a child about why General Conference is so boring kicked off Elder Holland's talk, which was anything but boring. He focused on how we can find the goodness of God throughout our lives, enjoying His sacred gifts.
"My plea today to our youth, and to you parents and adults who advise them, is to begin your search for happiness by embracing the bounty we have already received from the giver of every good gift." But how can we find all of those good gifts? Elder Holland invited us to "fear not, and believe only."
Elder Holland specifically talked to those who struggle with suicidal intention and ideation and struggle to find this happiness. "The light and life of the world came to give us life by conquering death. We must commit ourselves fully to that gift of life and run to the aid of those who are at risk of giving up that sacred gift," he said. "To any of our youth out there struggling, whatever your concerns or difficulties, death by suicide is manifestly not the answer. It will not relieve the pain you are feeling or see yourself causing."
Elder Patrick Kearon
Elder Kearon began by saying that we are intrigued by survival stories. He then pivoted to directly address those who may feel they are in their own survival story after facing abuse, trauma, or other similar circumstances. He spoke even more specifically to those who feel "there is no way out."
"God does not now, nor has He ever, seen you as someone to be despised," Elder Kearon said after recognizing that those who face abuse and violence often struggle with feelings of deep shame and hatred. "Whatever has happened to you, He is NOT ashamed of you or disappointed in you. He loves you in a way you have yet to discover."
"Jesus specializes in the seemingly impossible. He came here to make the impossible possible, the irredeemable redeemable, to heal the unhealable, to right the unrightable and to promise the unpromisable. And He's really good at it. In fact, He's perfect at it."
Elder Marcos A. Aidukaitis
Elder Aidukaitis spoke about how we could be a part of God's glorious purposes. "We were born at this time for a divine purpose — the gathering of Israel," he said. "The gathering makes an eternal difference to all. People of all ages can participate in this cause regardless of their circumstances and where they live. There is no other cause in the world more inclusive."
He directed a portion of his remarks directly to prospective missionaries and full-time missionaries. He encouraged missionary service. "Serving a full-time mission may seem difficult to us," he said. "Perhaps it requires that we give up important things for a moment. The Lord certainly knows this and He will always be by our side."
Elder Gerrit W. Gong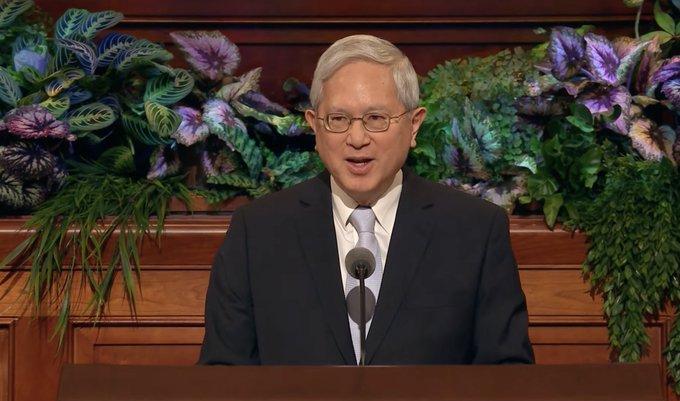 Societies, families, and individuals benefit when we discover our stories and share our roots and branches. "Learn and acknowledge with gratitude and honesty your family heritage," Elder Gong taught. "Celebrate and become the positive and where needed humbly do everything possible not to pass on the negative. Let good things begin with you." Elder Gong provided four ideas on how we can explore our family history and begin the process of knitting our hearts together:
Imagine yourself between the mirrors of eternity. On one side, those before you, and on the other, those ahead of you. Imagine your relations with them all.

Let the adventure of family history be intentional and spontaneous. 

Visit FamilySearch.org and begin exploring your family history.
Help unite families eternally through temple service.
"We each have a story. Come discover yours. Come find your voice, your song, your harmony in Him. This is the very purpose for which God created the heavens and the earth and saw that they were good."
Elder Adrián Ochoa
Is the plan working? Elder Ochoa addressed how we can turn to Christ if we feel like His plan is not working in our lives. "When we struggle, for any reason, that doesn't mean the plan isn't working," he taught. "That is when we need the plan the most."
Elder Ochoa related the story of Peter, walking on the waves in the midst of the storm, and what we can learn from the experience. Like Peter, we can choose to have faith in Christ. We can turn to Christ right away when we feel like we are sinking.
"Follow Jesus Christ instead of relying on your own wisdom and strength," Elder Ochoa said. "No matter how long you've been trying to tread water without Him, it's never too late to reach out to Him."
Elder Kevin S. Hamilton
"One of Satan's greatest lies is that men and women cannot change," Elder Hamilton said. "Worse yet, that we should not change." How can we be authentic to our divine nature and destiny and not to the pressures of the world? Elder Hamilton discussed a few ways we can repent and change to be true to our identity as children of God: 
First, we must humble ourselves.
Second, we must have faith in Jesus Christ.
Third, through His grace, He can make weak things become strong.
"The Savior worked out His infinite and eternal Atonement so that we could in fact repent, change and become better," Elder Hamilton said.
Elder Quentin L. Cook
Elder Cook began his talk by sharing the story of his older brother, Joe, who had to decide whether to go to medical school as planned or serve a mission. They determined they needed to answer three questions: Is Jesus Christ divine? Is the Book of Mormon the word of God? Is Joseph Smith the prophet of the Restoration? If the answer was yes, Joe could do the most good by serving a mission. These questions have helped Elder Cook throughout his life. As we ask similar questions, we can become converted ourselves.
"Over a lifetime of service and spiritual experiences, I have come to understand that true conversion is the result of the conscious acceptance of the will of God, and we can be guided in our actions by the Holy Ghost," Elder Cook taught. When we have experience conversion, we then have the obligation to accept to Lord's gracious offer to be His voice and His hands.
Aleah is a graduate of Southern Virginia University, where she studied English, Creative Writing, and Dance. She now works full time as a marketing and product manager, writer, and editor. Aleah served a mission in California and loves baking, Lang Leav poetry, Gaynor Minden pointe shoes, and Bollywood movies.
Leave a Comment