Are you looking for talk summaries, quotes, or a recap of the April 2023 General Conference? Here is our recap of the Saturday Afternoon Session.
Young Men & Young Women General Presidency Released
The calls of nine new leaders were announced at the April 2023 general conference. These calls comprise five General Authority Seventies, a new Young Women General Presidency (effective August 1, 2023) and a new counselor in the Young Men General Presidency. Learn more below about the new leaders.
Elder Dale G. Renlund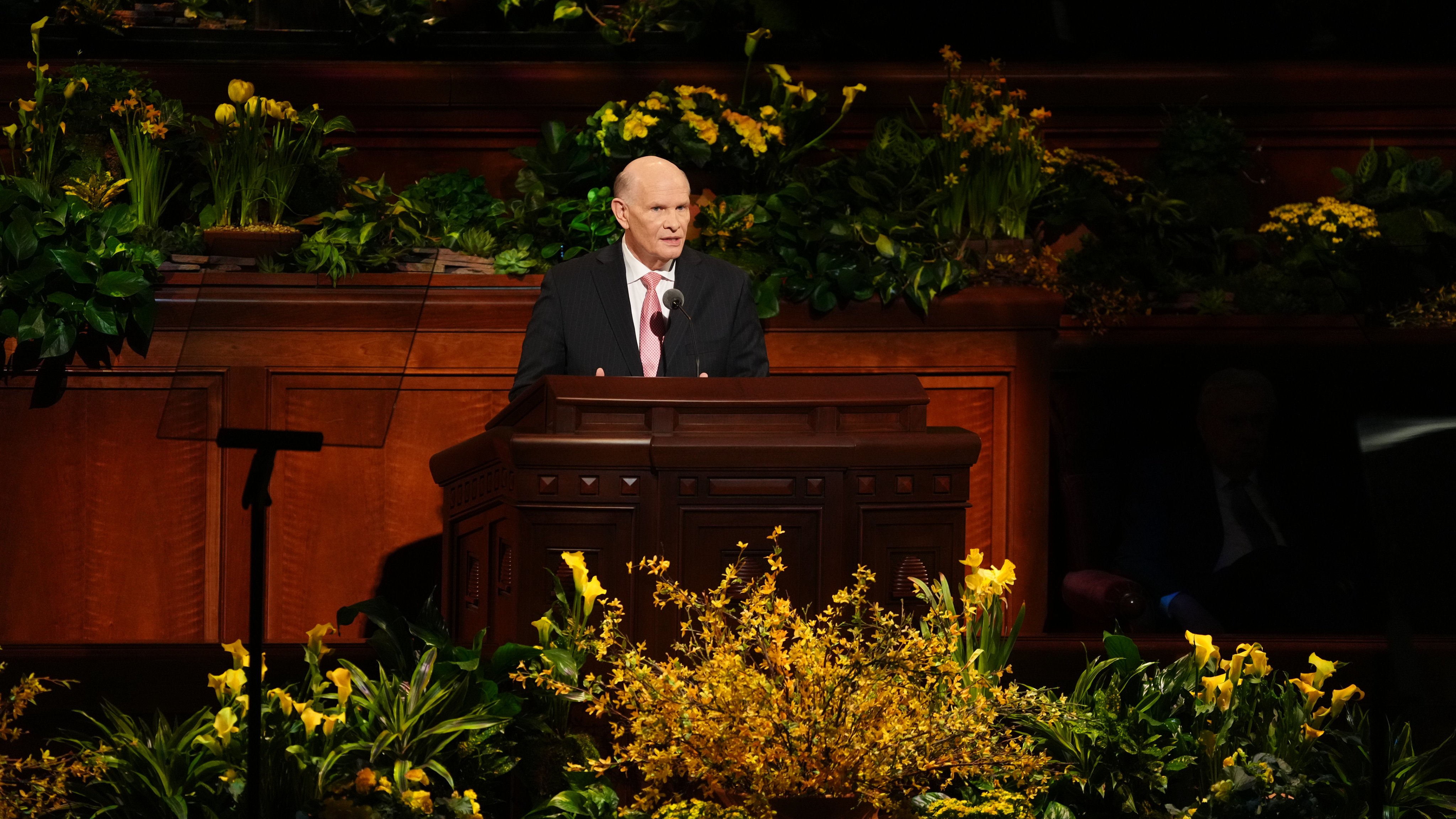 "A covenant is a pledge that we should prepare for, clearly understand and absolutely honor," Elder Renlund taught. "Our covenants give us power to stay on the covenant path because our relationship with Jesus Christ and our Heavenly Father is changed. We are connected to them by a covenantal bond."
Elder Renlund shared a powerful story from his family history. Lena was an impoverished widow who persevered because she trusted in the sealing power and knew she would see her husband and children again. She didn't receive her endowment and wasn't sealed. By proxy, she received her temple blessings as a family.
"We become His disciples and represent Him well when we intentionally and incrementally take on ourselves the name of Jesus Christ through covenants," he taught.
Elder Peter. F Meurs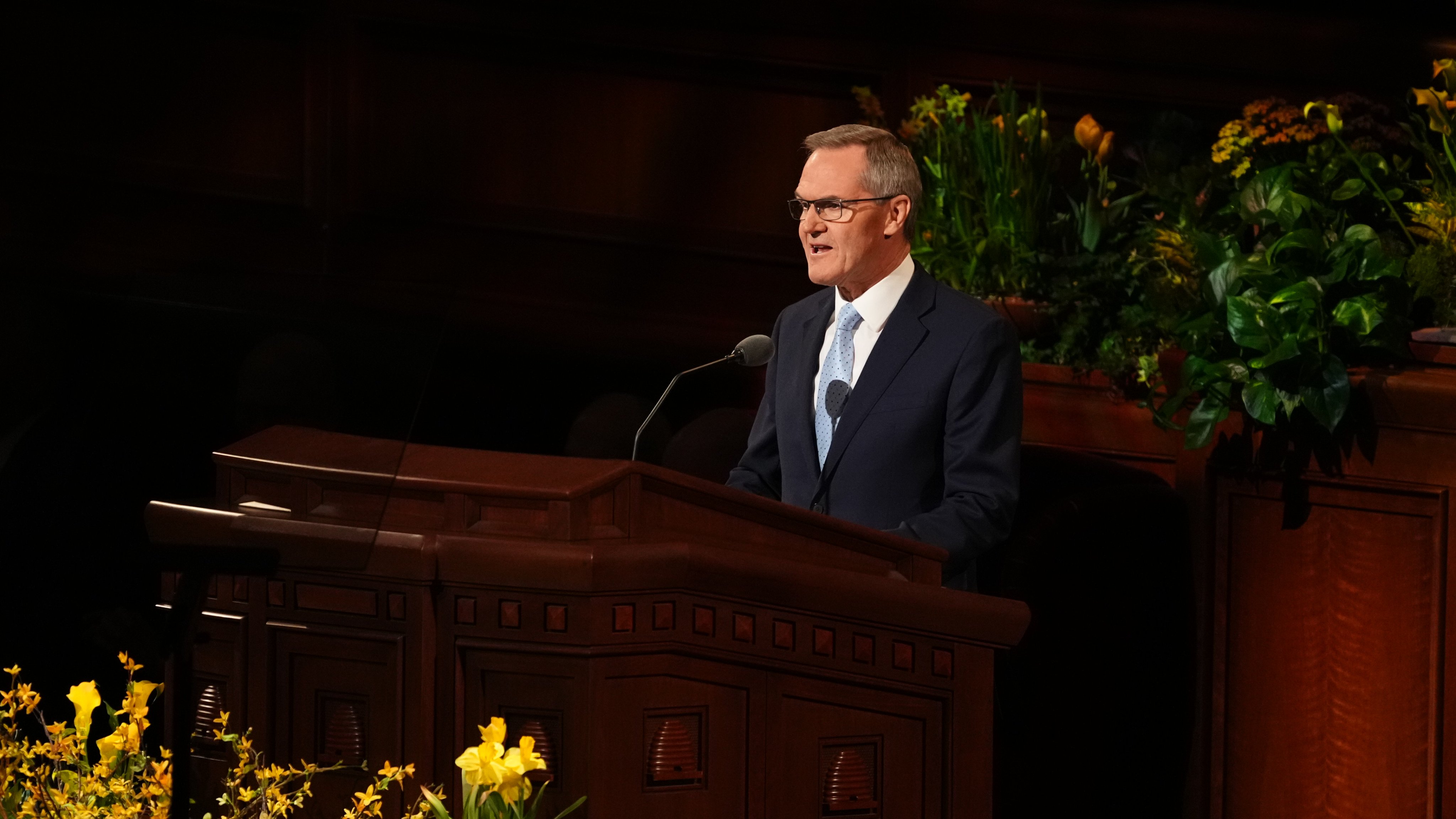 Elder Meurs spoke tenderly of his father, who has passed away, and how his father's testimony and faith impacted him. "Through sharing scriptures and feelings, my father helped me to establish a firm foundation of faith in the Lord Jesus Christ," he said.
Elder Meurs shared beloved scriptures from the Book of Mormon about the compassion and love of Jesus Christ. He also told a story of enjoying a vacation with his family. While driving, he fell asleep and caused a head-on car accident. After recovering, he looked around and saw his wife has a badly broken leg and other injuries. His three daughters appeared to be ok. However, his 5-month-old son was unresponsive. Elder Meurs was able to give his son a priesthood blessing as he clutched him to his chest on the ground. By the time the ambulance arrived 40 minutes later, he was responsive. All survived and healed with time.
Elder Meurs had deep feelings of guilt and remorse. He struggled for years to forgive himself and find peace. Years later, as he assisted others to find peace as a priesthood leader, Elder Meurs realized the Savior could heal him. "The Savior's healing and redeeming power applies to accidental mistakes, poor decisions, challenges, and trials of every kind — as well as to our sins."
"When our Savior Jesus Christ looks upon us, He sees and understands the pain and burden of our sins. He sees our addictions and challenges. He sees our struggles and afflictions of any kind—and He is filled with compassion toward us."
Elder Randall K. Bennett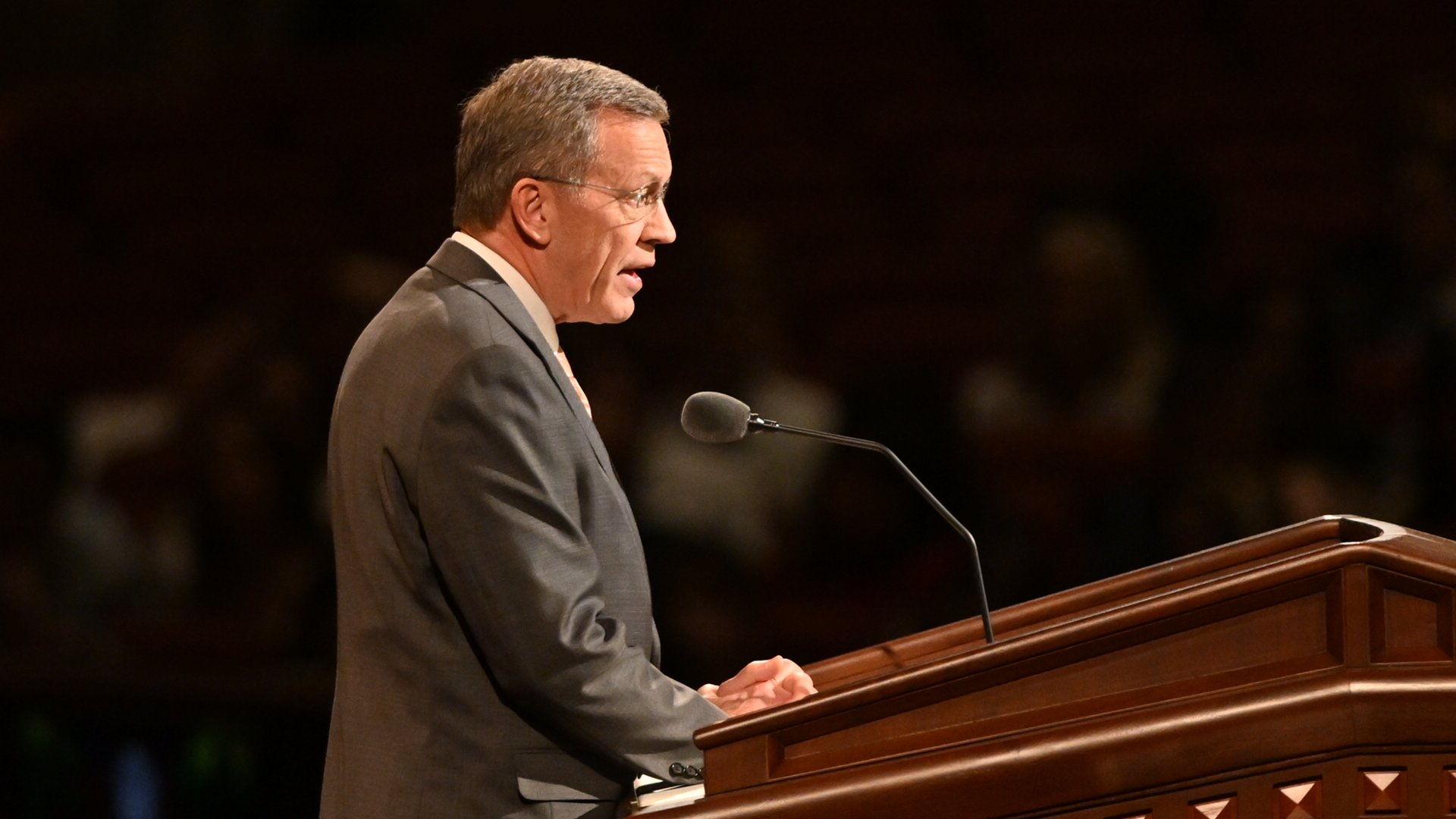 Elder Bennett shared the story of his parent's divorce and how he suffered significant anxiety for years. His patriarchal blessing was a gift that helped him through these difficult times. He taught some principles about patriarchal blessings.
"​​I studied my blessing frequently, and as a youth often daily, which helped me feel the comforting, guiding influence of the Holy Ghost, who helped reduce my anxiety as I followed His promptings," he said. "Cherishing my patriarchal blessing while I was young, blessed me with courage when I was discouraged, comfort when I was fearful, peace when I felt anxious, hope when I felt hopeless and joy when I needed it most."
He invited us to cherish our patriarchal blessing and to study it frequently. For those who have yet to receive a patriarchal blessing, he asked them to prayerfully consider when might be the right time and to prepare.
Elder Craig C. Christensen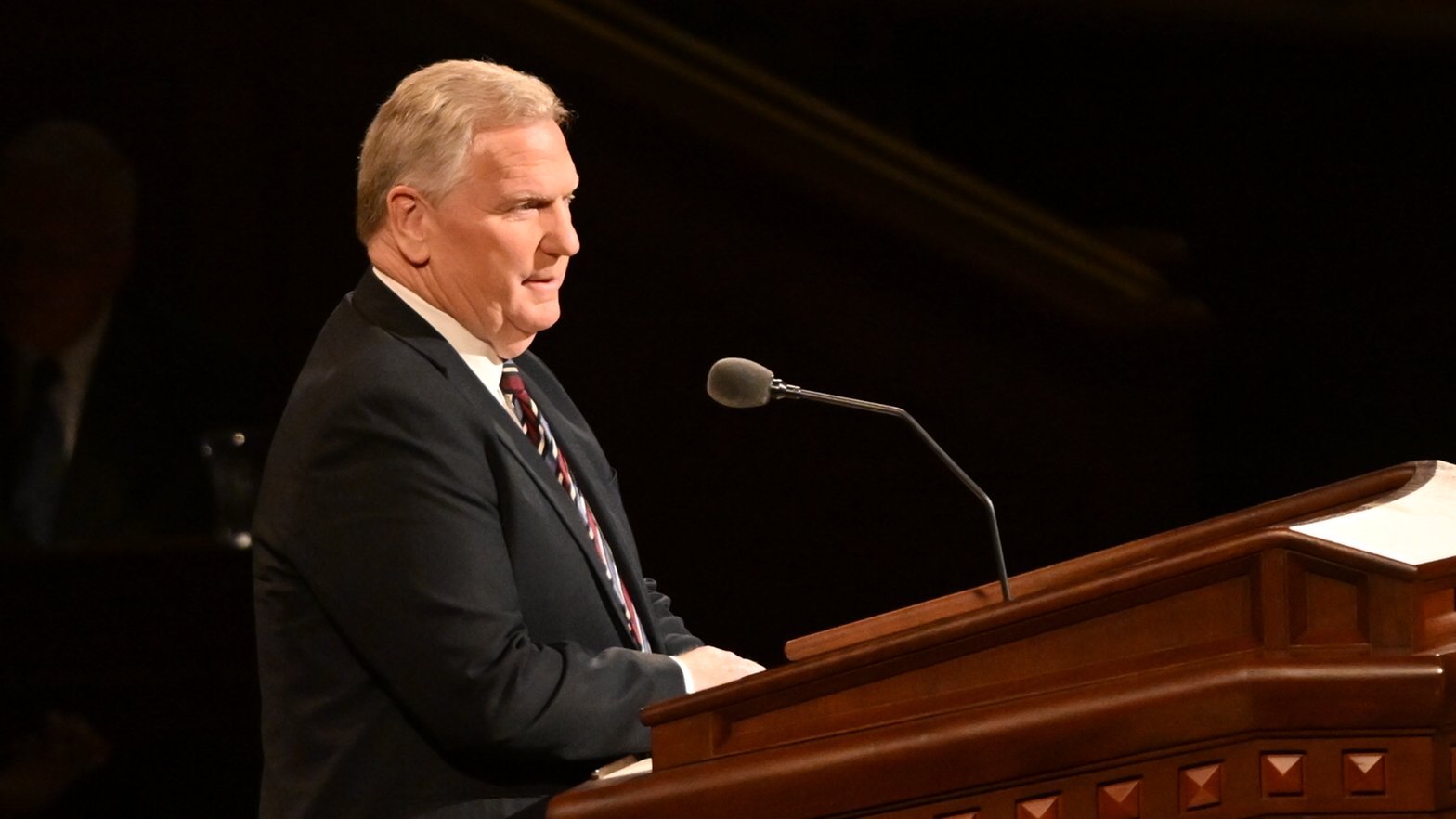 Elder Christensen wanted to strengthen the connection between joy and repentance—specifically the joy we can experience as we invite and help others to repent.
"If we really understood the value of true, godly joy, we would not hesitate to sacrifice any worldly possession or make any necessary life changes to receive it," he said. "Helping others repent is a natural expression of gratitude towards the Savior and it is a source of great joy."
Elder Evan A. Schmutz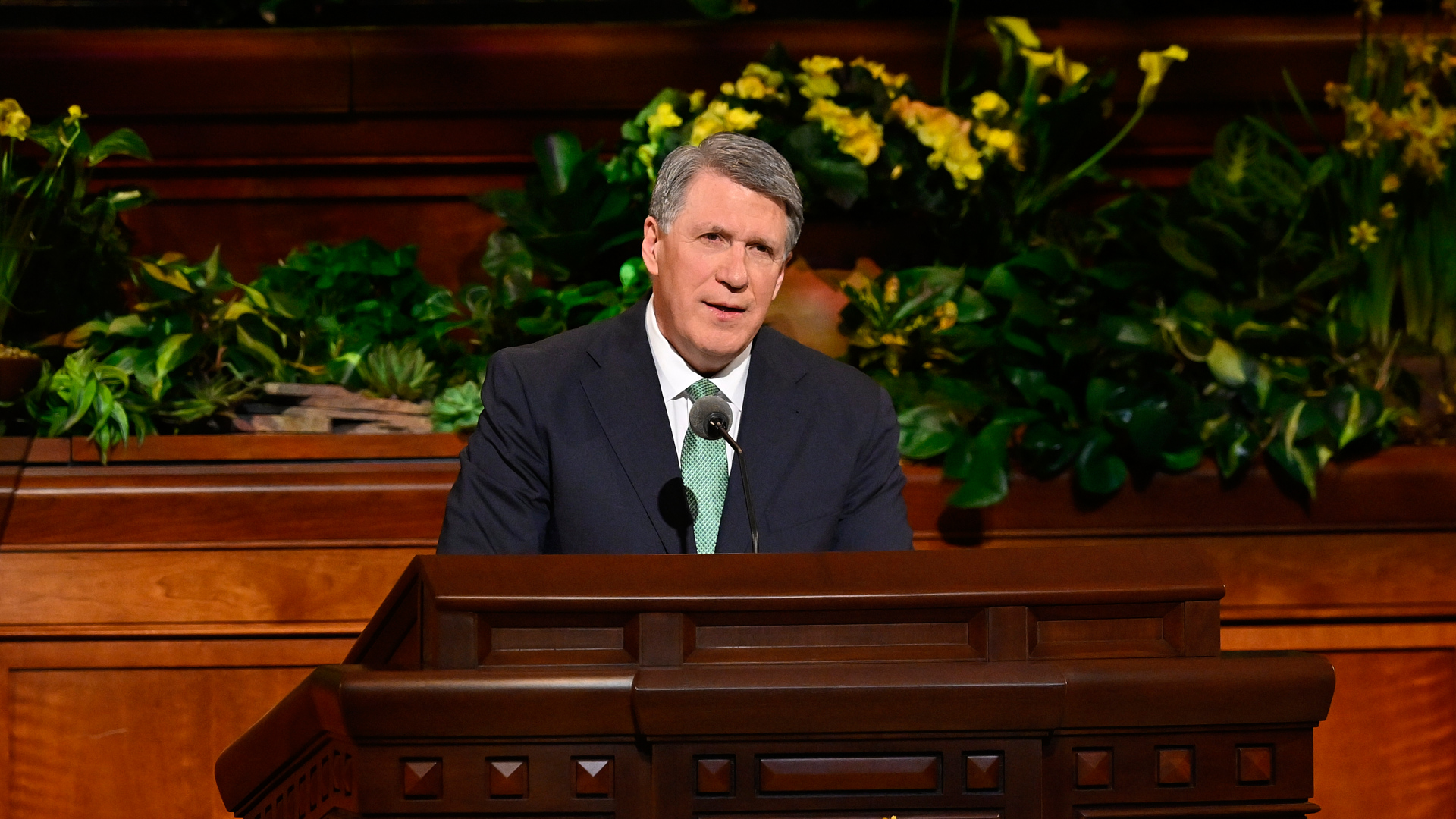 Elder Schmutz described Nephi's treatise on the doctrine of Christ as a treasure. The doctrine of Christ "encompasses the law of the gospel. It is the great plan for eternal life."
"How would intentionally trusting in the doctrine of Christ change the way we live our lives?" Elder Schmutz asked. "If we trust the doctrine of Christ, we will trust Christ enough to live by His every word." He invited us to make prayer a priority in our lives so we can focus on the Redeemer of the world and give up any false traditions and misguided philosophies of men that distract us from the doctrine of Christ.
Elder Schmutz told the story of Travis and Kacie. Travis was not a member of the Church and Kacie had drifted from her faith. Travis became a missionary to Kacie after meeting with the missionaries and joining the Church. They were sealed in the temple and both suffered health challenges. Kacie has a rare genetic disease that would eventually leave her blind. Travis had tumors that would only give him years to live.
"I have never been happier or more hopeful in my life. We hold to the promises we receive in the temple," Kacie told Elder Schmutz. The couple continues to move forward in faith. "Suffering with faith in christ is linked to becoming perfect in Christ," Elder Schmutz said. "People who trust the doctrine of Christ endure to the end."
Elder Benjamín De Hoyos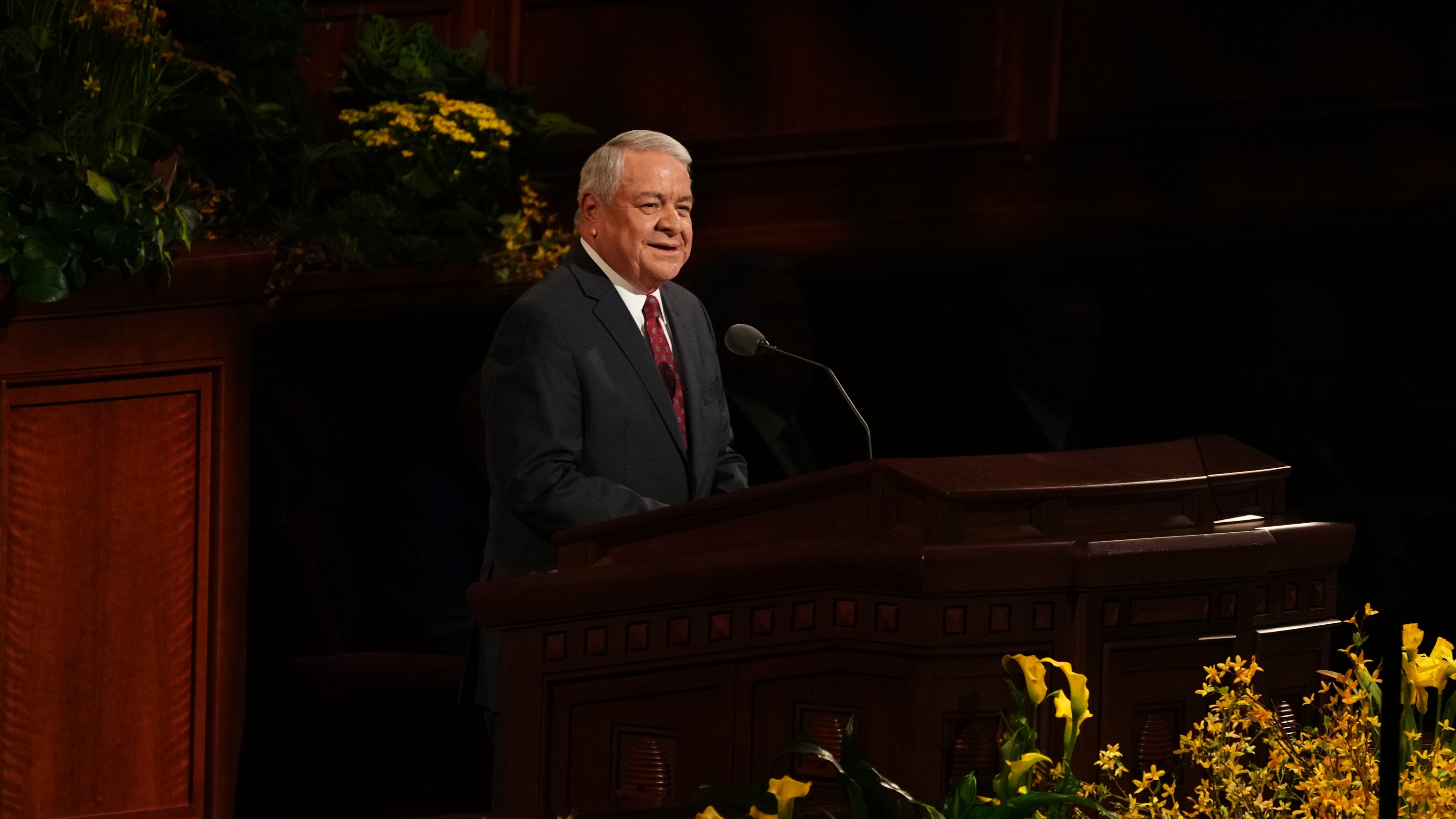 Elder De Hoyos spoke tenderly about the temple. "The construction and proper use of temples has been in any dispensation a sign of the true church of Jesus Christ," he taught.
A central focus of God's plan is to unite families for eternity. In order to fulfill this plan, we need to embrace family history and temple work. "To those of you who do not feel capable of doing this work, you should know that you are not alone. We can all turn to the tools that the church has prepared and that are found in the FamilySearch centers," Elder De Hoyos invited.
"The spirit will flood our hearts, awaken our faculties to do it, and guide us as we search for the names of our ancestors. But let us remember that family history is more than just looking for names, dates, and places. It is uniting families and feeling the joy that comes from extending to them the ordinances of the gospel."
Elder Dieter F. Uchtdorf
Elder Dieter F. Uchtdorf spoke about the need for parents to nurture a child. This reflects the divine pattern of our Heavenly Parents. "Children form their understanding of life, love, and God based on what they observe from the people around them."
"My message to all parents is this," Elder Uchtdorf said.  "The Lord loves you. He is with you. He stands beside you. He is your strength in guiding your children to make right choices. accept this privilege and responsibility courageously and joyfully." Jesus Christ is the strength of parents!
Elder Uchtdorf invited parents to focus on the small and simple things they can do to nourish their families.
"Your love for your children creates a rich environment for teaching truth and building faith. Make your home a house of prayer, learning, and faith — a house of joyful experiences, a place of belonging, a house of God."
What if you feel overwhelmed and hopeless about your parenting or family situation? Elder Uchtorf invited parents to relax!
"All parents worry about being not good enough. Fortunately, there is a source of divine help for parents. It is Jesus Christ. He is the source of our mighty change of heart. As you open your heart to the Savior and His teachings, He will show you your weakness. If you trust Jesus Christ with a humble heart, He will make weak things become strong. He is the God of miracles. Does that mean you and your family will be picture-perfect? No. But you will get better."
"Jesus Christ is the strength of families. Jesus Christ is the strength of youth. Jesus Christ is the strength of parents."