Are you looking for talk summaries, quotes, or a recap of the April 2023 General Conference? Here is our recap of the Sunday Morning Session.
Elder D. Todd Christofferson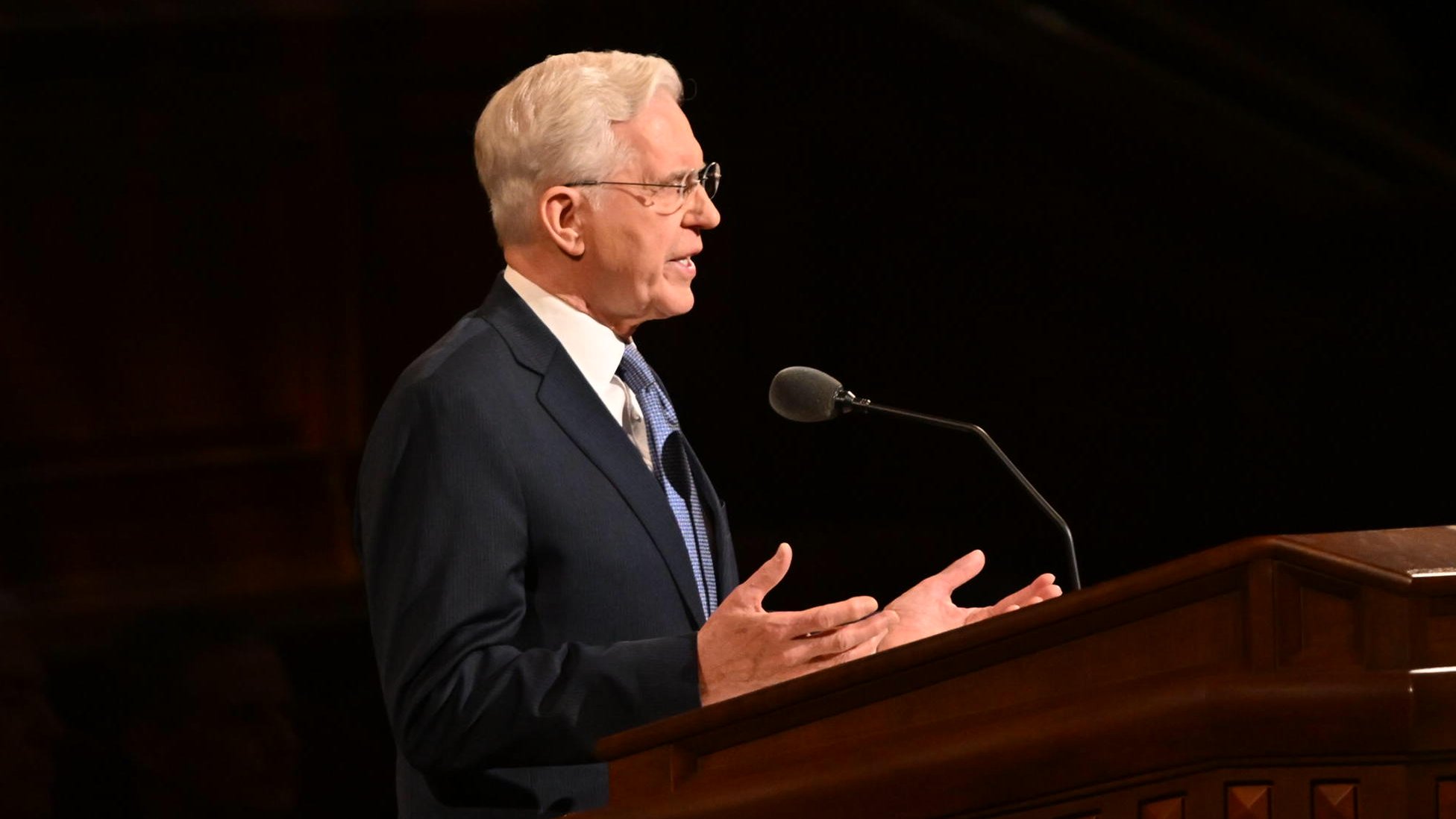 Elder Christofferson spoke on becoming one and referenced the intercessory prayer given before Easter week began. "Holy Father, keep through thine own name those whom thou hast given me, that they may be one, as we are," the Savior prayed as recorded in John 17.
"In our extremely contentious world, how can unity be achieved, especially in the Church where we are to have one Lord, one faith, one baptism?" Elder Christofferson said the answer is becoming one in Jesus Christ. "Only in Jesus Christ can we truly become one."
The two great commandments given by Christ can help us achieve unity. "To put on Christ certainly includes making His first and great commandment, our first and greatest commitment, and if we love God, we will keep His commandments," Elder Christofferson said. "Unity with our brothers and sisters in the body of Christ grows as we heed the second commandment — inextricably connected to the first — to love others as ourselves."
Elder Christofferson told the story of B.H. Roberts, who faced unrepentant feelings and was in threat of being released from the Presidency of the Sevent. Love, however, prevailed. Elder Roberts said he was prepared to reunite with his brethren. Like Elder Roberts learned, unity comes as we submit our will to God's.
"Unity doesn't require sameness, but it does require harmony," Elder Christofferson taught. "It is only in and through our individual loyalty to Jesus Christ that we can hope to be one – one within, one at home, one in the Church, eventually one in Zion, and above all, one with the Father and the Son and the Holy Ghost."
President Camille N. Johnson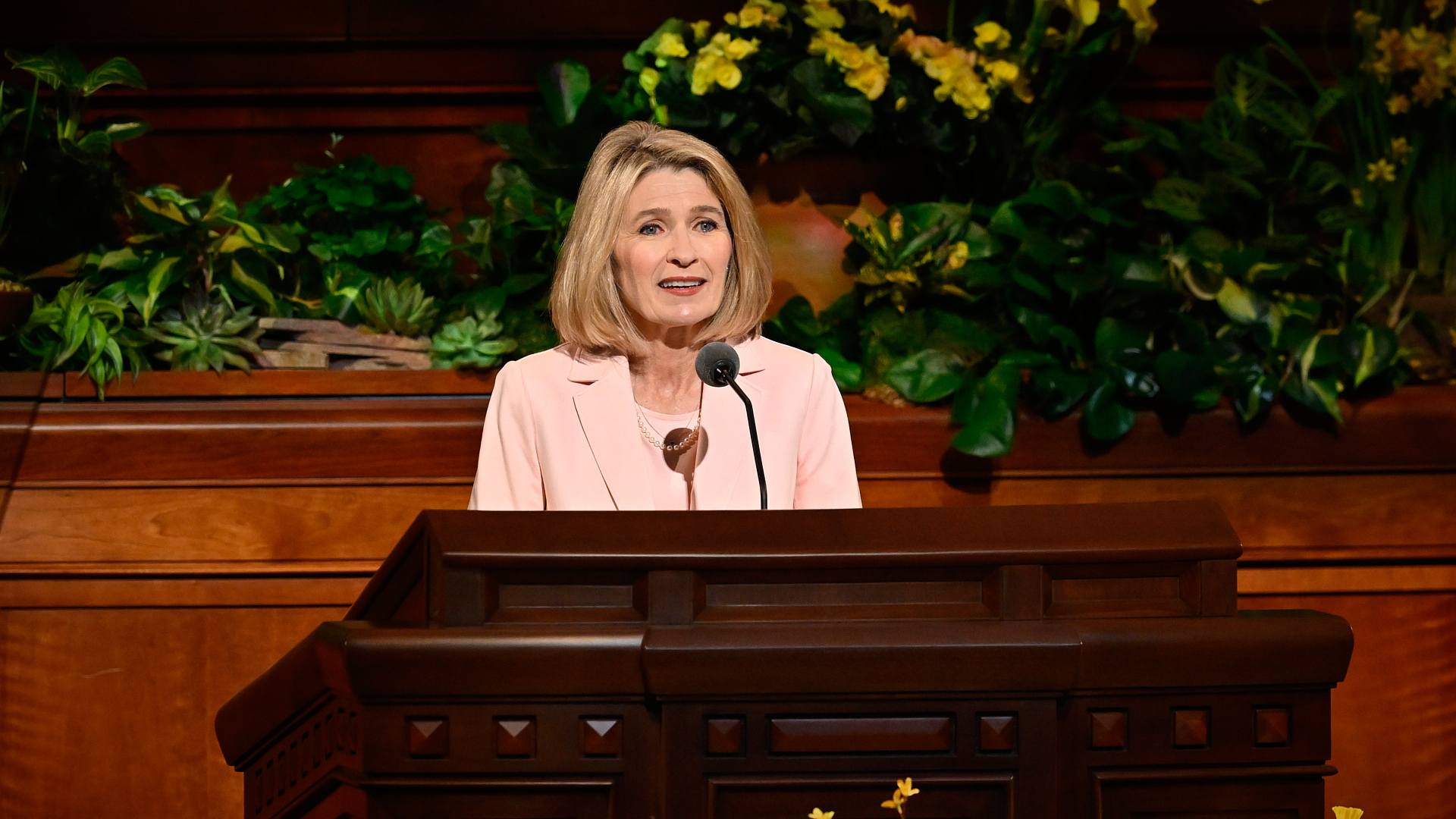 President Johnson began her talk by relating the miracle of the man with palsy. What more do we know of the friends who provided the care for the man with palsy? Through their charitable efforts, they learned the source of healing. Jesus Christ is relief! "Because we love God and have covenanted to serve Him, we can partner with the Savior to help provide temporal and spiritual relief for those in need, and in the process find our own relief in Jesus Christ," President Johnson testified.
She spoke of a metaphorical backpack that we carry as part of living in a fallen world. There are three types of rocks in the backpack: rocks from sin, rocks from the misdeeds of others, and rocks from living in the fallen condition, like the effects of natural disasters and disease. President Johnson taught the rocks do not need to be heavy if we turn to Christ. He will help carry our load. We can yoke ourselves to the Savior by making covenants with Him.
"Why are we stingy with our rocks?" President Johnson asked. "Why do we insist on carrying our rocks alone?" She responded that it is a personal question we are each meant to consider. Through repentance and service, we can help lighten the rocks in our backpack. "Our covenantal blessing is to partner with Jesus Christ in providing relief, both temporal and spiritual, to all of God's children. We are a conduit through which He provides relief."
"Jesus Christ can lighten our load. Jesus Christ can lift our burdens. Jesus Christ provides a way for us to be relieved of the weight of sin. Jesus Christ is our relief."
Elder Ulisses Soares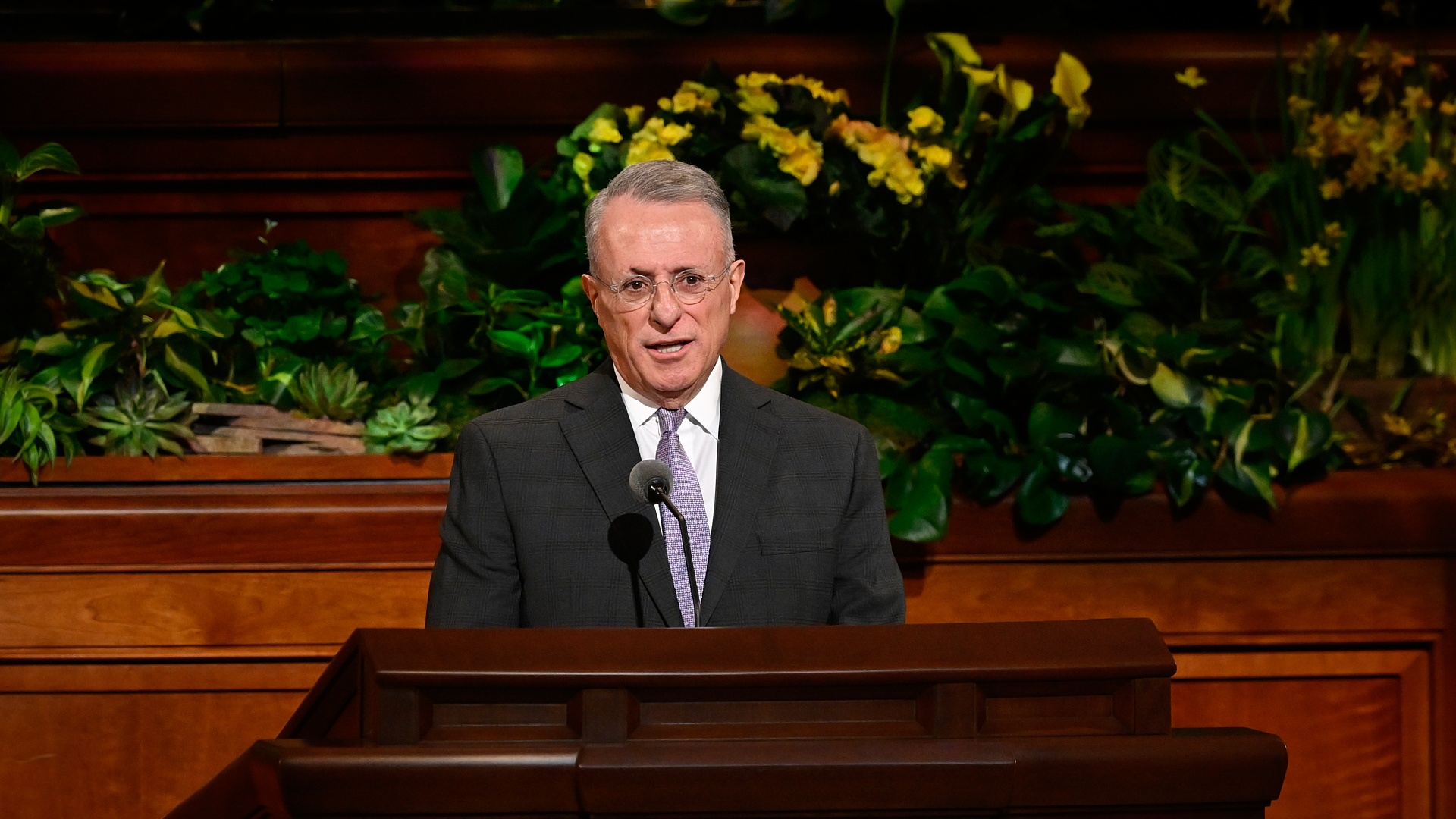 Elder Soares focused his talk on finding peace in Christ. "As His followers, we are His peculiar people, called to proclaim His virtues, promoters of the peace so generously offered through Him and His atoning sacrifice," he said. "This peace is a gift promised to all who turn their hearts to the Savior and live righteously. Such peace gives us the strength to enjoy mortal life and enables us to endure the painful trials of our journey."
Elder Soares spoke out against contention and repeated President Nelson's plea to end personal conflict in our lives. He warned against the angry atmosphere often found on social media and the internet especially as a place where rage would be stirred up. Charity is an attribute of the Savior that can become part of our character and help eliminate contention in our lives. "Jesus perfectly exemplified what it means to own this bond of perfection and peace, especially when facing the agonizing events that preceded His martyrdom."
Another important aspect of promoting the peace of the Savior is the manner in which we treat each other. "One of the most evident signs that we are drawing closer to the Savior and becoming more like Him is the loving, patient and kind way which we treat our fellow beings, whatever the circumstances," he said. Elder Soares invited us to ponder on ways we can promote peace. "As we strive to develop attributes like the Savior's, we can become instruments of His peace in the world."
Elder Kazuhiko Yamashita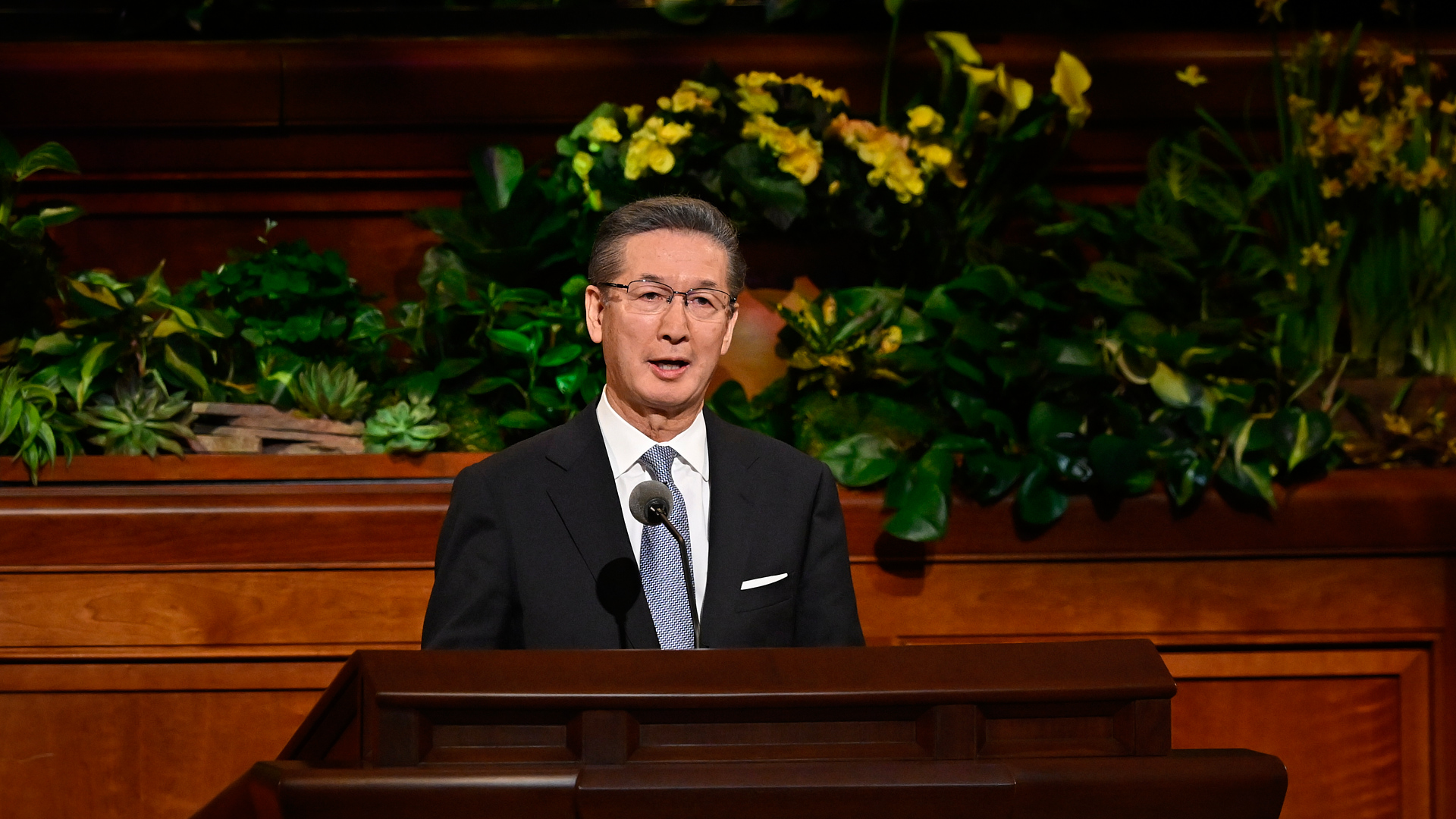 Elder Yamashita prayerfully discussed patriarchal blessings. As part of his assignments, he often meets with stake patriarchs. He always asks them the youngest and oldest people they have given blessings to. So far, the youngest was 11 and the oldest was 93. Elder Yamashita shared that he received his blessing at 19, 2 years after he was baptized.
"My dear young men, young women, parents and bishops, patriarchal blessings are not only for preparation to serve a mission. Worthy baptized members may receive their patriarchal blessing when the time is right for them," he taught. He said everyone's timeline is different and those who feel inspired to receive their patriarchal blessing should talk to their leaders and pursue this special gift.
Elder Yamashita shared two purposes for patriarchal blessings: "First, patriarchal blessing contains personal counsel from the Lord to you. Second, a patriarchal blessing declares your lineage in the house of Israel."
"A patriarchal blessing is eternal, and if you live worthy, promises that are not fulfilled in this life will be granted in the next.
Elder Neil L. Andersen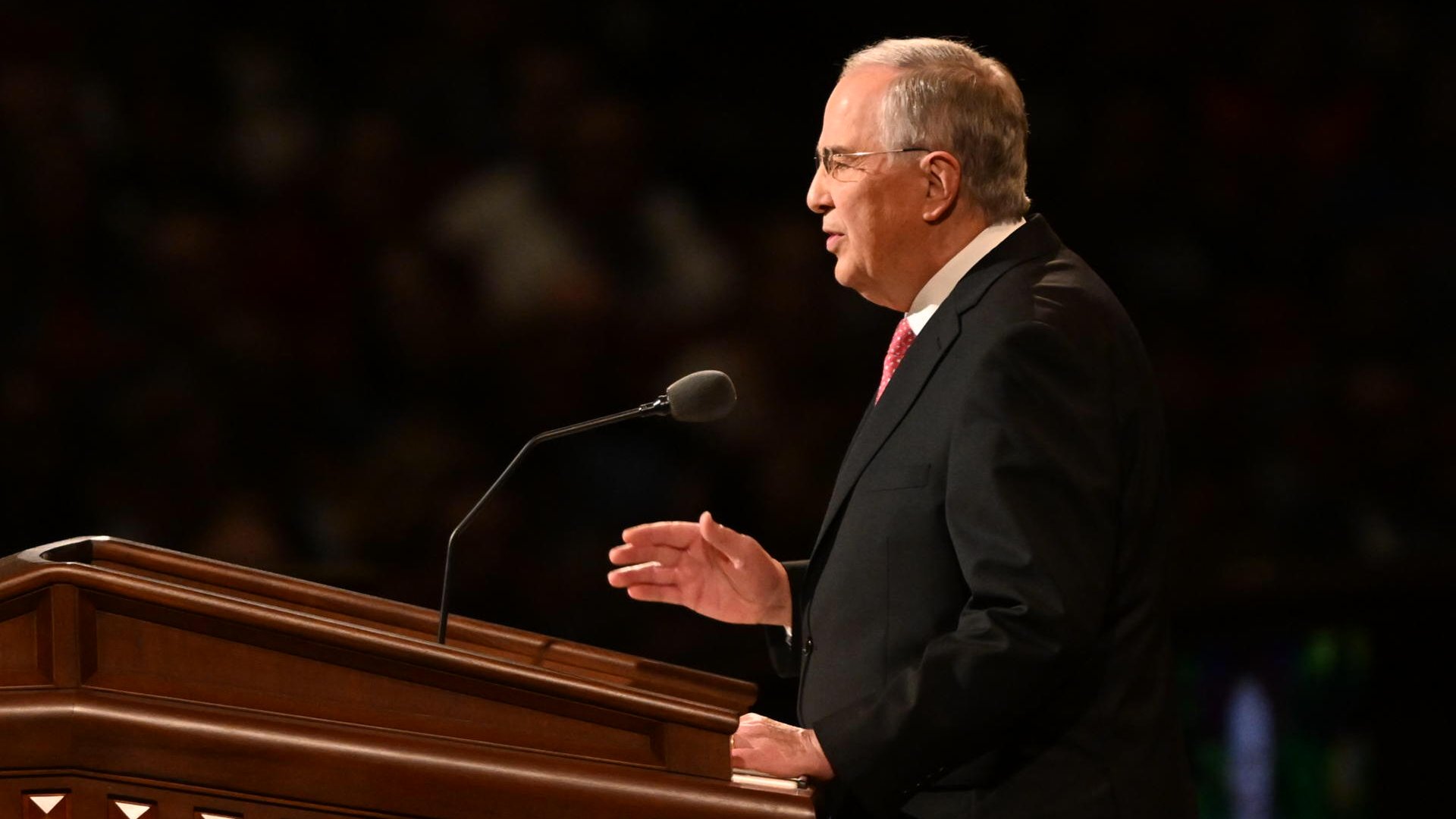 Elder Andersen opened his talk by telling the story of Alma the Younger as found in the Book of Mormon. It says in Alma 36, "As my mind caught hold upon this thought, I cried within my heart: O Jesus, thou Son of God, have mercy on me." Elder Andersen's message was themed on "catching hold" to Jesus Christ.
"My prayer at this Easter season is that we will more consciously shape, strengthen, and secure this preeminent thought of Jesus Christ in the chambers of our soul," he taught. "By focusing our attention on Jesus Christ, all else around us — while still present — is viewed through our love for Him. Less important distractions fade."
"As you continue to attentively catch hold of this thought of Jesus Christ, trust in Him and keep His commandments, I promise you not only heavenly guidance but heavenly power," Elder Andersen said. He shared a powerful story of a mother with cancer whose condition progressed rapidly. She had made an appointment for their family to visit the temple. On that day, she passed from her illness. Her husband and children kept the appointment and were strengthened by being in the temple together.
"In this Easter season, I witness the complete and absolute truth of the Savior's incomparable atoning sacrifice and of His glorious resurrection."
Elder Kevin R. Duncan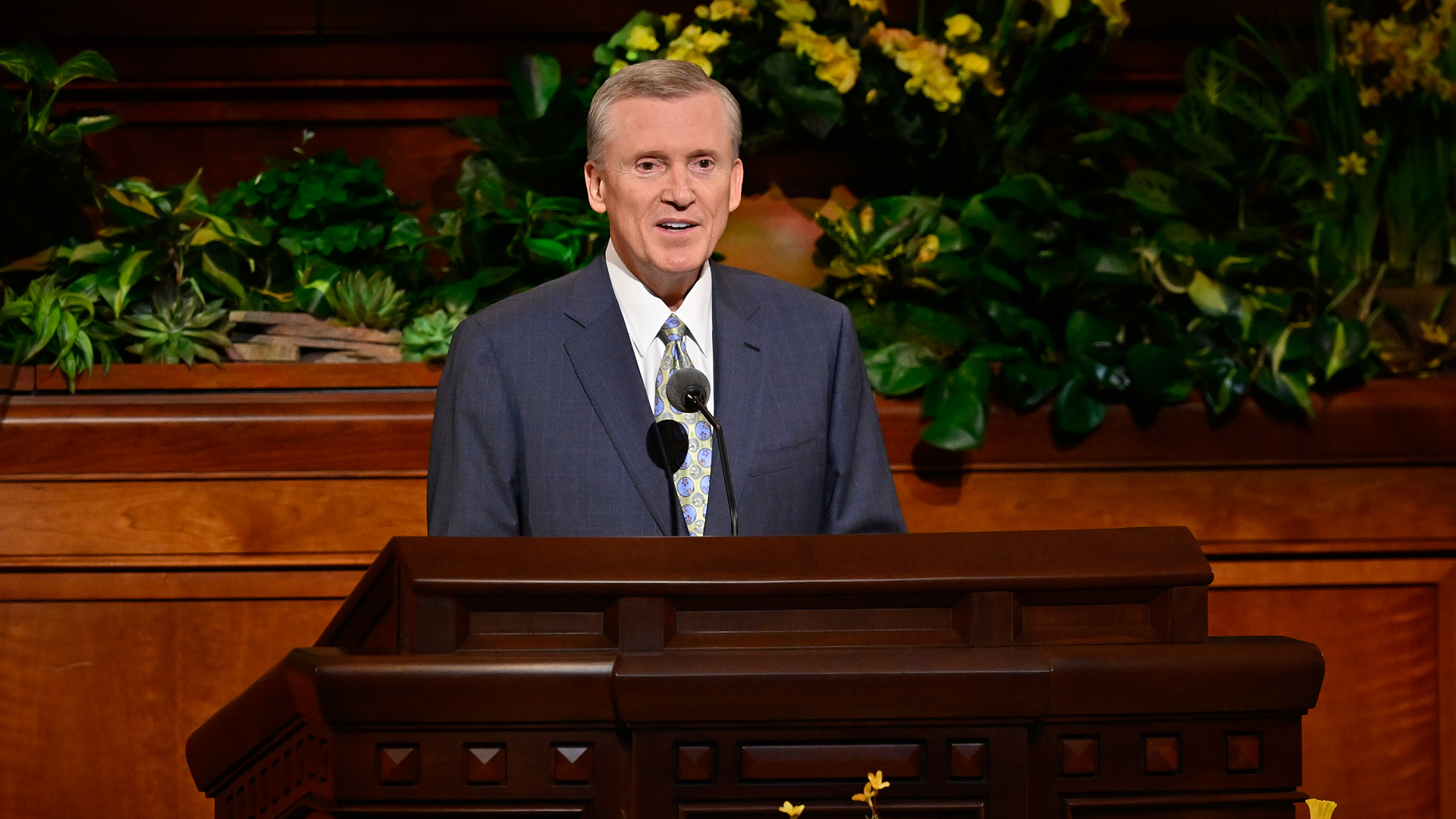 Elder Duncan's talk was all about shouting for joy because of the plan of God and the need to cherish the truths we have. How can we remain in joy and awe? Here's Elder Duncan's suggestion: "What could become common or routine for us, is sometimes seen in its splendor and majesty by those who hear it or feel it for the very first time."
One of the greatest blessings we have is the temple. "The adversary is on the alert. His power is threatened by the ordinances and covenants performed in temples and he does anything he can to try to stop the work. Why? Because he knows of the power that comes from this work," Elder Duncan said. "As each temple is dedicated, the saving power of Jesus Christ expands throughout the world to counteract the efforts of the adversary and to redeem us as we come unto Him."
"Today on this Palm Sunday, let us as disciples of Jesus Christ also praise our Holy God and rejoice in His goodness to us."
President Russell M. Nelson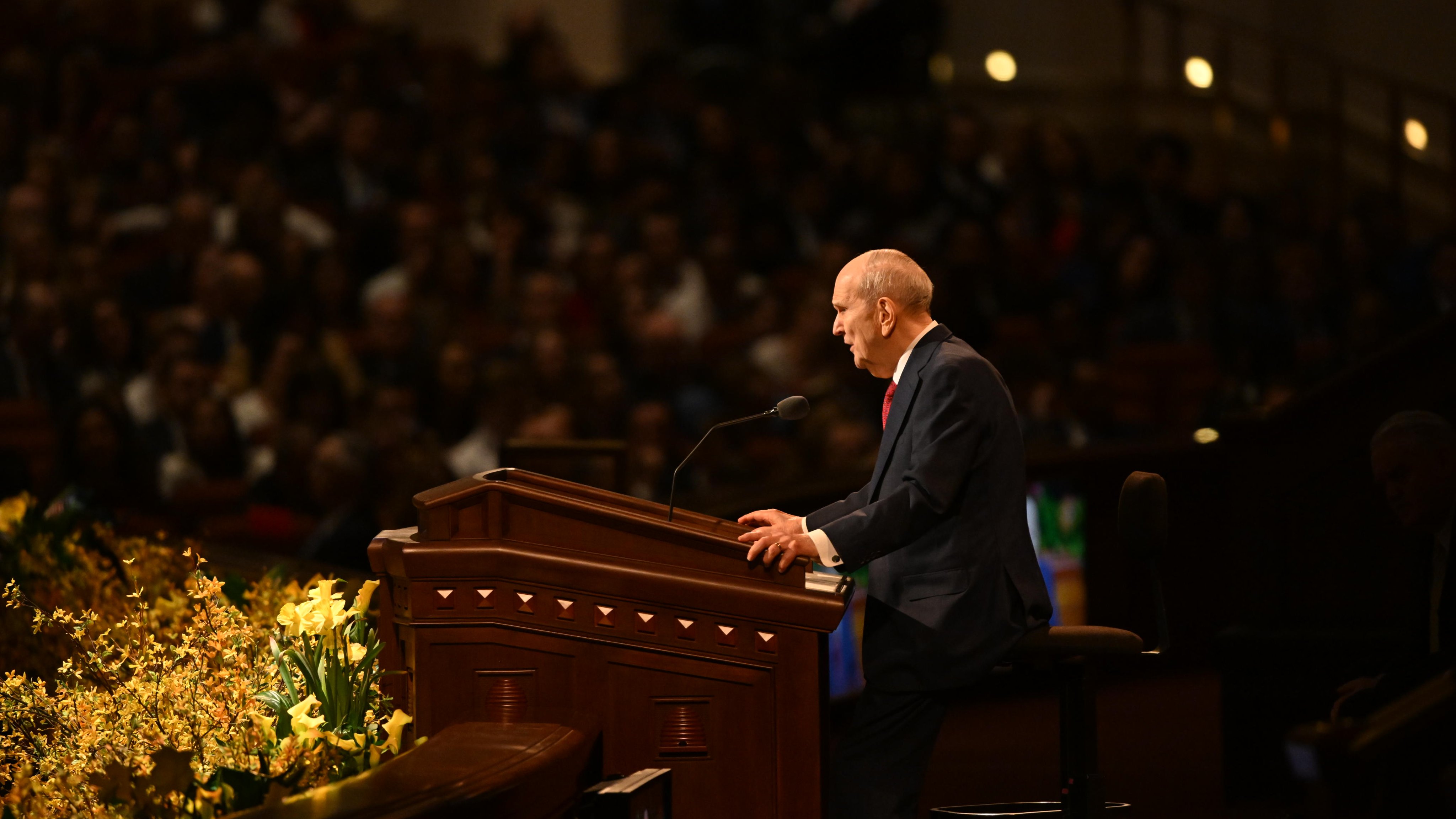 President Nelson opened his talk by relating a personal experience. During President Nelson's surgical internship, he had to help amputate a diseased leg. One of the teams performed a task poorly and one of the surgeons erupted in anger. He threw a scalpel, and it landed in President Nelson's forearm. The experience left a lasting impression on President Nelson. "I promised myself that whatever happened in my operating room, I would never lose control of my emotions," he said. "I also vowed that day never to throw anything in anger – whether it be scalpels or words."
The great waves of anger, contention, and condemnation found in our world today is not to be and is of concern to President Nelson. "I am greatly concerned that so many people seem to believe that it is completely acceptable to condemn, malign and vilify anyone who does not agree with them."
"As disciples of Jesus Christ, we are to be examples of how to interact with others – especially when we have differences of opinion," President Nelson taught. "The Savior's message is clear: His true disciples build, lift, encourage, persuade and inspire — no matter how difficult the situation. True disciples of Jesus Christ are peacemakers."
President Nelson spoke bluntly about how contention is evil. "Those who foster contention are taking a page out of Satan's playbook, whether they realize it or not. We cannot support Satan with our verbal assaults and then think that we can still serve God."
"My dear brothers and sisters, how we treat each other really matters! How we speak to and about others at home, at church, at work and online really matters."
"Contention is a choice. Peacemaking is a choice. You have your agency to choose contention or reconciliation. I urge you to be a peacemaker, now and always."
President Nelson held up President Oaks and President Eyring as exemplary examples of working together in unity and charity. "Charity is the antidote to contention," President Nelson taught. "Charity is the spiritual gift that helps us to cast off the natural man, who is selfish, defensive, prideful, and jealous. Charity is the principal characteristic of a true follower of Jesus Christ. Charity defines a peacemaker."
"The pure love of Christ is the answer to the contention that ails us today."
"I invite you to examine your discipleship within the context of the way you treat others. I bless you to make any adjustment that may be needed so that your behavior is ennobling, respectful, and representative of a true follower of Jesus Christ."