The First Presidency of The Church of Jesus Christ of Latter-day Saints has issued a short statement on the violence in the Middle East.
It reads:
We are devastated by the recent eruption of violence and loss of life in the Middle East. Violence of this nature is abhorrent to us and is not in harmony with the gospel of Jesus Christ, which is a gospel of peace. At such times, our hearts ache for all victims of this atrocity.
As servants of God, we affirm that He calls upon all of us to love our neighbors as ourselves, and we pray for a peaceful resolution of all conflicts.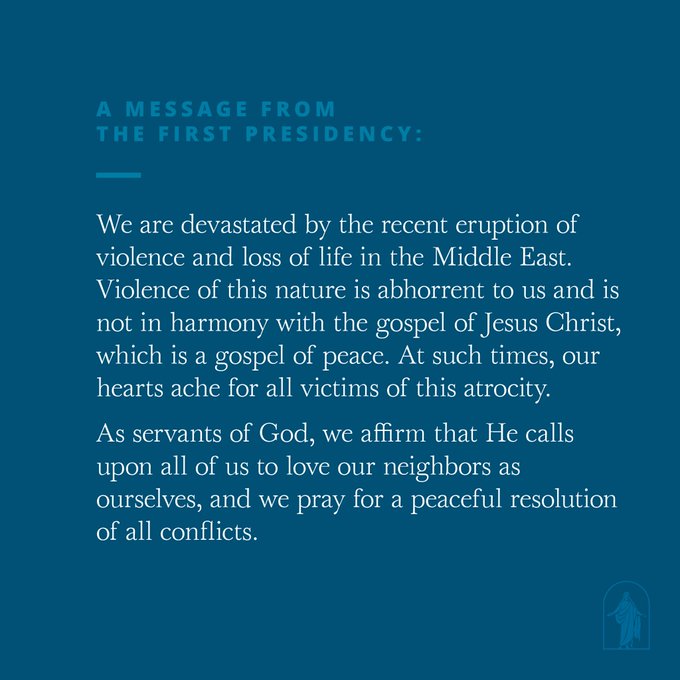 The statement also pointed readers to President Russell M. Nelson's General Conference talk, "Peacemakers Needed."
The talk urges all people to become peacemakers and to choose reconciliation over contention. He said, "Make no mistake about it: contention is evil!"
President Nelson continued, saying, "The Savior's message is clear: His true disciples build, lift, encourage, persuade, and inspire—no matter how difficult the situation. True disciples of Jesus Christ are peacemakers."
On October 7, the paramilitary force Hamas launched a terrorist attack on the people of Israel, leading to a state of war and retaliation. Palestinians are currently being urged to leave North Gaza as Israel prepares for a potential ground invasion of the area.
Thousands have died and the violence continues. You can learn more about the Church members in the area and an overview of the conflict here.