Are you looking for talk summaries, quotes, or a recap of the October 2022 General Conference? Here is our recap of the Sunday Morning Session.
Elder Jeffrey R. Holland
Elder Holland opened the Sunday Morning Session by discussing the cross as a symbol and why Latter-day Saints don't use it. "As I attempt to explain why we generally do not use the iconography of the cross, I wish to make abundantly clear our deep respect and profound admiration for … those who do," he said.
He provided multiple reasons. First, the cross was rooted in pain for early Christians. "Because crucifixion was one of the Roman empire's most agonizing forms of execution, many early followers of Jesus chose not to highlight that brutal instrument of suffering."
Second, the Church places an "emphasis on the complete miracle of Christ's mission — his glorious resurrection as well as his sacrificial suffering and death."
However, the cross is a reminder that our lives need to be a symbol of our faith.
"As we take up our crosses and follow him, it would be tragic indeed if the weight of our challenges did not make us more empathetic for and attentive to the burdens being carried by others."
Sister J. Anette Dennis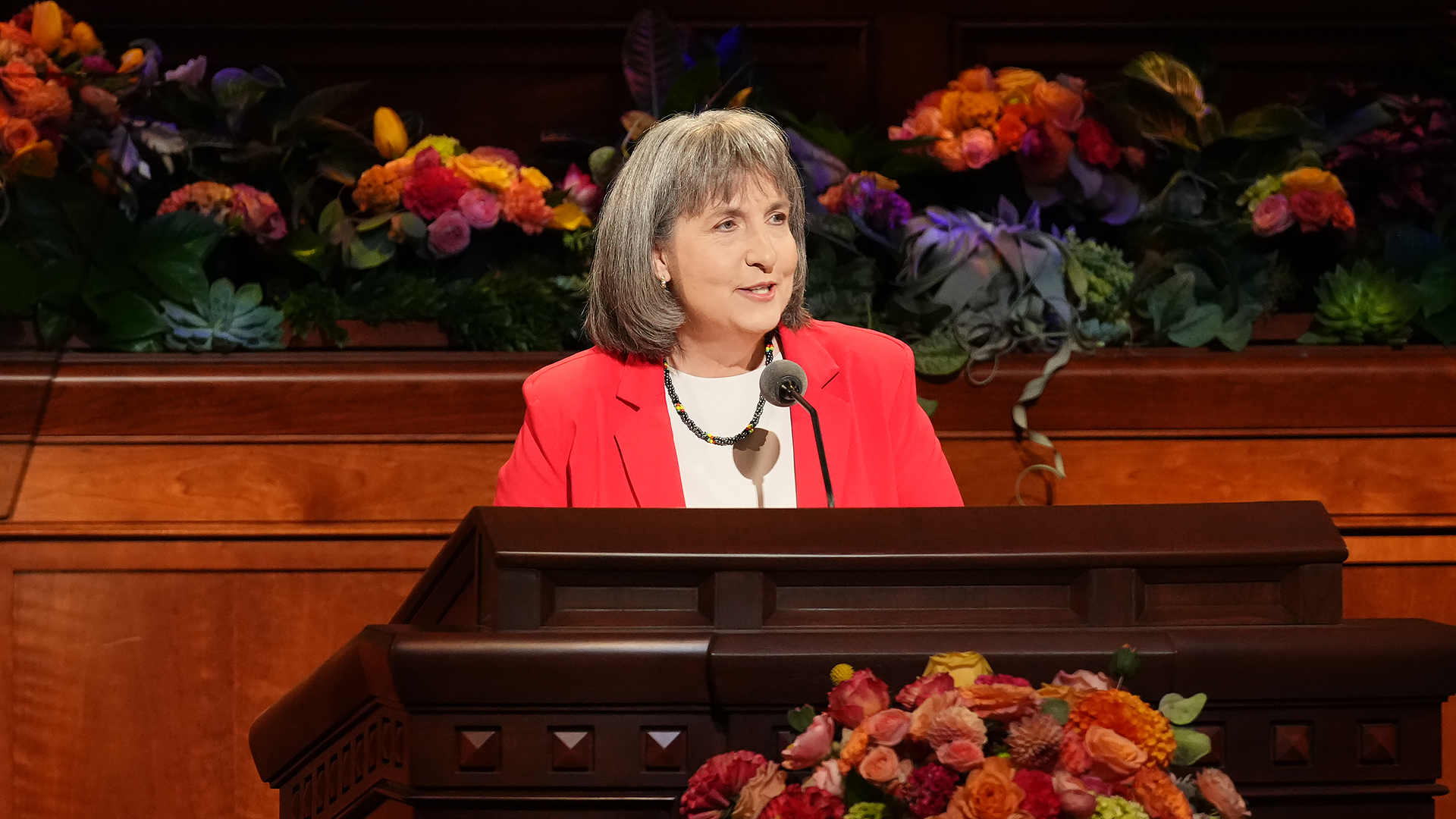 Sister Dennis shared the story of a beloved dog behaving uncharacteristically to its owner's chagrin. However, the owner discovered their dog had deep and severe wounds that influenced it. She related this example to the way we treat others.
"I believe the Savior is inviting us to live a higher, holier way — His way of love where all can feel they truly belong and are needed," she taught. "Everyone needs to feel that they really do belong and are needed in the body of Christ."
Elder Gerrit W. Gong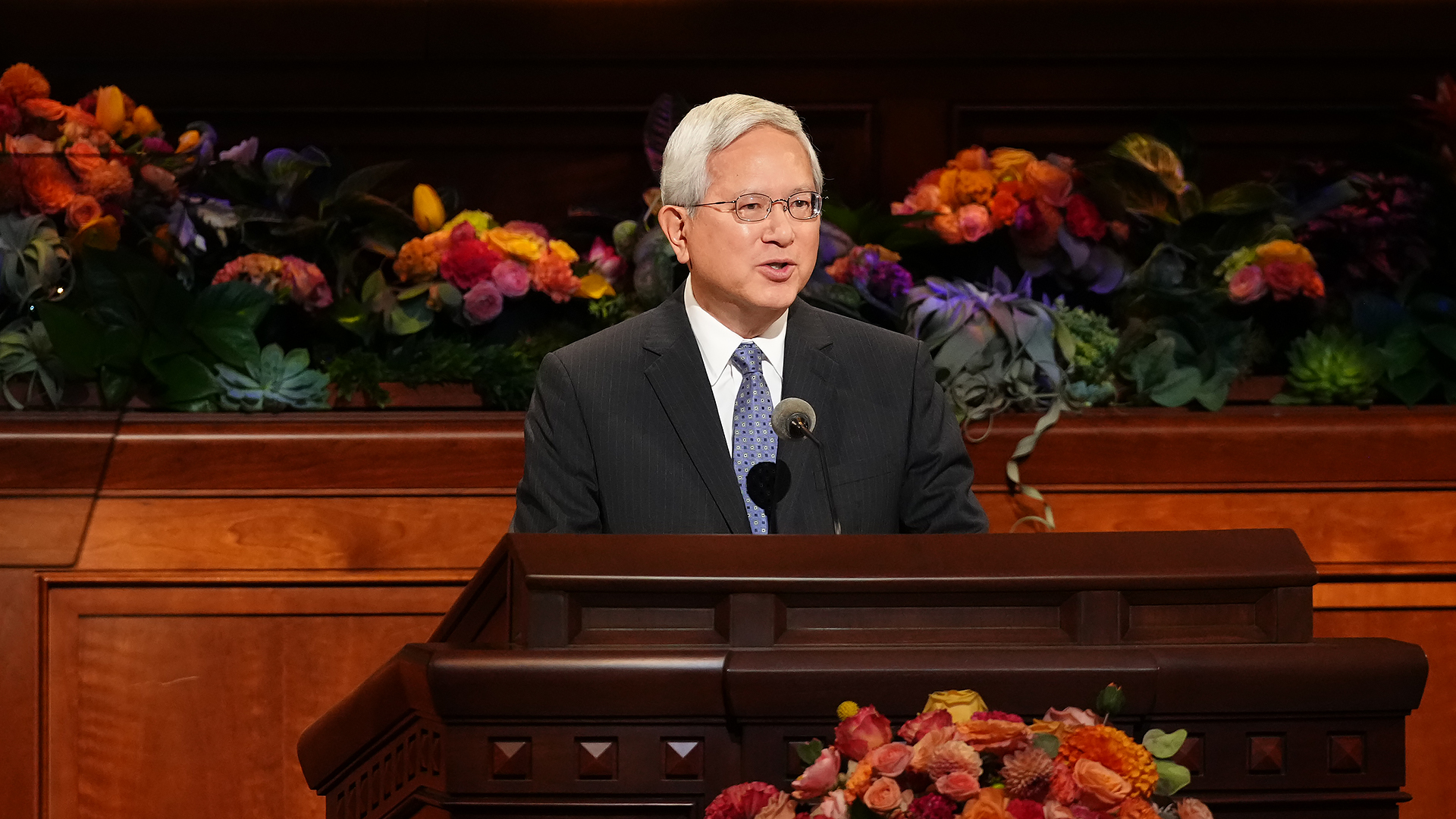 Do we still believe in happily ever after? Elder Gong taught, "Happy and forever are not the imaginary stuff of fairy tales. True enduring joy and eternity with those we love are the very essence of God's plan of happiness."
He shared personal experiences of individuals who felt the guidance of heaven to complete important temple and family history work. "Temple ordinances do not of themselves change us or those in the spirit world, but these divine ordinances enable sanctifying covenants with the Lord, which can bring harmony with Him and each other."
"We find Heaven's sociality in each other," he said. "God's work and glory include bringing to pass happy and forever."
Elder Joseph W. Sitati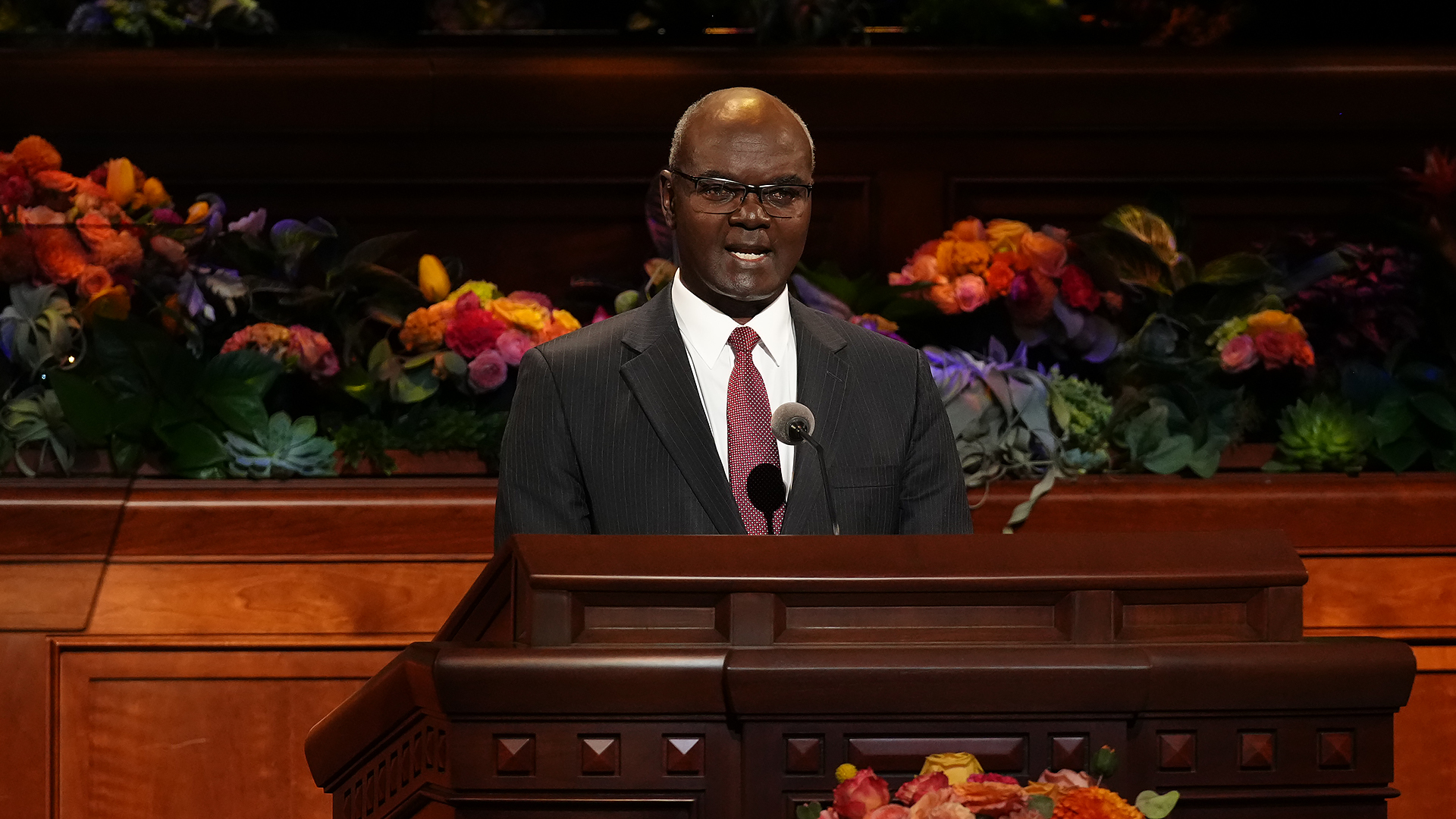 Elder Sitati spoke of heavenly patterns. "When we respect and align what we do with these eternal realities, we experience internal peace and harmony," he said. "When we don't, we are unsettled."
He also spoke on pride and the necessity of humility to help us align ourselves with God's divine patterns. We need to turn away from ourselves to discover our place in God's plan. "The miraculous irony of it is that when we focus our best efforts on loving God and others, we are enabled to discover our own true divine worth as sons and daughters of God."
So much of this begins in the home. "The sweetest blessings of the gospel have come from learning to know and to honor God at home and to share his love with our posterity," he said.
President Steven J. Lund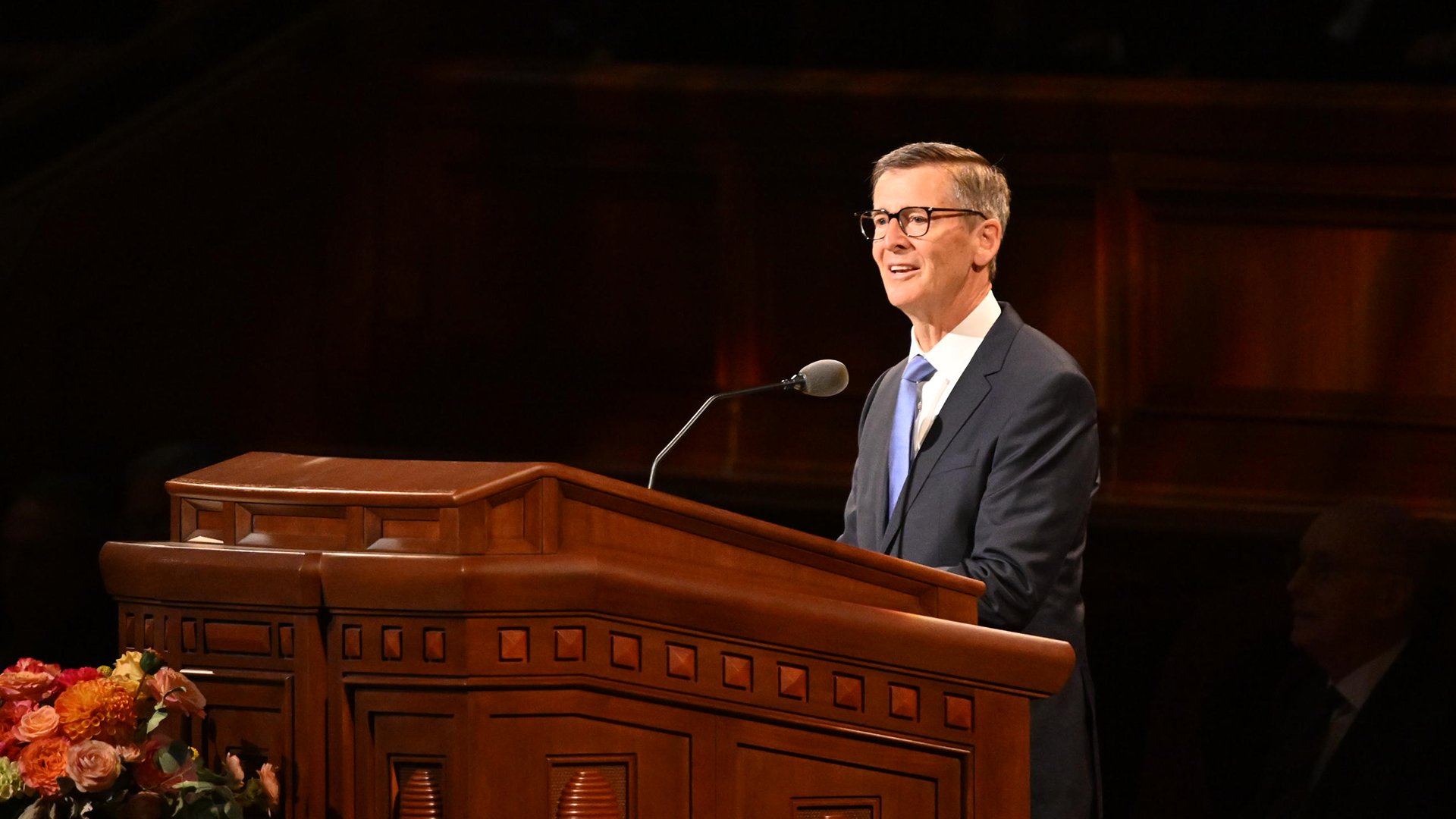 Elder Lund discussed the arch of growth that occurred as thousands of Latter-day Saint youth attended "For Strength of Youth" conferences around the world. He said, "Like brightly hulled steel ships at sea, we live in a spiritually corrosive environment where the most gleaming convictions must be mindfully maintained or they can etch, then corrode and then crumble away."
He discussed the experiences of camps and conferences, where we can be spiritually changed. We need to seek those things that will keep us strong. "Let there be no doubt, it is the very stuff of heroes displayed by our youth when they set their hearts and minds to standing upright against the shifting moral tectonics of our time," he said.
"The stalwart youth of Zion are voyaging through stunning times. Finding joy in this world of prophesied disruption without becoming part of that world, with its blind spot toward holiness, is their particular charge."
Elder David A. Bednar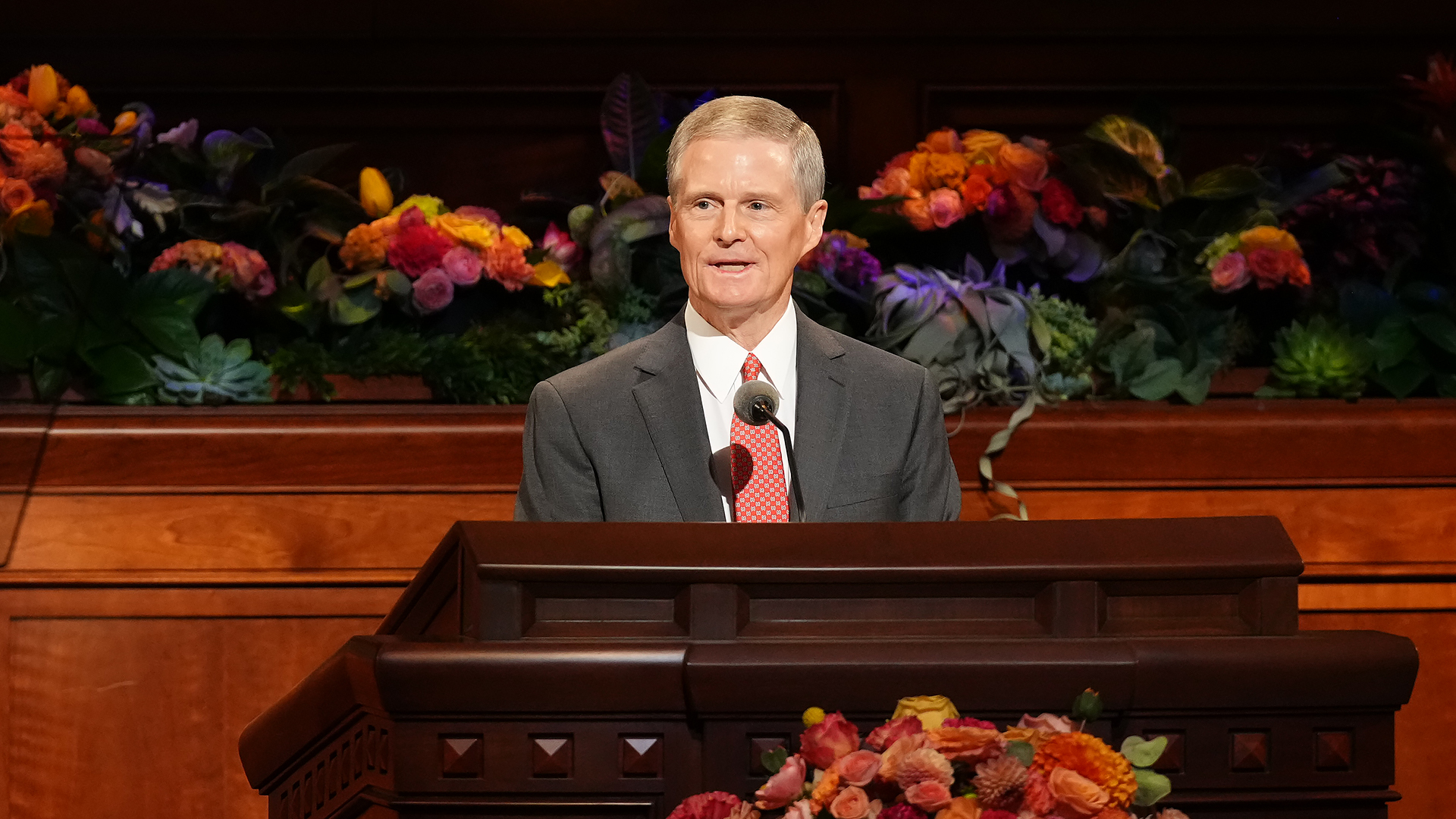 Elder Bednar opened his talk about the power of parables. Parables are a hallmark of the way the Savior taught. Parables liken principles to things that the hearer can relate to. "An individual must exercise moral agency and actively ask, seek and knock to discover the truths embedded in a parable."
Elder Bednar specifically talked about the parable of the marriage feast. It teaches of misguided priorities and a disregard for the royal king and his son. In order to partake in the wedding feast, we must array ourselves in the wedding garment.
"To be or to become chosen is not an exclusive status," Elder Bednar taught. "You and I ultimately can choose to be chosen through the righteous exercise of our moral agency." How can we more fully prepare ourselves for the wedding feast of the Savior? "Each of us should evaluate our temporal and spiritual priorities sincerely and prayerfully."
President Russell M. Nelson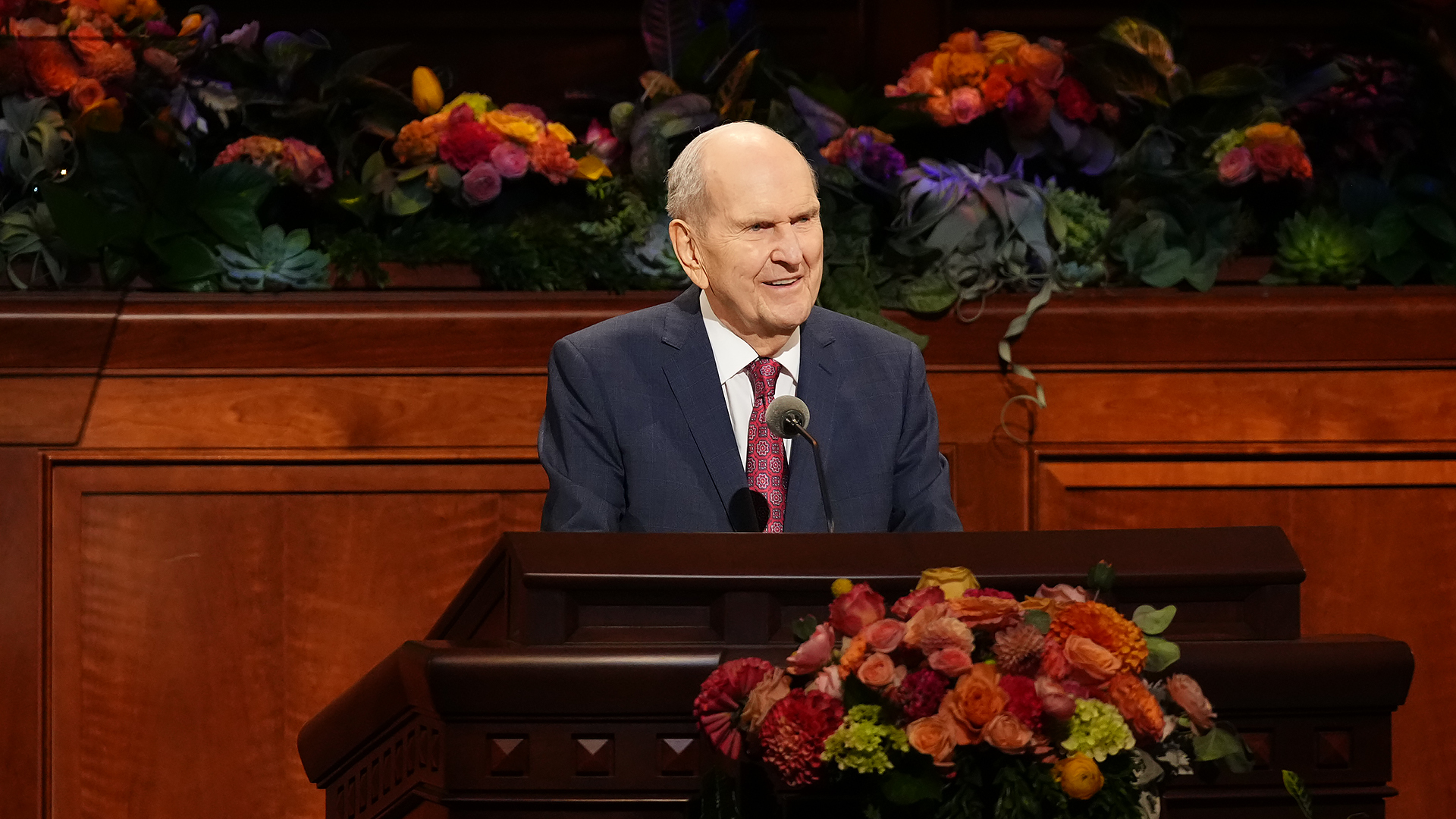 President Nelson opened his talk by discussing the necessity of connecting with God and Christ's love.
"Experiencing Their love is vital as it seems we are accosted daily with an onslaught of sobering news," he said. "In coming days we will see the manifestation of the Savior's power that the world has ever seen." However, President Nelson stated he knew how exhausted we can become. "You may have had days when you wished you could don your pajamas, curl up in a ball and ask someone to awaken you when the turmoil is over."
"Making and keeping covenants actually makes life easier. The reward for keeping covenants with God is heavenly power. This power eases our way."
President Nelson presented three questions we need to ponder in order to find peace and rest by overcoming the world through the power of Christ: What does it mean to overcome the world? How do we do it? How does overcoming the world bless our lives?
"Overcoming the world means growing to love God and His beloved Son more than you love anyone or anything else," he said. "I plead with you now to take charge of your own testimony of Jesus Christ and His gospel."