On June 27, 1844, the Prophet Joseph Smith and his brother Hyrum, the Patriarch, were killed in Carthage Jail. Travel back to that fateful day as we take a look at some of the memories shared by those who experienced it.
Lucy Mack Smith, mother to Joseph and Hyrum
"After the corpses were washed and dressed in their burial clothes, we were allowed to see them. I had for a long time braced every nerve, roused every energy of my soul, and called upon God to strengthen me, but when I entered the room and saw my murdered sons extended both at once before my eyes and heard the sobs and groans of my family and the cries of "Father! Husband! Brothers!" from the lips of their wives, children, brothers, and sisters, it was too much; I sank back, crying to the Lord in the agony of my soul, "My God, my God, why hast thou forsaken this family!" A voice replied, "I have taken them to myself, that they might have rest." Emma was carried back to her room almost in a state of insensibility.
Her oldest son approached the corpse and dropped upon his knees and, laying his cheek against his father's and kissing him, exclaimed, "Oh, my father! my father!" As for myself, I was swallowed up in the depths of my afflictions, and though my soul was filled with horror past imagination, yet I was dumb until I arose again to contemplate the spectacle before me. Oh! at the moment how my mind flew through every scene of sorrow and distress which we had passed, together, in which they had show the innocence and sympathy which filled their guileless hearts. As I looked upon their peaceful, smiling countenances, I seemed almost to hear them say, "Mother, weep not for us, we have overcome the world by love; we carried to them the gospel, that their souls might be saved; they slew us for our testimony, and thus placed us beyond their power; their ascendancy is for a moment, ours is an eternal triumph.""
(Lucy Mack Smith, The History of Joseph Smith by His Mother)
Mary Ann Angell Young, wife of Brigham Young, in a letter
My Dear Companion…We are in great affliction at this time. Our dear Br. Joseph Smith and Hyrum has fell victims to a ferocious mob. The great God of the Creation only knows whether the rest shall be preserved in safety or not…I have been blessed to keep my feelings quite calm through all the storm. I hope you will be careful on your way home and not expose yourself to those that will endanger your life. Yours in haste. If we meet no more in this world may we meet where parting is no more. Farewell.
(Mary Ann Angell Young to Brigham Young, 30 June, 1844, dated at Nauvoo, Illinois, housed at Church Historian's Library, Salt Lake City, Utah.)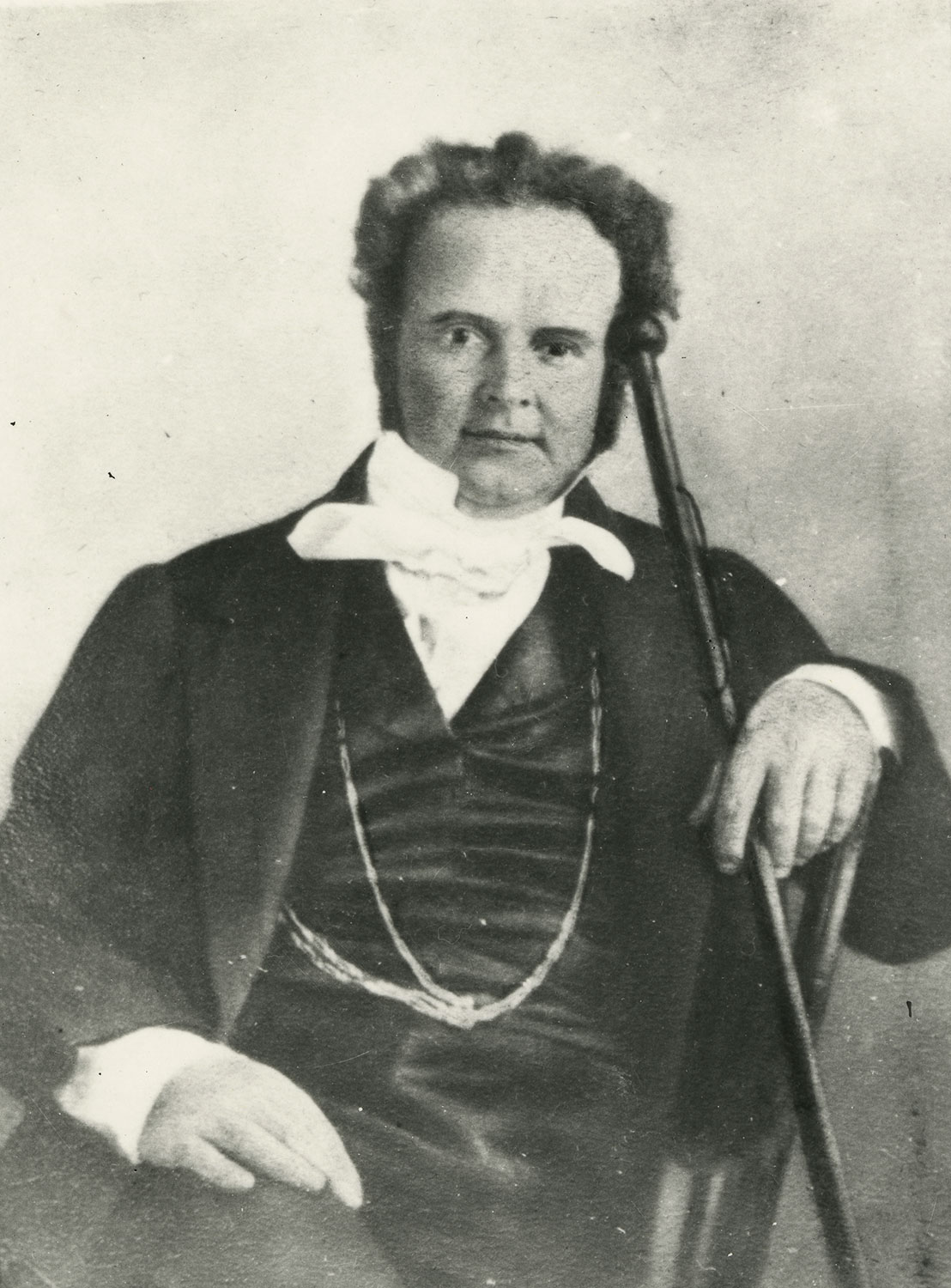 Willard Richards, Apostle and eyewitness to martyrdom
A shower of musket balls were thrown up the stairway against the door of the prison in the second story, followed by many rapid footsteps.
While Generals Joseph and Hyrum Smith, Mr. Taylor, and myself, who were in the front chamber, closed the door of our room against the entry at the head of the stairs, and placed ourselves against it, there being no lock on the door, and no catch that was usable.
The door is a common panel, and as soon as we heard the feet at the stairs head, a ball was sent through the door, which passed between us, and showed that our enemies were desperadoes, and we must change our position.
General Joseph Smith, Mr. Taylor and myself sprang back to the front part of the room, and General Hyrum Smith retreated two-thirds across the chamber directly in front of and facing the door.
A ball was sent through the door which hit Hyrum on the side of his nose, when he fell backwards, extended at length, without moving his feet.
From the holes in his vest (the day was warm, and no one had his coat on but myself), pantaloons, drawers, and shirt, it appears evident that a ball must have been thrown from without, through the window, which entered his back on the right side, and passing through, lodged against his watch, which was in his right vest pocket, completely pulverizing the crystal and face, tearing off the hands and mashing the whole body of the watch. At the same instant the ball from the door entered his nose.
As he struck the floor he exclaimed emphatically, "I am a dead man." Joseph looked towards him and responded, "Oh, dear brother Hyrum!" and opening the door two or three inches with his left hand, discharged one barrel of a six shooter (pistol) at random in the entry, from whence a ball grazed Hyrum's breast, and entering his throat passed into his head, while other muskets were aimed at him and some balls hit him.
Joseph continued snapping his revolver round the casing of the door into the space as before, three barrels of which missed fire. while Mr. Taylor with a walking stick stood by his side and knocked down the bayonets and muskets which were constantly discharging through the doorway. while I stood by him, ready to lend any assistance, with another stick, but could not come within striking distance without going directly before the muzzle of the guns.
When the revolver failed, we had no more firearms, and expected an immediate rush of the mob, and the doorway full of muskets, half way in the room, and no hope but instant death from within.
Mr. Taylor rushed into the window, which is some fifteen or twenty feet from the ground. When his body was nearly on a balance, a ball from the door within entered his leg, and a ball from without struck his watch, a patent lever, in his vest pocket near the left breast, and smashed it into "pie," leaving the hands standing at 5 o'clock, 16 minutes, and 26 seconds, the force of which ball threw him back on the floor, and he rolled under the bed which stood by his side, where he lay motionless, the mob from the door continuing to fire upon him, cutting away a piece of flesh from his left hip as large as a man's hand, and were hindered only by my knocking down their muzzles with a stick; while they continued to reach their guns into the room, probably left handed, and aimed their discharge so far round as almost to reach us in the corner of the room to where we retreated and dodged, and then I recommenced the attack with my stick.
Joseph attempted, as the last resort, to leap the same window from whence Mr. Taylor fell, when two balls pierced him from the door, and one entered his right breast from without, and he fell outward, exclaiming,–Oh Lord, my God!" As his feet went out of the window my head went in, the balls whistling all around. He fell on his left side a dead man.
(Times and Seasons)
John Taylor, eyewitness to the martyrdom as recorded in D&C 135
Joseph Smith, the Prophet and Seer of the Lord, has done more, save Jesus only, for the salvation of men in this world, than any other man that ever lived in it. In the short space of twenty years, he has brought forth the Book of Mormon, which he translated by the gift and power of God, and has been the means of publishing it on two continents; has sent the fulness of the everlasting gospel, which it contained, to the four quarters of the earth; has brought forth the revelations and commandments which compose this book of Doctrine and Covenants, and many other wise documents and instructions for the benefit of the children of men; gathered many thousands of the Latter-day Saints, founded a great city, and left a fame and name that cannot be slain. He lived great, and he died great in the eyes of God and his people; and like most of the Lord's anointed in ancient times, has sealed his mission and his works with his own blood; and so has his brother Hyrum. In life they were not divided, and in death they were not separated!
Adeline Knight Belnap
Adeline remembered a few last speeches of Brother Joseph. He seemed to know that his death was near. She remembers he mounted the frame building and made a speech to his people and prophesied so many things that were to happen. She lived to see them fulfilled. She saw him when he was being taken to Carthage between two armed men. He seemed to know his fate, for she heard him call to her neighbor and say: "Brother Cahoon, have the floors laid and the doors hung to my sepulcher." She went to see the bodies of the Prophet and his brother, Hyrum, after they had been murdered. She saw them cut a lock of hair from Brother Joseph's head and give some to her mother, which she now keeps as a treasure. A feeling of horror now fills her heart when she thinks of the four tubs full of bloody clothes she saw outside of that house of mourning.
(Lola Belnap Coolbear, "The Life Story of Adeline Knight Belnap," typescript copy, BYU Special Collections, Harbold B. Lee Library, Provo, Utah, 7. )
William Adams 
…I am not able to describe the sorrow and lamentation of the Saints in beholding the dead bodies of the Prophet and Patriarch, butchered in cold blood by assassins and murdered under the promise of protection by the governor of the state of Illinois.
(William Adams, "History of William Adams, Written by Himself," Januar, 1894, typescript copy, BYU Special Collections, Harold B. Lee Library, Provo, Utah, 8-9.)
Benjamin Ashby
I was in my father's garden one morning the memorable June 1844 when he [Joseph] road past on his way to Carthage. Never shall I forget the look of deep sorrow that covered his noble countenance – that was the last time I saw him alive…
I set upon the steps of my father's house on the evening of the day that he was shot until twelve o'clock and never did I hear before such an uproar and noise that seemed to pervade the very atmosphere – dogs howling, mingled with confused noises as though all the legions of the damned were in commotion.
Not dreaming of the tragedy that had been enacted that afternoon I went to bed, but at dawn of morning the sad tale was brought to our ears and the grief and sorrow of a whole people cannot be pictured in language. For days a man woman or child could not be met but they were in tears for the loss of their beloved leaders.
("Writings of Benjamin Ashby (1828-1907)," typescript copy, LDS Church Archives, Salt Lake City, Utah.)
Alvah Alexander
When the officers were taking Joseph to Carthage, at the time of his assassination, my father and I met them. We stepped to one side of the road to allow them to pass.
Captain Dunem [i.e., Colonel Jonathan Dunham], who was with Joseph, stopped and told my father that Joseph said he never expected to return. And he never did, for he was foully assassinated at the Carthage Jail.
When they returned with the body, I was among those who went to meet them. I saw him lying in state at the Mansion House. I was deeply affected, as my love for the Prophet was great. As a boy, my testimony that Joseph Smith was a true Prophet was as strong as it is now as a man; and I verily testify that Joseph Smith was a true Prophet of the living God.
(Alva Alexander, "Joseph Smith, the Prophet," Young Woman's Journal 17, no. 12 (December 1906): 541)
William Appleby
Heard of the murder of Brother Joseph and Hyrum Smith by a mob at Carthage, Illinois. Staid over night at Brother Bringhursts – I could not credit the report of their deaths at first, indeed I did not want to believe it, and almost hoped against hopes!
(William Appleby, Autobiography and Journal 1848-1856, holograph, LDS Church Archives, Salt Lake City, Utah.)
Andrew Jackson Allen (original spelling retained)
I went to Nauvoo in 1844 having dezier to se the proffeit Jospeh Smith and the Temple, etc. and was accompanied by James Allen. WHen we reached Nauvoo Bro. Joseph had been murdered just a few days previous and the Saints all in mourning and a glume seemed to be all over the citty.
(Andrew J. Allen, "From the Journal of A.J. Allen," in Kate B. Carter, comp., Our Pioneer Heritage, 20 vols. (Salt Lake City, Utah: Daughters of the Utah Pioneers, 1958-77), 1:102.)