Here's your daily dose of what matters most! Satan would have us struggle with our addictions in secret. Learn how to open up to the light of Christ and get the help you need.
Scripture
Verily, thus saith the Lord unto you whom I love, and whom I love I also chasten that their sins may be forgiven, for with the chastisement I prepare a way for their deliverance in all things out of temptation, and I have loved you——Doctrine and Covenants 95:1
Quote
Obedience and faith in the Savior give you power to resist temptation. For your peace now and for everlasting happiness, please repent. Open your heart to the Lord and ask Him to help you. You will earn the blessing of forgiveness, peace, and the knowledge you have been purified and made whole. Find the courage to ask the Lord for strength to repent, now. —Richard G. Scott
Video
Meme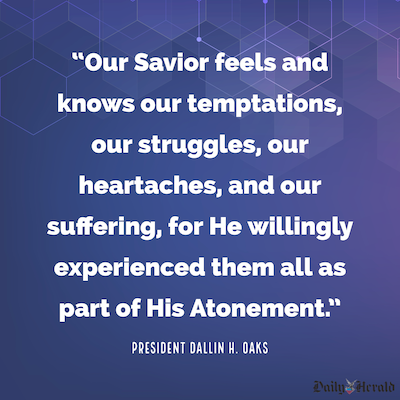 This Day in Church History
1859: Horace Greeley, the editor of the New York Tribune, conducts a two-hour interview with Brigham Young. The interview captures national attention when it is published in New York in August, becoming what is considered by some to be the first such interview printed in an American newspaper.
1993: Madagascar officially recognizes the Church.
1997: A parade commemorating the Church's pioneer sesquicentennial takes place in Rome, Italy.
Daily Question – Answer in the Comments
Have you helped a loved one with an addiction? What did you learn?
Further Reading