Here's your daily dose of what matters most! The sacrament can be a spiritually strengthening moment every Sunday. How can we better prepare for it throughout the week?
Check back tomorrow for more inspiration.
Scripture
And this shall ye do in remembrance of my body, which I have shown unto you. And it shall be a testimony unto the Father that ye do always remember me. And if ye do always remember me ye shall have my Spirit to be with you.—3 Nephi 18:7
Quote
The sacrament becomes a spiritually strengthening experience when we listen to the sacrament prayers and recommit to our covenants. To do this, we must be willing to take upon us the name of Jesus Christ. —Cheryl A. Esplin
Video
Meme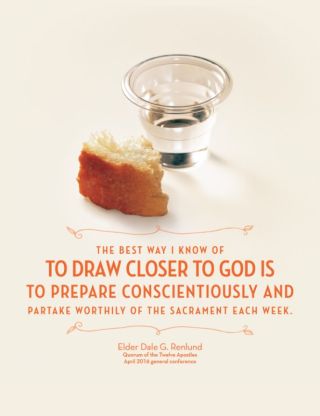 This Day in Church History
1834: Joseph Smith leads Zion's Camp across the Grand River in northern Missouri.
1854: Workmen begin to lay the foundation for the Salt Lake Temple.
1962: Wally Joyner, later a professional baseball player and the first rookie ever to be voted to start in the all-star game, is born in Atlanta, Georgia.
Daily Question – Answer in the Comments
How do you prepare for the sacrament each week?