Alma taught his son Corianton that all things shall be restored to their perfect and proper frame. This Book of Mormon FHE lesson teaches about the resurrection and what it teaches us about the nature of God and his great plan of happiness for us. 
Scripture
The soul shall be restored to the body, and the body to the soul; yea, and every limb and joint shall be restored to its body; yea, even a hair of the head shall not be lost; but all things shall be restored to their proper and perfect frame.
Hymn
Did Jesus Really Live Again | Children's Songbook, page #64
1. Did Jesus really live again?
Yes, when the third day came,
He wakened and he left the tomb;
He called Mary's name.
2. Did Jesus come to those he loved?
Yes, people touched his feet,
And of the fish and honeycomb
He did truly eat.
3. And there were nail-prints in his hands
And a spear wound in his side.
Did Jesus really live again
After he had died? Oh yes! And so shall I!
Rejoice! Rejoice! and sing, sing, sing.

Lesson
FOR CHILDREN
Begin the lesson by watching the following video. Ask the children to think about what their bodies can do.
Ask:
What can your body do? What do you love about your body?
Read aloud: In the Book of Mormon, Alma has a son named Corianton. Corianton has a lot of questions about Heavenly Father's plan of happiness. One thing he wonders about is what will happen to our bodies after we die. He loved his body and was worried about what would happen to his spirit once he died.
Ask: Do you remember what the video taught us about our bodies?
Read aloud: Because our bodies are mortal, we will say goodbye to our bodies when we die. Our spirits live on and go to the spirit world. But Jesus Christ made a way for us to be resurrected. He promised that everyone who has ever lived will be resurrected. When we are resurrected, our bodies and our spirits will be reunited forever. We will get to enjoy all the things we love about having a body.
Ask: What do you think our bodies will be like when we are resurrected?
Read aloud: Alma taught Corianton that everything will be "restored to their proper and perfect frame." When we are resurrected, our bodies will be perfect. They won't get sick or hurt. They will be strong and healthy forever.
Ask: How does it make you feel to know you will be resurrected one day?
Finish the lesson by bearing your testimony and by answering any questions about the resurrection that your children have.
FOR TEENS & ADULTS
Begin the lesson by giving everyone a few minutes to ponder on the following question. If possible, give everyone a notecard or a piece of paper to write their thoughts on. The question is: What does the resurrection of our bodies teach us about the nature of God?
Read aloud: The eventual resurrection of our bodies is a part of what Alma in the Book of Mormon calls "the great plan of happiness." While the resurrection is a fairly complex doctrine when studied closely, at its core we have a witness of the power of Jesus Christ in our lives.
As a group, read Alma 40:21-23 aloud together. Ask everyone to pay attention to what Alma teaches about the resurrection.
Ask: What do these verses teach us about the resurrection?
Read aloud: The great plan of happiness may not always feel so happy. In this world, we experience suffering and pain. This includes physical pain as our bodies are subject to death, but it also includes emotional and spiritual pain. The resurrection is a testament to us that God has a plan that will eventually restore all things.
Ask: What does the resurrection teach us about the nature of God? Why is it important to you?
Share a personal experience about why the idea of the "restoration of all things" brings you peace and comfort. Ask everyone else to share any personal experiences they have or last thoughts to share. Finish with your testimony.
Featured Products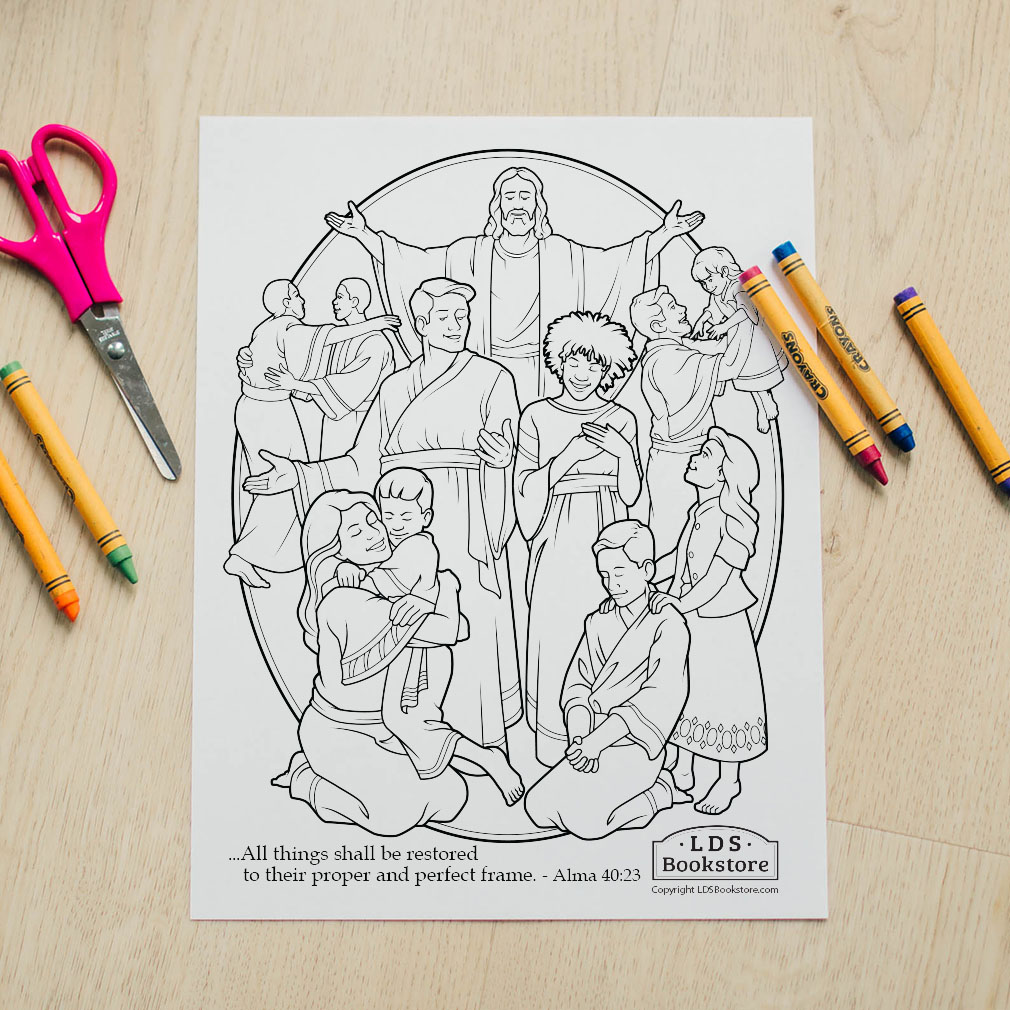 Treat
Soft Maple Sugar Cookies

Ingredients:
-1/2 cup butter, softened
-1/2 cup shortening
-1 1/2 cups granulated sugar
-1/4 cup packed brown sugar
-1/4 cup pure maple syrup
-1 tsp. baking soda
-1 tsp. cream of tartar
-1/8 tsp. salt
-3 egg yolks
-1/2 tsp. vanilla
-1 3/4 cups all-purpose flour
Maple Icing:
-1/4 cup heavy cream or milk
-1/4 cup butter, melted
-3 tbs. pure maple syrup
-2 to 2 1/2 cups powdered sugar.
Directions:
1. Preheat oven to 300 degrees.
2. In a large bowl beat butter and shortening with a mixer on medium for 30 seconds. Add the next 6 ingredients (through the salt). Beat on medium for 2 minutes, scraping bowl as needed. Beat in egg yolks and vanilla. Beat in flour.
3. Shape dough into 1 1/2 inch balls. Place 3 inches apart on an ungreased cookie sheet. Bake 12 to 14 minutes or until edges are lightly browned (tops will still look slightly soft).
4. Cool on cookie sheet for 2 minutes. Remove; cool on a wire rack. Centers will dip as cookies cool. Drizzle with maple icing.
To make maple icing: Stir together 1/4 cup heavy cream or milk with 1/4 cup melted butter and 3 tablespoons of pure maple syrup. Whisk in 2 to 2 1/2 cups powdered sugar to make icing drizzling consistency.
(Courtesy of Dear Crissy)
Activity
Book of Mormon Video
Watch the following Book of Mormon video together as a family.