Scripture
We claim the privilege of worshiping Almighty God according to the dictates of our own conscience, and allow all men the same privilege, let them worship how, where, or what they may.
Hymn
As I Have Loved You, Hymn #308
As I have loved you,
Love one another.
This new commandment:
Love one another.
By this shall men know
Ye are my disciples,
If ye have love
One to another.
Lesson
*For All Ages*

Read aloud: During December, our family celebrates Christmas, to honor the birth and life of Jesus Christ. We are called Christians, because we believe in Christ. However, there are many different religions around the world and many people who believe different things. Many of them also have holiday celebrations in December. Heavenly Father wants us to love all people and treat them with respect and kindness, even if they believe something different than we do. To help us understand our brothers and sisters of different faiths, we're going to learn more about some different holiday celebrations.
Las Posadas 
In the United States, we often celebrate Christmas with Christmas trees, Santa Claus, and presents. Around the world, there are other festivals and celebrations to honor the birth of Christ.
In Hispanic and Latin cultures, a nine day celebration known as Las Posadas is common. Posadas means lodging or dwelling. It represents Mary and Joseph's search for a place to stay in Bethlehem. A procession of people, with people representing Mary and Joseph, travel from house to house during Las Posadas, singing a special song. Most of the homes turn the procession away, just like Mary and Joseph were turned away from all of the inns in the Bible. But at the last home, the procession is allowed in and everyone partakes of a Christmas feast. There is a traditional pinata with seven points that is also broken open.
Hanukkah
Hanukkah is a Jewish celebration and is also known as the Festival of Lights. It lasts for eight days. It is a celebration of God's triumph over darkness. In Biblical times, the people of Israel were ruled by oppressive Greek rulers, but they revolted to win back their freedom and Holy Lands. They were able to reclaim their Holy Temple and wanted to rededicate it. Part of re-dedicating the temple included lighting the temple's menorah, a candlestick with seven branches that is meant to be lit for eight days. However, they only had enough oil for one day. Miraculously, the oil burned for the entire eight days. Hanukkah celebrates this miracle.
During Hanukkah a candle on the menorah is lit each night, until all of the candles are lit on the eighth night. Festive foods, such as potato latkes (pancakes) are eaten and children often play with dreidels, a special spinning top with Hebrew letters. Small gifts of chocolate coins, or gelt, is also common.
Kwanzaa
Kwanzaa is a week long celebration in the African-American community. The word Kwanzaa comes from a Swahili phrase that means "the first fruits of the harvest." There are seven principles of Kwanzaa:
Unity
Self-Determination
Collective Work and Responsibility
Cooperative Economics
Purpose
Creativity
Faith
There are many symbols of Kwanzaa, including a decorative mat onto which crops are placed, a special candleholder with seven candles, and a cup. When families celebrate Kwanzaa they decorate their homes with colorful art, enjoy drumming and music, and a candle lighting ceremony.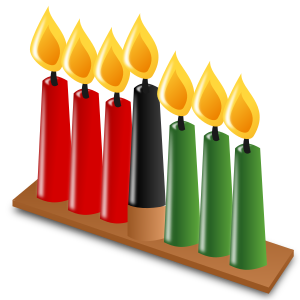 Read aloud: These are just a few of the holidays celebrated around the world. There are so many we can't discuss them all. But it is important to learn about others and help people understand what we  believe in. By treating everyone we meet, with kindness, no matter what their religion or what they celebrate, we can help create a happier, more unified world.
Ask: Why do you feel it is important to learn about other people, their culture, and their traditions? Do you have a time when you met someone who believe differently than you did? What did you do? How can we be an example of unity and kindness to all people?
Related Products
 



Treat
Potato Pancakes  or Biscochito Cookies
Ingredients: 
-5 large or 6 small firm Yukon gold potatoes (about 2 1/4 pounds)
-1 large onion, halved
-1 large egg
-2 tablespoons all-purpose flour or matzo meal
-Kosher salt and freshly ground pepper
-Vegetable or canola oil, for frying
-Applesauce or other toppings, for serving
1. Peel the potatoes, immediately immersing them in very cold water as you finish each one.
2. Remove the potatoes from the water. Grate the potatoes and onion with a food processor fitted with the grating blade. Don't press too hard on the potatoes going in — just enough to get them through.
3. Transfer the potatoes and onion to a fine-mesh strainer; squeeze out all the water into a bowl. Let the potato starch settle, then pour out as much water as possible, leaving the starch in the bowl. Add the potato-onion mixture to the bowl and mix in the egg, flour, 1 teaspoon salt, and pepper to taste.
4. Heat a well-seasoned cast-iron skillet with a thin layer of vegetable oil over medium heat. Scoop large spoonfuls of the potato mixture into the pan and flatten them out (thin pancakes yield crispy ones). Fry until golden on the bottom, then gently flip and fry the other side, 3 to 4 minutes per side. Drain on paper towels. (If you have to wait to serve, re-crisp them on a baking sheet lined with clean paper towels in a 350 degrees F oven.)
5. Serve with applesauce, sour cream, or your family's favorite toppings.
(Courtesy of Food Network)
Biscochito Cookies


Ingredients:
-1 ½ cups lard, chilled*
-1 cup plus 3 tablespoons sugar, divided
-2 eggs
-2 teaspoons anise seeds
-4 cups all-purpose flour
-2 teaspoons baking powder
-½ teaspoon salt
-About 3 tablespoons apple juice, or milk*
-2 teaspoons ground cinnamon
Directions:
Preheat oven to 350°F. Beat lard and 1 cup sugar in a bowl until fluffy. Add eggs and anise seeds, and beat until very light and fluffy. Sift together flour, baking powder and salt. Add to creamed mixture along with the apple juice or milk. Mix thoroughly to make a stiff dough. Place dough on a long piece, about three feet of waxed paper at one end. Bring the long end over the top and press to about one inch or slightly less in thickness and refrigerate until chilled.)
Roll out dough between waxed paper to just under ½ inch thickness. Cut with flour dusted cutters into the traditional fleur de lis shape or into 3-inch rounds. Combine the 3 remaining tablespoons sugar and the cinnamon in a shallow bowl; dip unbaked cookies into the sugar-cinnamon mixture on one side. Place cookies on ungreased baking sheets. Bake 10 to 12 minutes or until tops of cookies are just firm. Cool cookies on wire racks.
*Notes: Butter or margarine can be substituted for the lard, however the cookies will not be as crisp and moist.
(Courtesy of Visit Albuquerque )
Activity
Spin the Dreidel or Kwanzaa Mat Craft
You will need:
-1 dreidel and a few dozen tokens, such as candies, chocolate coins (gelt), pennies, buttons, etc.
(You can find an easy dreidel cut out here.)
Directions:
1. Split the tokens equally among all players.
2. Each player puts on token in the "pot" (center of the playing area).
3. One person spins the dreidel. One of four things can happen:
The dreidel lands with the letter NUN facing up. Nothing happens. The dreidel is passed to the next spinner.
The dreidel lands with the letter SHIN facing up. The spinner puts another token into the pot. The dreidel is passed to the next spinner.
The dreidel lands with the letter HEY facing up. The spinner takes half of the tokens in the pot. The dreidel is passed to the next spinner.
The dreidel lands with the letter GIMMEL facing up. THe spinner takes all the tokens in the pot! The dreidel is passed to the next spinner.
4. The game continues until one person has won all the tokens!
(Courtesy of Net Places)
You will need: 
-Black, red, and green construction paper
-Child's blunt-tip safety scissor
-Glue or stapler
Directions:
1. Fold the black paper in half so the short edges meet. This will make a frame for the mat.
2. Show your child how to cut from the folded edge to within 1 inch of the opposite side
3. Have him make seven cuts about 1-inch apart to make eight 1-inch sections.
4. Unfold the paper.
5. Cut 1-inch-wide strips from the red and green paper, cutting from long edge to long edge of each sheet
6. Show your child how to weave the strips over and under the cuts in the frame, alternating red and green strips.
7. Glue or staple the strips in place along the edge of the frame. Trim the strips if necessary.
The woven mat, or mkeka (em-KAY-kah), is the mat on which the other Kwanzaa symbols rest. The mkeka is a symbol of tradition and history.
(Courtesy of Fisher Price)