Our every hope is in Jesus Christ. We delight in His foretold return. We trust in His merciful arm. We are safe in the wisdom of His word. These three lessons from Isaiah highlight how God is our salvation–no matter our trials or our fears.
Scripture
Behold, God is my salvation; I will trust, and not be afraid: for the Lord JEHOVAH is my strength and my song; he also is become my salvation.
Hymn
The Day Dawn Is Breaking | Hymn #52
1. The day dawn is breaking, the world is awaking,
The clouds of night's darkness are fleeing away.
The worldwide commotion, from ocean to ocean,
Now heralds the time of the beautiful day.
[Chorus]
Beautiful day of peace and rest,
Bright be thy dawn from east to west.
Hail to thine earliest welcome ray,
Beautiful, bright, millennial day.
2. In many a temple the Saints will assemble
And labor as saviors of dear ones away.
Then happy reunion and sweetest communion
We'll have with our friends in the beautiful day.
3. Still let us be doing, our lessons reviewing,
Which God has revealed for our walk in his way;
And then, wondrous story, the Lord in his glory
Will come in his pow'r in the beautiful day.
4. Then pure and supernal, our friendship eternal,
With Jesus we'll live and his counsels obey
Until ev'ry nation will join in salvation
And worship the Lord of the beautiful day.
Lesson
FOR CHILDREN
Teach: Jesus Christ is coming back! No, we don't know the day, but we do know that He is coming "soon." Elder Jeffrey R. Holland was asked shortly after the World Trade Center Towers were attacked if these were the last days. He responded, "Yes, Elder, we are in the last days, but there is really nothing new about that. The promised Second Coming of the Savior began with the First Vision of the Prophet Joseph Smith in 1820. We can be certain that we are in the last days—years and years of them."
Ask: Elder Holland was teaching us to not be in fear just because these are the last days. What are some reasons we have to be happy, and not afraid, that these are the last days? (The gospel and the priesthood have been restored to the earth; we have temples all over the earth; Jesus Christ will reign and bring peace to the earth when he returns; etc.)
Read: Isaiah 12. Review each verse with young children to explain the joy and hope that comes through Jesus Christ and how joyful we will be at the Lord's return to the earth on the "millennial day."
1 And in that day thou shalt say, O Lord, I will praise thee: though thou wast angry with me, thine anger is turned away, and thou comfortedst me.
2 Behold, God is my salvation; I will trust, and not be afraid: for the Lord JEHOVAH is my strength and my song; he also is become my salvation.
3 Therefore with joy shall ye draw water out of the wells of salvation.
4 And in that day shall ye say, Praise the Lord, call upon his name, declare his doings among the people, make mention that his name is exalted.
5 Sing unto the Lord; for he hath done excellent things: this is known in all the earth.
6 Cry out and shout, thou inhabitant of Zion: for great is the Holy One of Israel in the midst of thee.
Listen: For older children who read well, print out Isaiah 12:1-6 so everyone has a copy. Listen to this song performed by Millennial Choirs and Orchestras and highlight each line of the chapter you hear in the song (either verbatim or closely paraphrased). Note how joyful and happy the music sounds.
Millennial Song:
Testify:
Reading about the trials and challenges that will take place before the Lord returns can be scary, but we shouldn't let that fear be stronger than our joy will be when He comes again.
FOR TEENS & ADULTS
Explain and Teach: There may be times when we get ourselves into bad situations and think we are stuck there–that we have no way out. Sometimes, Satan won't let it be enough that he has gotten us to sin. After the sin, he will make us feel such intense shame that we believe there is no way out, or that there is no way to feel peace again. Satan lives in this shame and knows if he can get us to live there too, we will be miserable.
Story: One young man was once on top of the world. He excelled at sports. He got good grades and had many friends. He had no history of mental health disorders and used no dangerous substances. But he had made a mistake and didn't know how he could get past it. He was talked into sending an explicit video of himself to someone he didn't actually know who then used the video to extort him into sending money. The young man sent money, but the extortioner wanted more money–and the young man didn't have more to give. The person with the video then told him if he didn't send more money, this person would release the video and hurt his family. The extortioner then pressured the young man telling him that he should kill himself because this person was going to ruin his life anyway. In his shame, and not seeing a way out of shaming his family, the young man ended his own life. What could have been a hard, shameful few weeks for this young man became the end of his whole life and the devastation of all who knew him.
Jesus Christ has provided a way out of our suffering and our shame to get back on the path to righteousness.
Read: Isaiah 1:16-19
16 Wash you, make you clean; put away the evil of your doings from before mine eyes; cease to do evil;
17 Learn to do well; seek judgment, relieve the oppressed, judge the fatherless, plead for the widow.
18 Come now, and let us reason together, saith the Lord: though your sins be as scarlet, they shall be as white as snow; though they be red like crimson, they shall be as wool.
19 If ye be willing and obedient, ye shall eat the good of the land.
Teach: Christ teaches that if we turn to Him and receive His Atonement, our sins (though scarlet) can be made clean–made white as snow. He promises that through this repentance, we can still "eat the good of the land." The blessings of the righteous are available to all who repent. All can be made right.
Quote: In April 2022 General Conference, Elder Holland taught:
"To any of our youth out there who are struggling, whatever your concerns or difficulties, death by suicide is manifestly not the answer. It will not relieve the pain you are feeling or that you think you are causing. . . . Talk to someone. Ask for help. Do not destroy a life that Christ gave His life to preserve. You can bear the struggles of this mortal life because we will help you bear them. You are stronger than you think. Help is available, from others and especially from God. You are loved and valued and needed."
Ten years ago, Elder Holland also gave this hopeful reminder:
"However late you think you are, however many chances you think you have missed, however many mistakes you feel you have made or talents you think you don't have, or however far from home and family and God you feel you have traveled, I testify that you have not traveled beyond the reach of divine love. It is not possible for you to sink lower than the infinite light of Christ's Atonement shines."
Testify: There is always a way out of our desperation. What seems like a crisis is often only a moment–if we turn to the Lord and let Him overcome our shame. The Lord has good gifts and good days ahead.
FOR SINGLE STUDY
Read: Isaiah 5:20-21
20 Woe unto them that call evil good, and good evil; that put darkness for light, and light for darkness; that put bitter for sweet, and sweet for bitter!
21 Woe unto them that are wise in their own eyes, and prudent in their own sight!
Consider or Journal: Increasingly in the world and among Church membership, there are individuals who either openly despises the word of the Lord (calling evil good, and good evil), or people who hear the Lord's counsel through His prophet but choose to alter the word or spin it to match their pre-existing ideas (thinking they are wise in their own eyes).
How can we protect ourselves from falling victim to this? How can we have the courage and faith to hold to true principles when so many are being deceived or deceiving themselves? How do we get and stay humble so we can be good soil where the word of the Lord can take root?
Quote: President Dallin H. Oaks gave some insights on how to protect ourselves from deception. As you read and ponder, consider how you can fully partake of the blessings of the Spirit.
"The Holy Ghost will protect us against being deceived, but to realize that wonderful blessing we must always do the things necessary to retain that Spirit. We must keep the commandments, pray for guidance, and attend church and partake of the sacrament each Sunday. And we must never do anything to drive away that Spirit. Specifically, we should avoid pornography, alcohol, tobacco and drugs, and always, always avoid violations of the law of chastity. We must never take things into our bodies or do things with our bodies that drive away the Spirit of the Lord and leave us without our spiritual protection against deception."
Featured Products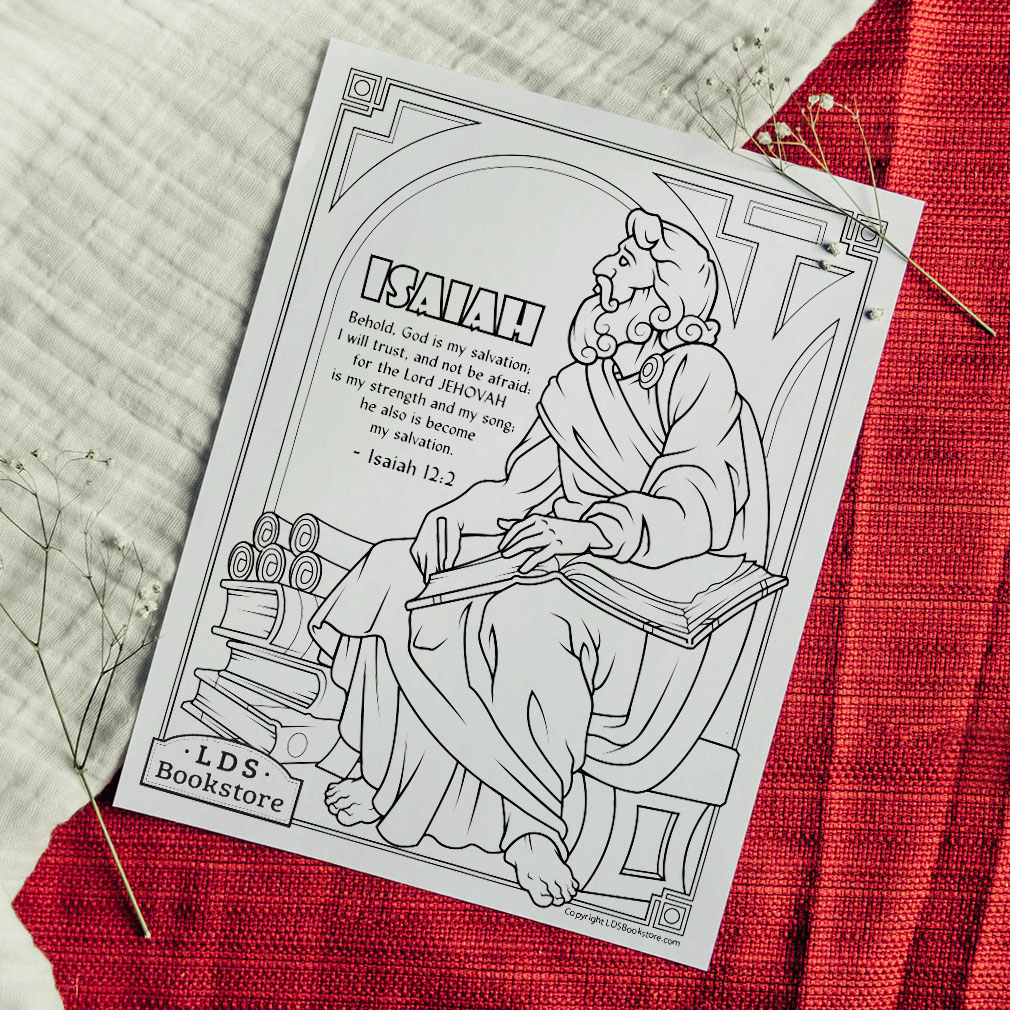 Treat
Custard Cake Recipe
Don't let your eyes deceive you! Is it custard? Is it cake? Dig in to find both in this magic custard cake recipe!
Activity
From Funtastic Family Home Evenings, try this object lesson showing how if you have the right powerful solution, even crimson sins can be removed.