Our God is our refuge from storms and sorrows and He is merciful to all who call on His name. Study this week's Come, Follow Me FHE Lesson and rejoice in the Lord's wildly generous, merciful love. We include three lesson plans for different ages.
Artwork by J. Kirk Richards
Scripture
Come and hear, all ye that fear God, and I will declare what he hath done for my soul.
Hymn
I Need Thee Every Hour | Hymn #98
1. I need thee ev'ry hour,
Most gracious Lord.
No tender voice like thine
Can peace afford.
[Chorus]
I need thee, oh, I need thee;
Ev'ry hour I need thee!
Oh, bless me now, my Savior;
I come to thee!
2. I need thee ev'ry hour;
Stay thou nearby.
Temptations lose their pow'r
When thou art nigh.
3. I need thee ev'ry hour,
In joy or pain.
Come quickly and abide,
Or life is vain.
4. I need thee ev'ry hour,
Most holy One.
Oh, make me thine indeed,
Thou blessed Son!
Lesson
FOR CHILDREN
Many children go back to school this month. Discuss with the children in your life the need to seek their true identity, their peace, and their safety not in popular styles or popular crowds or beliefs, but instead to seek this refuge from the Lord.
Ask: Have you ever started something new even though it was frightening? Maybe a new school year, or new sport? Maybe it was a new class or starting new lessons? How did you cope with the anxiety of starting something new?
Explain: We may feel uncomfortable without having our familiar things and people with us in our new circumstances. This is normal. How can we find peace and calmness in the face of these anxious feelings of starting something new?
Read: Psalm 62: 5-8 explains where true safety, peace, and strength come from.
My soul, wait thou only upon God; for my expectation is from him. He only is my rock and my salvation: he is my defence; I shall not be moved. In God is my salvation and my glory: the rock of my strength, and my refuge, is in God. Trust in him at all times; ye people, pour out your heart before him: God is a refuge for us.
Ask: What does it mean that God is a refuge? What is a refuge?
Merriam-Webster defines it as a "shelter or protection from danger or distress."
Ask: How does God provide us with protection from distress?
Sometimes He does remove the things that cause us distress, but often He gives us the courage to face our fears and the peace that comes from knowing He is on our side and that His love and approval are all that matter.
Ask: How does it help to know that God is our refuge when we face unkind people or bullies?
Video: Watch how one boy managed a bully in his class at school.
Ask:
How did the kind boy act as a refuge for the bully?
Testify: When we know that God loves us, protects us, and will save us, it doesn't matter what other people think. When we are confident in who we are, we can be a protection or refuge for other people and point them to Christ's love, too.
FOR TEENS & ADULTS
Ask: Have you ever had a time when it felt like you were on your own in the world? Maybe like Job you felt like your friends had abandoned you? Or maybe you're asking for a blessing from God and it doesn't seem to be coming?
How should we respond in these times when the heavens seem closed and no blessings seem to be coming from God? How can we remain faithful during these lonely times?
Read: Psalm 77:7-13
Will the Lord cast off for ever? and will he be favourable no more? Is his mercy clean gone for ever? doth his promise fail for evermore? Hath God forgotten to be gracious? hath he in anger shut up his tender mercies? Selah.
[Have we ever felt like this? That God has given up on us? That we have used up all of His mercy or that He is finished being merciful with us?]
And I said, This is my infirmity: but I will remember the years of the right hand of the most High. I will remember the works of the Lord: surely I will remember thy wonders of old. I will meditate also of all thy work, and talk of thy doings. Thy way, O God, is in the sanctuary: who is so great a God as our God?
Teach: There are times when we may not be receiving the blessings we think we need. In those times, we must look back and remember all of the times God has been there for us in the past. Keeping a journal of times we have received answers to prayers, or a journal of gratitude for all we have been blessed with can be helpful to re-read in times we start to forget how merciful the Lord is.
Psalm 78 (the psalm following these verses) is a recounting of the children of Israel and the Lord's blessings and deliverance for them in Egypt. It recounts how He provided them with manna, water, and meat in the wilderness and how they were spared as they crossed the Red Sea on dry ground.
Ask: What are your Red Sea moments? What are times in your life when you definitely saw the hand of the Lord?
Recount and retell these stories of testimony-building. Share times you have felt the Spirit, had answers to your prayers or saw the hand of the Lord with your family. Consider recording them in an individual or family journal to call upon when times are tough and faith is challenged.
Testify: Bearing testimony and recounting the Lord's goodness from the past will give us the courage to face times when His voice and mercy seem absent from our lives.
Share: Be Still, My Soul. This hymn depicts the faithfulness of these verses in psalms. "Thy God doth undertake to guide the future as He has the past."
FOR SINGLE STUDY
We can get discouraged when we are praying and seeking answers and they don't seem to come. S. Michael Wilcox describes this as God being a "fourth watch God." He is a first watch God, however, when it comes to our repentance and the moments we truly and genuinely seek His mercy or our sins.
Read: Psalm 86:5
For thou, Lord, art good, and ready to forgive; and plenteous in mercy unto all them that call upon thee.
Watch: This talk presented at Education Week in 2005 by S. Michael Wilcox is well worth your time. It provides encouragement for times when we have to wait upon the Lord as well as the observation that God is always and immediately there for us when we seek Him in a state of sincere repentance.
Featured Products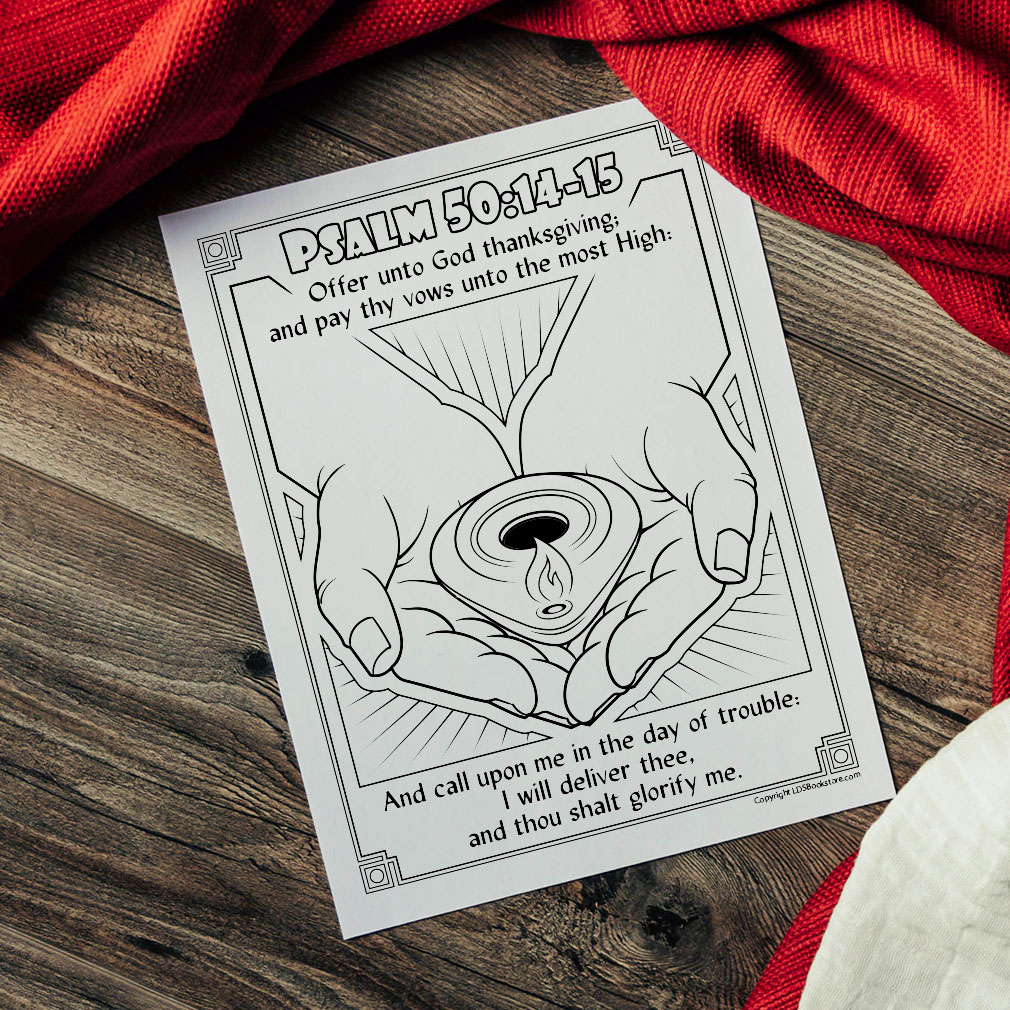 Treat
Chocolate S'mores Pudding Cake
Don't let summer end without trying this Chocolate S'mores Pudding Cake!
Activity
Psalm 66:1-2 reads, "Make a joyful noise unto God, all ye lands: Sing forth the honour of his name: make his praise glorious."
As a family, have a karaoke party or a dance party or a family sing-along making a "joyful noise" unto God.