Jesus Christ frees us from suffering and spiritual death. When we look to Him, we live in greater peace, freedom, and joy.
Scripture
And Moses made a serpent of brass, and put it upon a pole, and it came to pass, that if a serpent had bitten any man, when he beheld the serpent of brass, he lived.
Hymn
Jesus, the Very Thought of Thee | Hymn #141
1. Jesus, the very thought of thee
With sweetness fills my breast;
But sweeter far thy face to see
And in thy presence rest.
2. Nor voice can sing, nor heart can frame,
Nor can the mem'ry find
A sweeter sound than thy blest name,
O Savior of mankind!
3. O hope of ev'ry contrite heart,
O joy of all the meek,
To those who fall, how kind thou art!
How good to those who seek!
4. Jesus, our only joy be thou,
As thou our prize wilt be;
Jesus, be thou our glory now,
And thru eternity.
Lesson
FOR CHILDREN
Teach: The children of Israel had certain expectations of what they thought their lives might be like once they were freed from the bondage of Egypt, but their time in the wilderness didn't seem to be going as they hoped. They complained frequently of their trials of living in the wilderness.
Video: Moses and the Brass Serpent
Read: 1 Nephi 17:41
"And he did straiten them in the wilderness with his rod; for they hardened their hearts, even as ye have; and the Lord straitened them because of their iniquity. He sent fiery flying serpents among them; and after they were bitten he prepared a way that they might be healed; and the labor which they had to perform was to look; and because of the simpleness of the way, or the easiness of it, there were many who perished."
Ask: The Israelites could be saved from physical death by just looking at the brass serpent Moses was commanded to make. If they could be saved from death by poisonous serpents, why were there many who refused to look?
Spiritual death is when we are separated from the Lord because we don't have His Spirit with us. What are some "simple things" we should do to prevent spiritual death? [Pray, read scriptures, take the Sacrament.]
Why do we sometimes not do the "easy things" we are given to save us from spiritual death?
What habits and systems could our family put in place that would help us do the "simple things" that keep us safe from spiritual death?
Testify: Sometimes we feel like the only way to be part of something big is to do something big, but the children of Israel teach us that sometimes simply acting faithfully in simple ways can bring about miracles. After all, "by small and simple things are great things brought to pass" (Alma 37:6). Don't make the mistake of believing that our simple, daily acts of faith (praying, studying scriptures, offering service, going to church, etc.) don't matter.
FOR TEENS & ADULTS
Teach: While in the wilderness, the Israelites once again expressed frustration with their circumstances instead of gratitude for their freedom.
Ask: How can gratitude change our attitudes even when our circumstances haven't changed?
Quote: "Yes, life has its problems, and yes, there are negative things to face, but please accept one of Elder Holland's maxims for living—no misfortune is so bad that whining about it won't make it worse." —Elder Jeffrey R. Holland
Read: Numbers 21:5-9
And the people spake against God, and against Moses, Wherefore have ye brought us up out of Egypt to die in the wilderness? for there is no bread, neither is there any water; and our soul loatheth this light bread. And the Lord sent fiery serpents among the people, and they bit the people; and much people of Israel died. Therefore the people came to Moses, and said, We have sinned, for we have spoken against the Lord, and against thee; pray unto the Lord, that he take away the serpents from us. And Moses prayed for the people. And the Lord said unto Moses, Make thee a fiery serpent, and set it upon a pole: and it shall come to pass, that every one that is bitten, when he looketh upon it, shall live. And Moses made a serpent of brass, and put it upon a pole, and it came to pass, that if a serpent had bitten any man, when he beheld the serpent of brass, he lived.
Consider: The people repented and asked Moses to petition God to take away the serpents. The serpents were not taken away, but God provided a way for them to be healed if they were bitten.
Video: Heather prayed earnestly and faithfully that the Savior's atonement would lift and remove her depression. Her prayers were not answered in the way she hoped or expected, but the Lord still provided a way.
Ask:
How does the serpent on the pole represent Jesus Christ?
Read: John 3:14–15
And as Moses lifted up the serpent in the wilderness, even so must the Son of man be lifted up: That whosoever believeth in him should not perish, but have eternal life.
Ask: When has the atonement provided healing for you even if the serpent of your trial was not removed?
Testify: Jesus Christ is the answer to our suffering. He may provide a way out through myriad means. Perhaps He blesses you to find the right friend, the right job, the right doctor to help resolve your challenge or bring you healing even if the trial persists. But He is always the right source to go to for truth, respite, and peace.
FOR SINGLE STUDY
Read: Numbers 21:5-9 (found above in the Teens and Adults section)
Consider or Journal: The Lord, through Moses, invited the Israelites to act in faith for their serpent wounds to be healed. Although the act of faith was small (simply looking at the brass serpent the Lord commanded Moses to make), that faith was enough to ignite a bonfire of blessings in sparing their lives.
Read or Watch: Elder Renlund speaks on how small acts of faith are enough to unleash great blessings from the Lord. Abound with Blessings, Elder Dale G. Renlund
Quote: "How much energy does it take to look at something? All who looked accessed the powers of heaven and were healed. Other Israelites who were bitten failed to look at the brazen serpent and died. Perhaps they lacked the faith to look. Perhaps they did not believe that such a simple action could trigger the promised healing. Or perhaps they willfully hardened their hearts and rejected the counsel of God's prophet." –Dale G. Renlund
Consider or Journal: What small acts of faith stand in your way between suffering and being healed?
Quote: "Sometimes we need to make a bow and arrow before revelation comes as to where we should search for food. Sometimes we need to make tools before revelations come as to how to build a ship. Sometimes, at the direction of the Lord's prophet, we need to bake a small cake from the little oil and flour we have to receive an unfailing cruse of oil and barrel of flour. And sometimes we need to "be still and know that [God is] God" and trust in His timing." –Elder Renlund
Consider or Journal: Is there a figurative bow or tools or small cake you need to prepare as an act of faith in the Lord in preparation to receive the blessings you seek?
Quote: "If a desired blessing from God has not been received—yet—you do not need to go crazy, wondering what more you need to do. Instead, heed Joseph Smith's counsel to "cheerfully do all things that lie in [your] power; and then … stand still, with the utmost assurance, to see the … arm [of God] … revealed."
"Some blessings are reserved for later, even for the most valiant of God's children." –Elder Renlund
Consider or Journal: One of the most important acts of faith can be enduring well–patiently serving the Lord regardless of whether the blessing we seek arrives on the timetable we wish. Still, if we act in faith and trust in the Lord, all of the blessings He has for us will eventually be ours.
Featured Products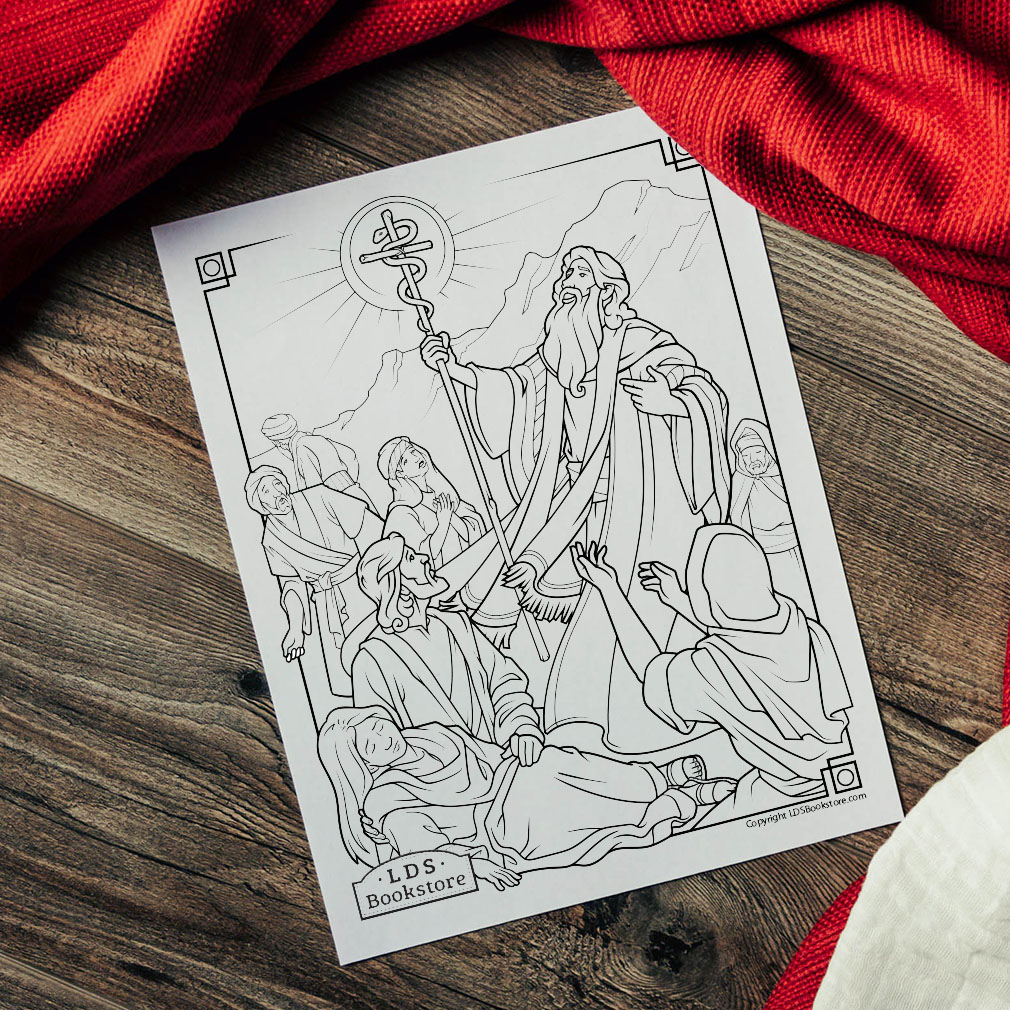 Treat
Snakes on a Stick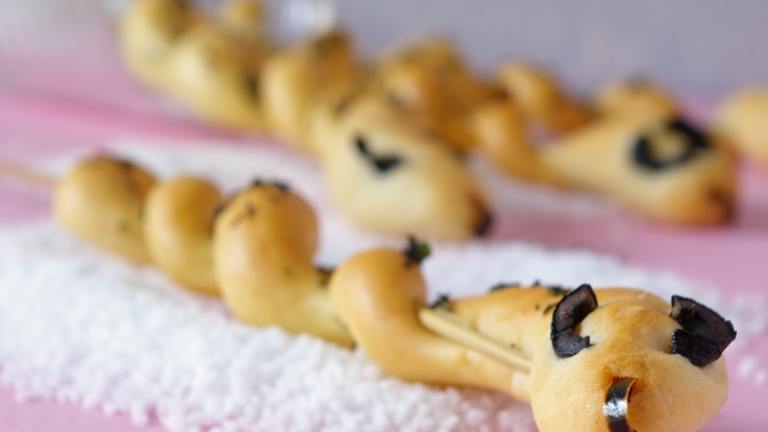 Enjoy these savory Snakes on a Stick in commemoration of Moses' brass serpent on a pole. Get the recipe here.
Activity
Consider what challenges members of your family are currently going through, then flip the script to look at the blessings within those challenges. For example, if a child has challenging testing coming up at school, think of the blessings of learning and having a strong mind. If friends are being unkind, consider the blessing it is to learn the value of kindness from their poor examples. Keeping our focus on the blessings within the trials helps us to feel and know that the Lord is near even in our hard times.