Proverbs and Ecclesiastes point us repeatedly to trust in the Lord and listen to His wisdom. When we decide to put our pride aside and put Him first in our lives, our strength and testimony will grow. Check out our Come Follow Me family home evening lessons, which include three lesson plans for different ages and life situations.
Scripture
The fear of the Lord is the beginning of wisdom: a good understanding have all they that do his commandments: his praise endureth for ever.
Hymn
How Gentle God's Commands | Hymn #314
1. How gentle God's commands!
How kind his precepts are!
Come, cast your burdens on the Lord
And trust his constant care.
2. Beneath his watchful eye,
His Saints securely dwell;
That hand which bears all nature up
Shall guard his children well.
3. Why should this anxious load
Press down your weary mind?
Haste to your Heav'nly Father's throne
And sweet refreshment find.
4. His goodness stands approved,
Unchanged from day to day;
I'll drop my burden at his feet
And bear a song away.
Lesson
FOR CHILDREN
Read: Proverbs 31:10
Who can find a virtuous woman? For her price is far above rubies.
Ask: What makes a woman virtuous? What are the characteristics of a virtuous woman? Why do these qualities make her so valuable?
Read: Read selected verses from Proverbs 31 to see some characteristics that make up a virtuous woman.
Verse 13: "She seeketh wool, and flax, and worketh willingly with her hands."
–A virtuous woman is a hard worker.
Verse 20: "She stretcheth out her hand to the poor; yea, she reacheth forth her hands to the needy."
–A virtuous woman is generous and gives to those in need.
Verse 26: "She openeth her mouth with wisdom; and in her tongue is the law of kindness."
–A virtuous woman is wise and speaks in kindness.
Read: Sometimes we are tempted to lower our standards of dress, appearance, speech, and behavior. But a virtuous woman is lovely because she protects that virtue, honors it, and doesn't bow to the pressures of the world.
Proverbs 31:30
"Favour is deceitful, and beauty is vain: but a woman that feareth the Lord, she shall be praised."
Watch: Talissa kept her standards of virtue and beauty even when under pressure to wear a dress that did not match her standards. Watch here.
Testify: A virtuous woman (or man) is praised by the Lord. Never let your standards be compromised to fit in or for a special occasion. Virtuous men and women have the integrity to live according to their standards no matter the situations or pressures. Maintaining the Lord's trust in us by maintaining our virtue is worth the cost.
FOR TEENS & ADULTS
Read: Explore the wisdom of Proverbs 15
1: A soft answer turneth away wrath: but grievous words stir up anger.
2: The tongue of the wise useth knowledge aright: but the mouth of fools poureth out foolishness.
4: A wholesome tongue is a tree of life: but perverseness therein is a breach in the spirit.
18: A wrathful man stirreth up strife: but he that is slow to anger appeaseth strife.
28: The heart of the righteous studieth to answer: but the mouth of the wicked poureth out evil things.
Ask: What is a "soft answer" and how does it turn away wrath?
Story: Read this story of a mother who would have been justified in her rage, but who instead used a soft answer to form a long-time positive relationship:
I grew up in a house on the corner of Main Street in a small Idaho town. Often during the summer we would spend our afternoons and evenings in the front yard, playing on the grass or visiting with our neighbors.
One afternoon while we were playing in the yard, my youngest sister, who was only two years old, bolted out into the street. At the same moment, a truck with a couple of teenage boys from down the street screeched around the corner. My dad acted quickly and pulled my little sister out of the truck's path. The boys in the truck shouted unkind and inappropriate words as they sped down the street.
I was angry, to say the least. I remember thinking someone should go down to the boys' house and put them in their place. My sister could have been hurt or killed by their careless, dangerous driving.
I was glad when I saw my mother walking down the street, and I followed her. I was certain that the boys were going to be in big trouble. When we got to the house, the boy who had been driving answered the door. He was angry and defensive. He asked what we wanted and, to my surprise, my mother began to apologize. She said she was sorry that she had allowed her daughter to be so close to the street and told him she would watch my sister more carefully in the future.
Immediately the boy's countenance changed. He apologized for driving so fast and for putting my sister in danger. He vowed to be more careful as he drove. After the short conversation, we returned home.
I still have never seen such an immediate change come over someone as it did over that boy that afternoon. We lived in that house for 11 more years, and in that time I never again saw the boy drive carelessly around the corner. As Proverbs 15:1 teaches, "A soft answer turneth away wrath: but grievous words stir up anger." I imagine the outcome of the situation would have been very different if my mom would have approached angrily. Instead, two hearts were changed by the soft words of my mother.
Ask: What would have likely been the outcome if the mother had yelled at the teenager and expressed her anger about his careless driving around her daughter?
Teach: Sometimes we want someone to change behavior, but we go about it in anger instead of love, kindness, and softness and this actually ends up keeping us from getting the outcome we want. Although we may be justified in our anger, many times responding in anger will leave us without the outcomes we desire. Furthermore, responding in anger will almost definitely ensure that the Lord will not be there in the communication.
Quote: President Gordon B. Hinckley taught, "It seems to me that there is something significant in the description of Elijah's contest with the priests of Baal: 'A great and strong wind rent the mountains, and brake in pieces the rocks.' That is a rather vivid description of some of the arguments that take place between [families] but, notes the writer of the scripture, "The Lord was not in the wind: and after the wind an earthquake; but the Lord was not in the earthquake: And after the earthquake a fire; but the Lord was not in the fire: and after the fire a still small voice" (1 Kings 19:11–12). The voice of heaven is a still small voice. The voice of peace in the home is a quiet voice.
Testify: If we want the Lord to be "in" our communication, we need to respond with a soft answer–with a still small voice.
FOR SINGLE STUDY
Read: These selected verses from Proverbs 4 discuss the need for wisdom.
1: Hear, ye children, the instruction of a father, and attend to know understanding.
2: For I give you good doctrine, forsake ye not my law.
5: Get wisdom, get understanding: forget it not; neither decline from the words of my mouth.
7: Wisdom is the principal thing; therefore get wisdom: and with all thy getting get understanding.
11: I have taught thee in the way of wisdom; I have led thee in right paths.
12: When thou goest, thy steps shall not be straitened; and when thou runnest, thou shalt not stumble.
14: Enter not into the path of the wicked, and go not in the way of evil men.
15: Avoid it, pass not by it, turn from it, and pass away.
18: But the path of the just is as the shining light, that shineth more and more unto the perfect day.
19: The way of the wicked is as darkness: they know not at what they stumble.
20: My son, attend to my words; incline thine ear unto my sayings.
26: Ponder the path of thy feet, and let all thy ways be established.
Consider or Journal: Why is wisdom the "principal thing" more than knowledge? How do they differ?
Read: Jacob 6:12
"O be wise; what can I say more?"
Watch: Choose Wisely by Elder Quentin L. Cook
Consider or Journal: What goals can you set that will point the "path of your feet" toward Jesus Christ?
Featured Products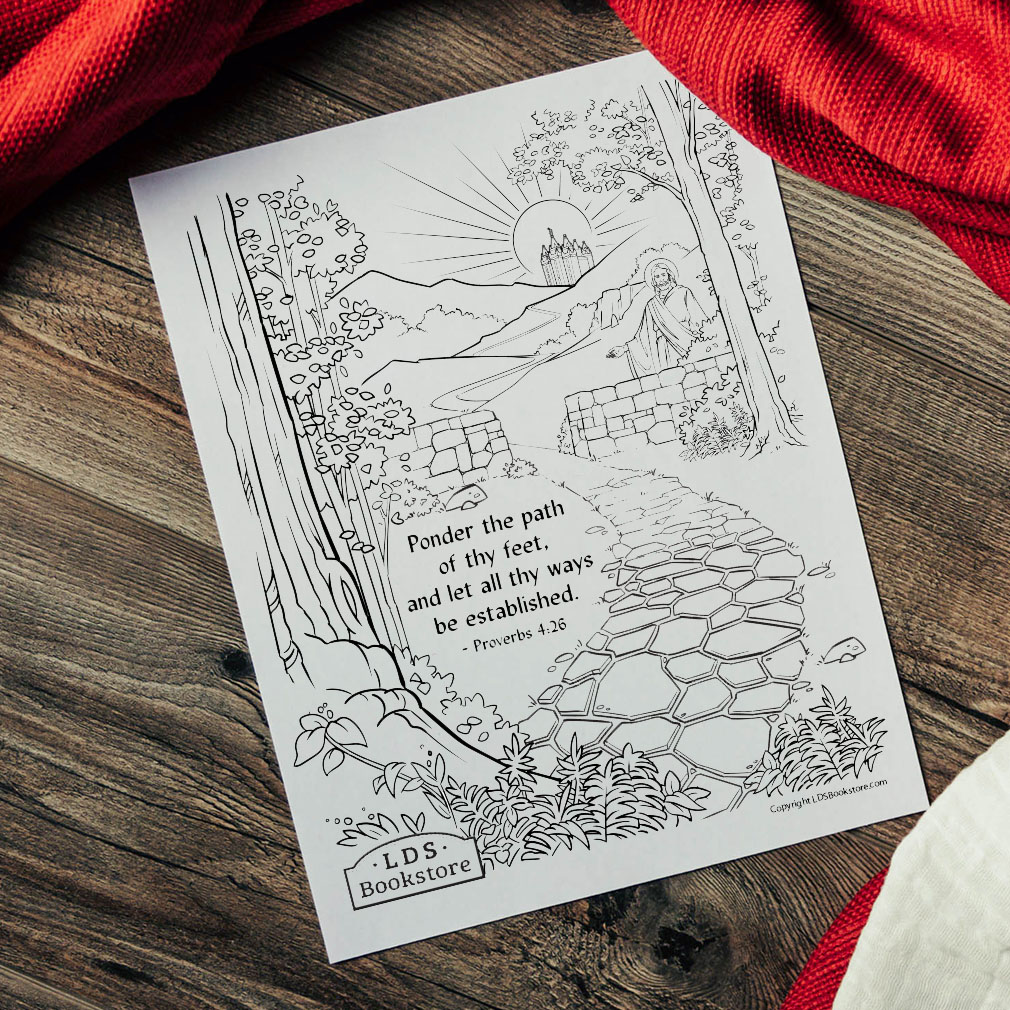 Treat
Peanut Butter Balls
Try these Peanut Butter Balls with Rice Krispies–a new take of the classic comfort food, Buckeyes.
Activity
Consider who is a "virtuous woman" (Proverbs 31) in your life and write a note to thank her for her example and influence in your life. Put them in the mail or doorbell ditch them at her house if she lives close to you.