Joseph of old was sold into slavery by his own brothers. He lived in a foreign land away from his family, was accused of sins he never committed and sent to prison. He must have, at times, felt forsaken. Still, he trusted in the Lord and endured well and the Lord remained with Joseph through all of his afflictions.
Featued art by Jeff Ward
Scripture
 But the Lord was with Joseph, and shewed him mercy, and gave him favour.
Hymn
God Moves in a Mysterious Way | Hymn #285
1. God moves in a mysterious way
His wonders to perform;
He plants his footsteps in the sea
And rides upon the storm.
2. Ye fearful Saints, fresh courage take;
The clouds ye so much dread
Are big with mercy and shall break
In blessings on your head.
3. His purposes will ripen fast,
Unfolding ev'ry hour;
The bud may have a bitter taste,
But sweet will be the flower.
4. Blind unbelief is sure to err
And scan his works in vain;
God is his own interpreter,
And he will make it plain.
Lesson
FOR CHILDREN
Explain: Help the children understand what happened to Joseph with the following explanation and scriptures.
Joseph was one of twelve sons born to Jacob, the grandson of Abraham. Joseph's mother, Rachel, was unable to have children for many years, but the Lord showed her mercy and blessed her to have a son when she and Jacob were both fairly old.
Read: Genesis 37:3 "Now Israel [Jacob's new name] loved Joseph more than all his children, because he was the son of his old age: and he made him a coat of many colours."
Jacob (now called Israel) and his wife Rachel viewed Joseph's birth as a great blessing, but Joseph's brothers felt jealous of how their father treated Joseph.
Read: Genesis 37:4
"And when his brethren saw that their father loved him more than all his brethren, they hated him, and could not speak peaceably unto him."
When he was 17 years old, his brothers trapped Joseph in a pit without any food or water.
Read: Genesis 37: 24
"And they took him, and cast him into a pit: and the pit was empty, there was no water in it."
When travelers came through toward Egypt, the brothers sold their brother Joseph to them for twenty pieces of silver.
Read: Genesis 37:28
"Then there passed by Midianites merchantmen; and they drew and lifted up Joseph out of the pit, and sold Joseph to the Ishmeelites for twenty pieces of silver: and they brought Joseph into Egypt."
Ask: "If you had been one of Joseph's brothers, what could you have done to keep jealousy from weakening your relationship with him?" (CFM Manual)
How can we be peacemakers in our own home and help each other to treat each other with greater kindness?
Teach: Joseph became a slave to Potiphar, an officer of the Pharaoh in Egypt. Potiphar's wife lied and said Joseph had tried to hurt her, so Joseph was sent to prison.
Ask: How do you think Joseph might have felt after all of this had happened to him?
Explain: Joseph didn't know how the Lord would provide a way for him, but he trusted in the Lord anyway.
God had given Joseph the gift of understanding the meaning of dreams, so when the Pharaoh had a dream he could not understand, he went to Joseph to have him explain it. Joseph said, "It is not in me: God shall give Pharaoh an answer of peace" (Gen. 41:16). Because Joseph interpreted Pharaoh's dream, Pharaoh released him from prison and made him very powerful.
He said to Joseph in Genesis 41:40-41, "Thou shalt be over my house, and according unto thy word shall all my people be ruled: only in the throne will I be greater than thou. And Pharaoh said unto Joseph, See, I have set thee over all the land of Egypt."
Testify: The Scriptures teach us over and over that even if everything seems impossible, nothing is impossible for God. If we have trust in Him, He can make great blessings come out of even the most difficult circumstances.
Optional Video: How did a tragic storm give one mother the courage and strength to endure her trials well? Available here.
FOR TEENS & ADULTS
Review: Use the explanation and scriptures above to learn or review the story of how Joseph, who was sold into slavery by his own brothers, became Egypt's second in command only behind Pharaoh.
Ask: When has the Lord blessed you through a challenging trial? Did you recognize the blessings right away? Or did it take some time and reflection after the fact to see His hand in it?
The Lord promises throughout the scriptures that trials can be for our good if we trust in Him (John 14:18; Romans 8:28; Alma 36:3; Doctrine and Covenants 121:7–8). In what ways have you been changed or refined through your trials?
Video: Watch and consider how our trials increase our capacity to feel joy. Available here.
FOR SINGLE STUDY
Review: If you're unfamiliar with Joseph's backstory, read the review included under the children's section above.
Read or watch: "The Joy of the Saints," Elder D. Todd Christofferson
Consider or Journal: When have you seen evidence of the Lord remaining with you even when you were in the midst of sore trials? How does seeing the Lord's hand in the midst of the trial change the nature of the trial for us? What greater blessings has the Lord prepared for your future because you have endured well and trusted Him through your trials?
Featured Products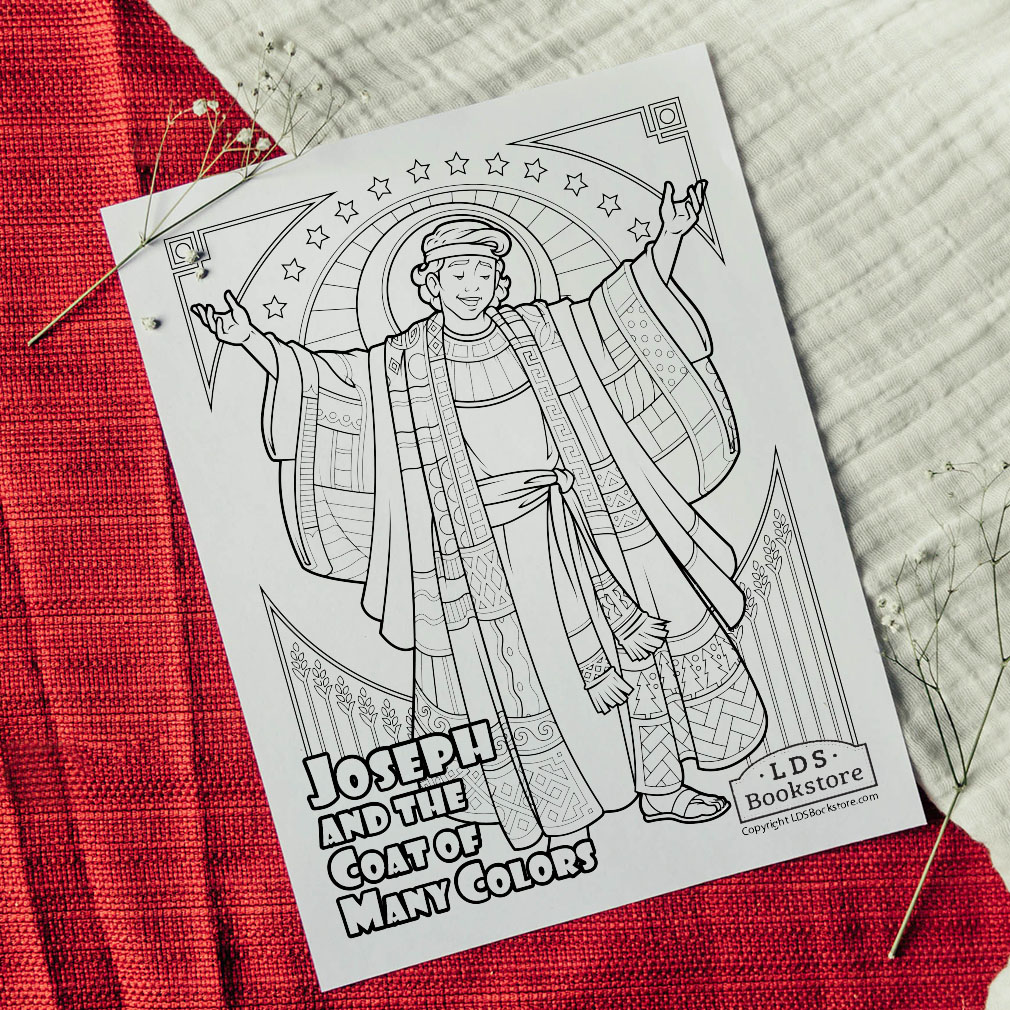 Treat
Easy Cake Mix Cookies
You'll need:
1 box Betty Crocker cake mix
2 eggs
1/2 cup oil
Mix together and shape into cookies. Bake for 10-12 minutes at 350 degrees. Follow this link for fun flavor and mix in ideas!
Activity
As Gordon B. Hinckley once said, "I am asking that we stop seeking out the storms and enjoy more fully the sunlight." 
As a family, play the "Glad Game." Using either real trials your family is enduring or the examples of Joseph, list as many things as you can that either you or he could be grateful for. Playing the Glad Game doesn't mean you're blind to the challenges ahead of you, but it will help you see God's hand and His love for you, even in the midst of trial.