Sometimes we need a blessing and believe it will only come about through a great miracle, but we forget that God's greatest miracles are often brought about through small and simple acts of faith.
Scripture
And his servants came near, and spake unto him, and said, My father, if the prophet had bid thee do some great thing, wouldest thou not have done it? how much rather then, when he saith to thee, Wash, and be clean?
Hymn
Dearest Children, God Is Near You | Hymn #96
1. Dearest children, God is near you,
Watching o'er you day and night,
And delights to own and bless you,
If you strive to do what's right.
He will bless you, He will bless you,
If you put your trust in him.
2. Dearest children, holy angels
Watch your actions night and day,
And they keep a faithful record
Of the good and bad you say.
Cherish virtue! Cherish virtue!
God will bless the pure in heart.
3. Children, God delights to teach you
By his Holy Spirit's voice.
Quickly heed its holy promptings.
Day by day you'll then rejoice.
Oh, prove faithful, Oh, prove faithful
To your God and Zion's cause.
Lesson
FOR CHILDREN
Read and Teach: 2 Kings 5:1
Now Naaman, captain of the host of the king of Syria, was a great man with his master, and honourable, because by him the Lord had given deliverance unto Syria: he was also a mighty man in valour, but he was a leper.
A leper was someone who had a very serious, even fatal, skin disease. A person with leprosy may not be able to participate in society because it would risk other people becoming infected with a painful and deadly disease. Today, leprosy is very treatable with antibiotics, but at the time it was among the worst illnesses someone could have.
Naaman was an honorable, mighty, valiant man, but he had this terrible disease.
His wife's servant, however, had faith that he could be healed.
2 Kings 5:3
And she said unto her mistress, Would God my lord were with the prophet that is in Samaria! for he would recover him of his leprosy.
This young maid believed the prophet had the ability to heal Naaman and she shared that belief with Naaman's wife.
Ask: How can others be blessed by our faith? Has anyone in our family ever had a time where we shared our faith with someone else and it eased their burdens or blessed their life? What if the young lady had not spoken up? What consequences might Naaman and his wife have had to live through if she hadn't shared her faith?
Explain: Although it did take some time, Naaman did finally go to visit Elisha the prophet. When he did arrive at the home of Elisha, Elisha sent his servant out to meet him.
Read: 2 Kings 5:10
And Elisha sent a messenger unto him, saying, Go and wash in Jordan seven times, and thy flesh shall come again to thee, and thou shalt be clean.
Explain: Naaman was angry at this response. He had thought the prophet would at least speak to him face-to-face. He envisioned a great miracle and instead the prophet told him to wash seven times in the Jordan river. The Jordan river was really little more than a muddy creek. Naaman thought the rivers where he was from were much nicer, so why should he bother washing in the Jordan river? 2 Kings 5:12 says he went away in a rage.
Ask: If the Lord tells us to do something by way of His prophet, should we be mad He didn't come down Himself to tell us? God, like the prophet Elisha, has entrusted often His messages to be passed to us through His prophet. We also receive personal revelation directly through the Holy Ghost, but it is very rare indeed for Jesus Christ or our Heavenly Father to come down and witness to us.
Likewise, there may be times when we want the prophet to speak to us directly about a matter, but instead an apostle does, or maybe even a stake president or bishop. The Lord speaks to us through His servants just like Elisha spoke to Naaman through his servant. It doesn't make the message any less from the Lord.
Read: Another of Naaman's servants encouraged Naaman to believe and trust in the prophet's simple request.
2 Kings 5:13
And his servants came near, and spake unto him, and said, My father, if the prophet had bid thee do some great thing, wouldest thou not have done it? how much rather then, when he saith to thee, Wash, and be clean?
Ask: Why is it sometimes harder to do the simple things the prophet encourages us to do than if we were told to do something big?
Sometimes it feels like if we did something big it would be more special, or it would count for more, but doing the simple things like reading scriptures, praying every day, taking the Sacrament, and repenting are the things that keep us on the covenant path and help us to hear and be guided by the Spirit.
Read: When Naaman was reminded of this, he humbled himself and did the simple thing the prophet directed.
2 Kings 5:14
Then went he down, and dipped himself seven times in Jordan, according to the saying of the man of God: and his flesh came again like unto the flesh of a little child, and he was clean.
Video: Watch this animated depiction of Naaman seeking help from Elisha the prophet.
Ask: How are we made clean through our small and simple obedience?
Testify: Humbly trusting in the Lord and His servants brings us peace and the joy of the Spirit. Consistently doing the right little things will give us the courage to do the big things the Lord may require of us.
FOR TEENS & ADULTS
Read: 2 Kings 5:14 to discover the story of Naaman seeking a blessing of healing through Elisha the prophet (or read the story summarized above in the children's section).
Video: Watch this depiction of Naaman's leprosy, anger, pride, and eventual humility and healing through acting in faith on the prophet's words.
Teach: After Naaman was cleansed and healed of his leprosy, he was grateful and wanted to pay Elisha the prophet for the miraculous blessing Naaman received.
Read: 2 Kings 5:16
But he said, As the Lord liveth, before whom I stand, I will receive none. And he urged him to take it; but he refused.
Ask: Why did Elisha refuse the payment Naaman offered? How might the work of the Lord be altered if this type of payment were involved? What can happen when our hearts are turned more to money than on the work of the Lord?
Read: Elisha's servant Gehazi lacked the integrity he needed to refuse payment.
2 Kings 5:20, 22, 25-27
But Gehazi, the servant of Elisha the man of God, said, Behold, my master hath spared Naaman this Syrian, in not receiving at his hands that which he brought: but, as the Lord liveth, I will run after him, and take somewhat of him.
And he said, All is well. My master hath sent me, saying, Behold, even now there be come to me from mount Ephraim two young men of the sons of the prophets: give them, I pray thee, a talent of silver, and two changes of garments.
But he went in, and stood before his master. And Elisha said unto him, Whence comest thou, Gehazi? And he said, Thy servant went no whither.
And he said unto him, Went not mine heart with thee, when the man turned again from his chariot to meet thee? Is it a time to receive money, and to receive garments, and oliveyards, and vineyards, and sheep, and oxen, and menservants, and maidservants?
The leprosy therefore of Naaman shall cleave unto thee, and unto thy seed for ever. And he went out from his presence a leper as white as snow.
Ask: Why does the Lord value integrity so much?
Quote: Elder Tad R. Callister of the Presidency of the Seventy said, "Integrity is the foundation of our character and all other virtues."
Testify: In this one story, we seek the need for heeding the prophet and for those who support him and his work (Apostles, Seventies, Stake Presidents, Bishops and other local leaders), and the need for humility, gratitude, and integrity. Though the encouragement we receive from the prophet may be to act in consistent small and simple ways, we can receive miracles when our hearts are pure.
FOR SINGLE STUDY
Consider or Journal: Elisha the prophet represents Christ in many ways including in many of his miracles performed.
Consider which of Christ's miracles in the New Testament are foreshadowed by Elisha's miracles in 2 Kings.
2 Kings 2:19-22–Creating water from salted vessels (like wine from water, John 2:6-11)
2 Kings 4:2-7–Providing for the debt to be paid (like the coin in the fish, Matthew 17:224-27)
2 Kings 4:32-35–Raising a child from the dead (Jairus' daughter, Luke 8:49-55)
2 Kings 5–Healing a leper (as Christ does in Matthew 8:2-3)
2 Kings 6:4-7–Making iron float on the top of the water (Christ walking on the top of the water, Matthew 14:24-27)
Prophets testify of Jesus Christ by their words and actions. In what ways does President Nelson testify of Jesus Christ by his words and actions?
Featured Products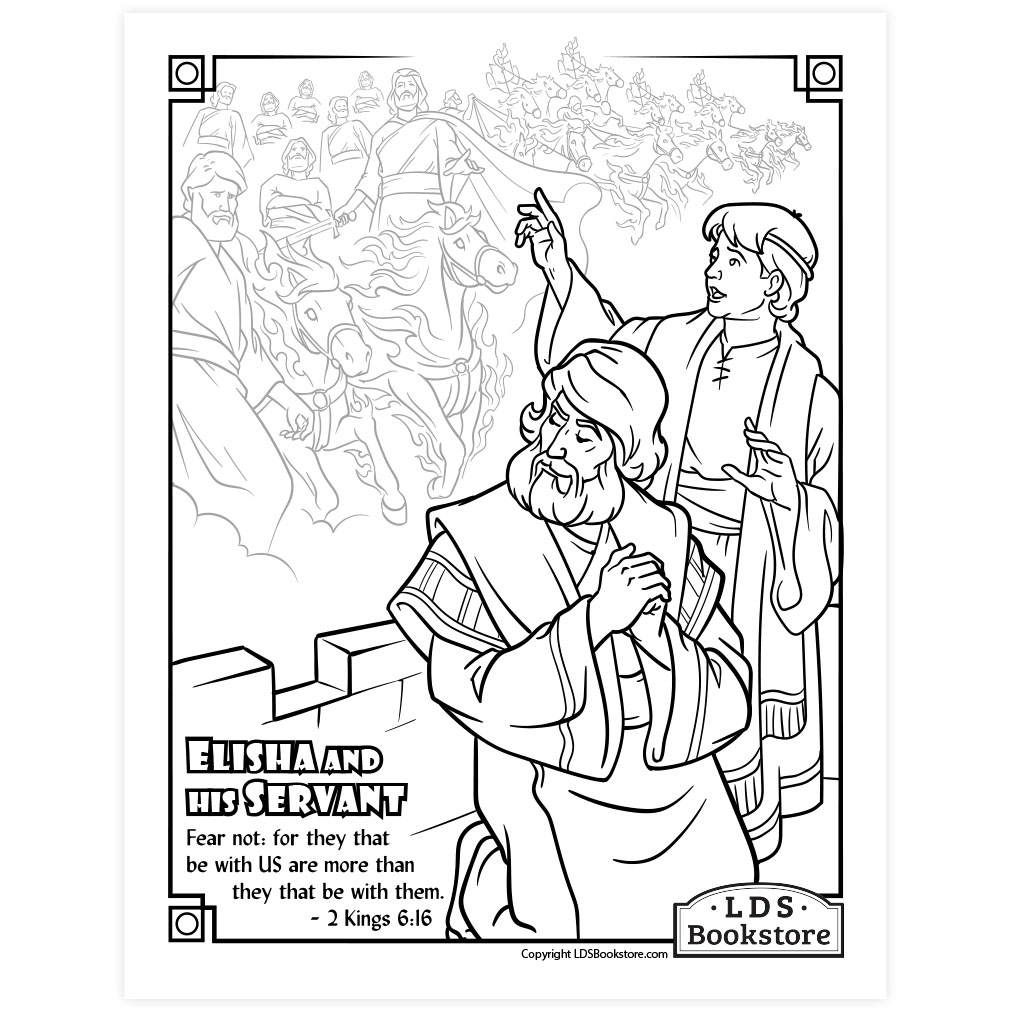 Treat
Patriotic Rice Krispie Treats
If you're celebrating Independence Day in the United States this week, try these Fourth of July Rice Krispie treats to keep the kitchen cool and the day festive!
Activity
Think of the prophet passing on the Lord's message to us as you practice passing on the message to your family members in a game of Telephone. You can practice speaking loudly to your neighbor to pass on the message and then try speaking softly. Describe how when we focus on the message, we can hear it clearly even when it is quiet. As we get better at hearing and recognizing the voice of the Spirit, we can follow His directions even when He remains a still small voice.