What does it mean to be anxiously engaged in a good cause? This Doctrine and Covenants FHE Lesson helps us understand how to do good and find excitement in building the kingdom of God as we trust our agency and power. 
Scripture
 Verily I say, men should be anxiously engaged in a good cause, and do many things of their own free will, and bring to pass much righteousness.
Hymn
Have I Done Any Good? | Hymn #223
1. Have I done any good in the world today?
Have I helped anyone in need?
Have I cheered up the sad and made someone feel glad?
If not, I have failed indeed.
Has anyone's burden been lighter today
Because I was willing to share?
Have the sick and the weary been helped on their way?
When they needed my help was I there?
[Chorus]
Then wake up and do something more
Than dream of your mansion above.
Doing good is a pleasure, a joy beyond measure,
A blessing of duty and love.
2. There are chances for work all around just now,
Opportunities right in our way.
Do not let them pass by, saying, "Sometime I'll try,"
But go and do something today.
'Tis noble of man to work and to give;
Love's labor has merit alone.
Only he who does something helps others to live.
To God each good work will be known.
Lesson
FOR CHILDREN
Begin the lesson by watching the following video.
Ask:
What did the roly poly's learn in this video?
Read aloud: Our Heavenly Parents want us to find our own good things to do. Sometimes, we receive promptings on what to do. But many times, Heavenly Father wants us to use our power to think about good things to do without being told.
Ask: What are some good things you can do?
Read aloud: Sometimes we are scared to do something because we don't know if it is right. Heavenly Father has promised us that if we just try to do good, He will help us. We shouldn't be afraid to try.
Share a personal experience about being anxiously engaged in a good cause. Close with your testimony.
FOR TEENS & ADULTS
Begin the lesson by reading Doctrine and Covenants 58:27 and asking the question: What does it mean to be anxiously engaged in a good cause?
Read aloud: Today's world is full of anxiety. We rush from place to place and often feel a lot of pressure to get things done. When Jesus Christ tells us to be anxiously engaged, He doesn't want us to overextend ourselves and run faster than we have strength. It means He wants us to be actively looking for opportunities to build the kingdom of God and to be excited about it.
Sister Elaine Michaelis gave us 10 tips on how we can be anxiously engaged in a good cause:
Prayerfully Act
Contribute Good the World
Be an Example of the Virtues of the Gospel
Be Valiant in the Cause of Truth
Seek the companionship of the Spirit
Beware of the Adversary
Be a Participant of Life
Stay Focused on Important Things
Be Happy
Bear Testimony
Ask: Do any of these points stand out to you? Which ones can be difficult and why?
Discuss any of these ten points that are relevant to you and your group. Talk about what that point means and how we can do a better job of living it.
Finish by sharing personal experiences and bearing testimony.
FOR SINGLE STUDY
Read or watch the talk Anxiously Engaged by Elaine Michaelis. Ponder on which points you'd like to improve on them and set some goals.
Featured Products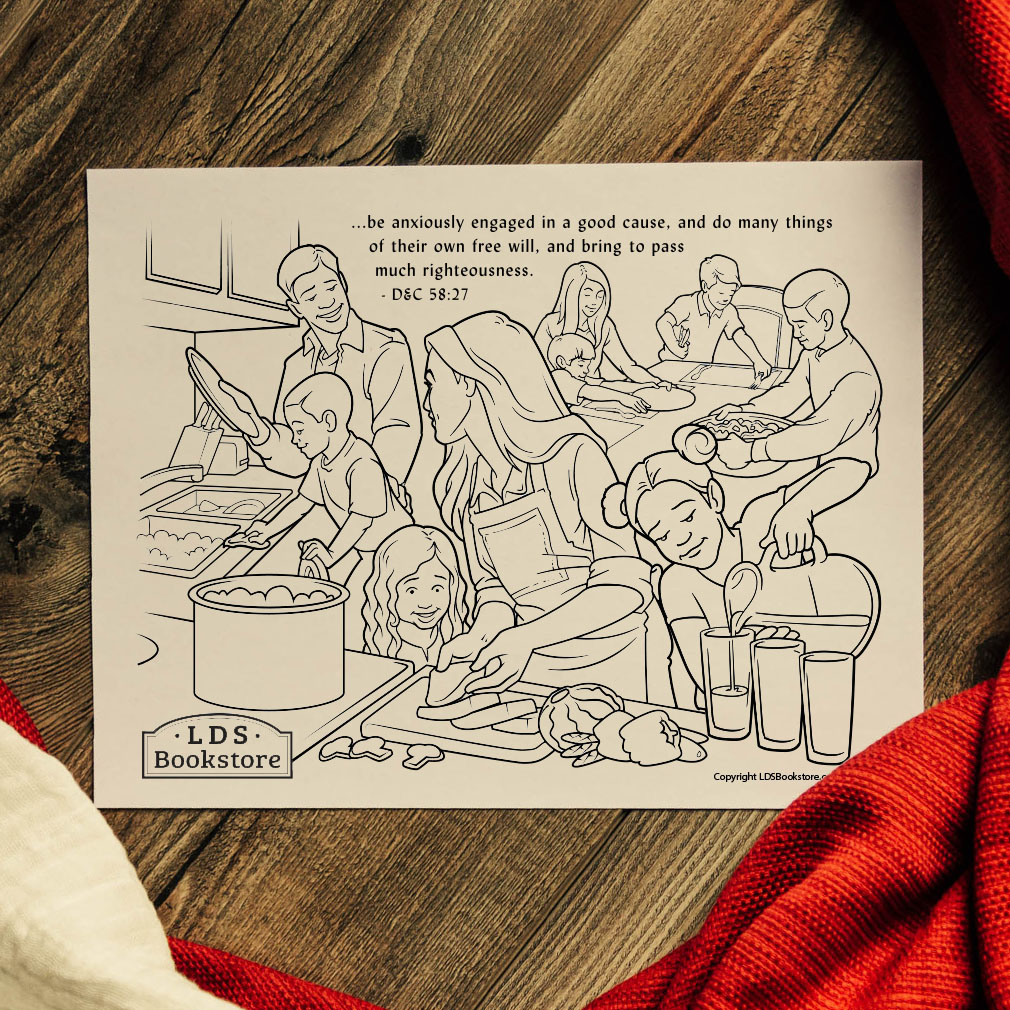 Treat
Popcorn Balls
Yields 15 Popcorn Balls
Ingredients:
5 tablespoons vegetable oil
2 1/2 cups unpopped popcorn (or 3 Bags of Microwave Popcorn)
1/4 cup butter
1 cup packed light brown sugar
1/2 cup light corn syrup
2/3 cup sweetened condensed milk
1/2 teaspoon vanilla extract
Directions:
1- Add 1 tablespoon of the oil to a 4 quart saucepan, and heat over high heat. When oil is hot, add 1/2 cup of popping corn. Keep pan moving constantly. When corn stops popping, remove from heat. (Or pop 3 bags of microwave popcorn–remove up popped kernels.) Place popped corn in oven to keep warm. Repeat until all corn has been popped. Set aside.
2- In a medium saucepan with a candy thermometer inserted, combine butter, sugar, and corn syrup. Stir well and bring to boiling over medium heat. Stir in condensed milk; simmer, stirring constantly, until thermometer reads 238 degrees F (114 degrees C). Stir in vanilla.
3- Pour caramel over popped corn and stir to coat. (Or place popped popcorn and caramel in a paper bag and shake till popcorn is covered in caramel.) Butter hands lightly (Or place plastic baggies on your hands) and shape popcorn into balls about 3 1/2 inches in diameter.
(Recipes taken from Allrecipes.com)
Activity
Family History Work
Get engaged in a good cause by working on family history together. You can have children write down a story about their lives, do some indexing, or work together to prepare a name for the temple.