How can we have a deeper sense of reverence and appreciation for sacred things? This Doctrine and Covenants FHE lesson teaches us about the things God gives us and how we can take care of them with greater care.
Scripture
Remember that that which cometh from above is sacred, and must be spoken with care, and by constraint of the Spirit; and in this there is no condemnation, and ye receive the Spirit through prayer; wherefore, without this there remaineth condemnation.
Hymn
Reverence is Love | Children's Songbook, pg. 31
Rev'rence is more than just quietly sitting:
It's thinking of Father above,
A feeling I get when I think of his blessings.
I'm rev'rent, for rev'rence is love.
When I'm rev'rent, it shows in my words and my deeds.
The pathway to follow is clear.
And when I am rev'rent, I know in my heart
Heav'nly Father and Jesus are near.
Lesson
FOR CHILDREN
Begin the lesson by asking the children to get an object that is important or special to them. If they are unable to get the objects, have them describe them.
Ask: How do you take care of your special object? Do you treat it like everything else?
Read aloud: When something is special to us, we want to take care of it. We protect it. There are things that are special, or sacred, to Heavenly Father.
Ask: What do you think is special to Heavenly Father?
Read: Heavenly Father gives us many special things. We have churches and temples. We have the scriptures and the Holy Ghost. We have our testimonies. These are gifts from Heavenly Father and He wants us to take care of them. We take care of sacred things by acting reverently and doing our best to follow Heavenly Father's commandments.
Ask: How should we speak about sacred things? How should we treat them?
Finish the lesson with your testimony.
FOR TEENS & ADULTS
Begin the lesson by reading the section heading of Doctrine and Covenants 63 and then reading 64.
Ask: What does the line "that which cometh from above is sacred" mean to you?
Read: Elder D. Todd Christofferson once shared why having a sense of sacred things is so important:
"The importance of having a sense of the sacred is simply this—if one does not appreciate holy things, he will lose them. Absent a feeling of reverence, he will grow increasingly casual in attitude and lax in conduct. He will drift from the moorings that his covenants with God could provide. His feeling of accountability to God will diminish and then be forgotten. Thereafter, he will care only about his own comfort and satisfying his uncontrolled appetites. Finally, he will come to despise sacred things, even God, and then he will despise himself."
Ask: What can we do to have a greater sense of reverence and appreciation for sacred things? What are some of the sacred things God gives us?
Finish the lesson by sharing personal experiences and end with your testimony.
FOR SINGLE STUDY
Read A Sense of the Sacred by D. Todd Christofferson. Ponder on one sacred thing God has given you and how you can treat it with more reverence.
Featured Products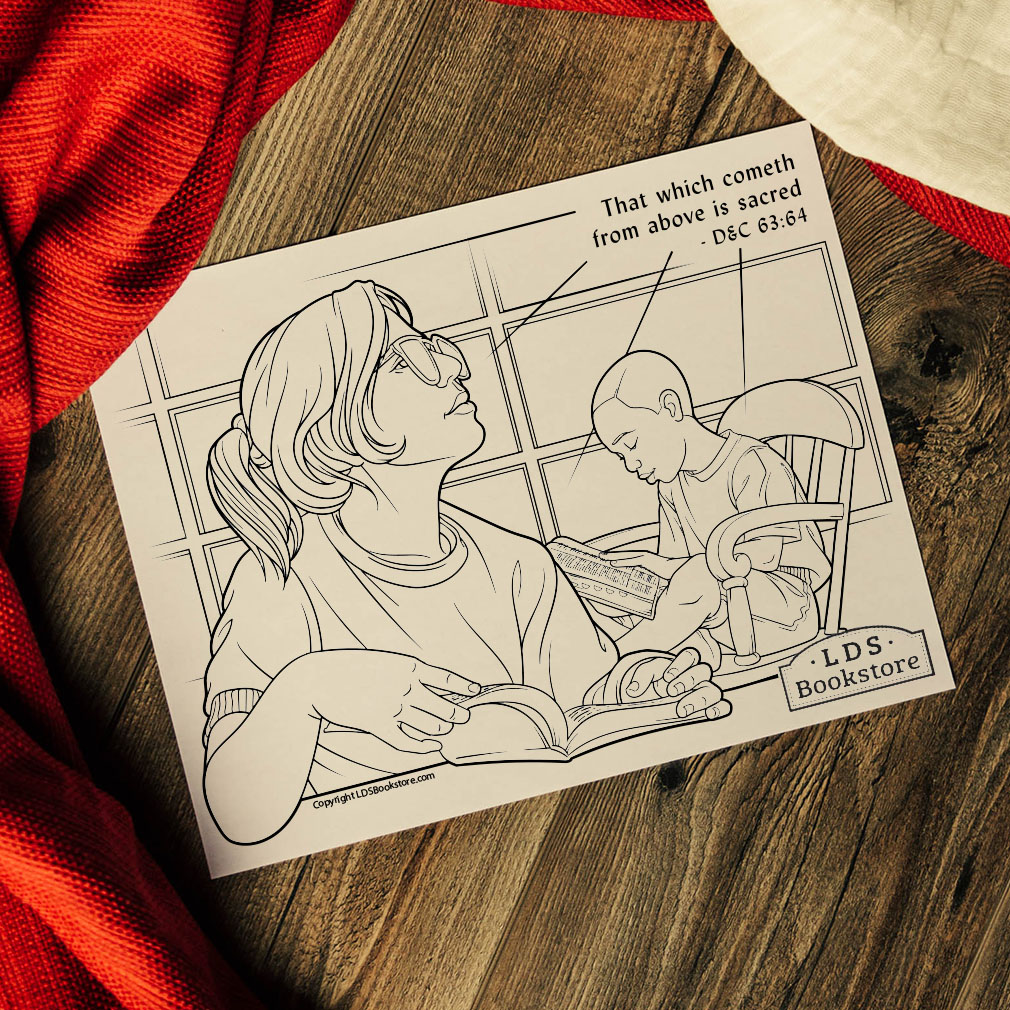 Treat
Not Yo' Mama's Banana Pudding
Ingredients:
-2 bags Pepperidge Farm Chessman Cookies
-6 to 7 bananas, sliced
-2 cups milk
-1 5 oz. box instant French vanilla pudding
-1 8 oz. block cream cheese, softened
-1 14 oz. can sweetened condensed milk
-1 12 oz. container of Cool Whip
Directions:
1. Line bottom of 9 x 13 with 1 bag of cookies.
2. Layer sliced bananas on top.
3. Blend milk and pudding mix with a whisk for about a minute. It will thicken.
4. In a separate bowl, beat cream cheese and sweetened condensed milk until smooth. Fold in Cool Whip. Add to pudding mixture, stirring well.
5. Pour over cookies and bananas.
6. Top with layer of cookies.
7. Refrigerate until ready to serve. *Allow at least 4 hours to chill before serving. Works great made the night before.
(Courtesy of Diary of a Recipe Collector)
Activity
Make a Sacred Things Box
Create a small box where family members can store sacred things. This can include white handkerchiefs, temple recommends, things they create at Church, or mementos from important gospel milestones. You can also decorate small journals for writing down sacred thoughts