As Joseph Smith and Oliver Cowdery begin the work of translating the Book of Mormon, they learn about the spirit of revelation. This FHE lesson on the Holy Ghost helps us better understand why we need revelation and how to connect with the Holy Ghost. 
Scripture
Yea, behold, I will tell you in your mind and in your heart, by the Holy Ghost, which shall come upon you and which shall dwell in your heart.
Hymn
The Still Small Voice | Children's Songbook Pg. #106
Through a still small voice, the Spirit speaks to me
To guide me, to save me from the evil I may see.
If I try to do what's right, he will lead me thru the night,
Direct me, protect me, and give my soul his light.
Listen, listen. The Holy Ghost will whisper.
Listen, listen to the still small voice.
Lesson
FOR CHILDREN
Begin the lesson by watching the following video.
Ask:
What are some ways we can tune into the Holy Ghost?
Read aloud: When Joseph Smith was translating the Book of Mormon, a man named Oliver Cowdery wanted to know if what Joseph said was true. He prayed to Heavenly Father and received an answer that Joseph was a prophet from God. Later, when he had more questions and felt troubled, the Lord reminded him of the things he felt. Here are some of the words he used: light, peace, witness, truth.
Oliver learned the Holy Ghost can speak to us in our minds and hearts, helping us feel peace and know truth.
Ask: How do you feel when the Holy Ghost is speaking to you?
Share a time when you felt the Holy Ghost and what it was like. Discuss as a family or group how you'd like to invite the Holy Ghost into your lives this week. Finish with your testimony.
FOR TEENS & ADULTS
To begin the lesson, split into groups or have individuals study the following scriptures:
Doctrine and Covenants 6:14-17
Doctrine and Covenants 6:22-24
Doctrine and Covenants 8:2-3
Doctrine and Covenants 9:7-9
Ask everyone to discuss or ponder on what their set of scriptures teach us about how revelation comes. Gather together and discuss what you learned.
Read aloud: Oliver Cowdery was one of the Three Witnesses to the Book of Mormon. However, his path to the truth wasn't always easy. When he struggled with his testimony, the Lord continually instructed him about the spirit of revelation. One of the things He told Oliver was to remember the previous feelings of peace he had been given about the truthfulness of the gospel.
In our own lives, we all can probably remember a time when we felt the spirit of God.
Ask: Why is it hard to remember our previous spiritual experiences? What can we do to hold onto those experiences after they've happened?
Finish the lesson by sharing your testimony of the Holy Ghost.
FOR SINGLE STUDY
Watch the following video about Oliver Cowdery's experience with the spirit of revelation. Write down the ways you can relate to Oliver and what he went through. Then, ponder on past revelation that you can use to strengthen your testimony as you move forward. 
Featured Products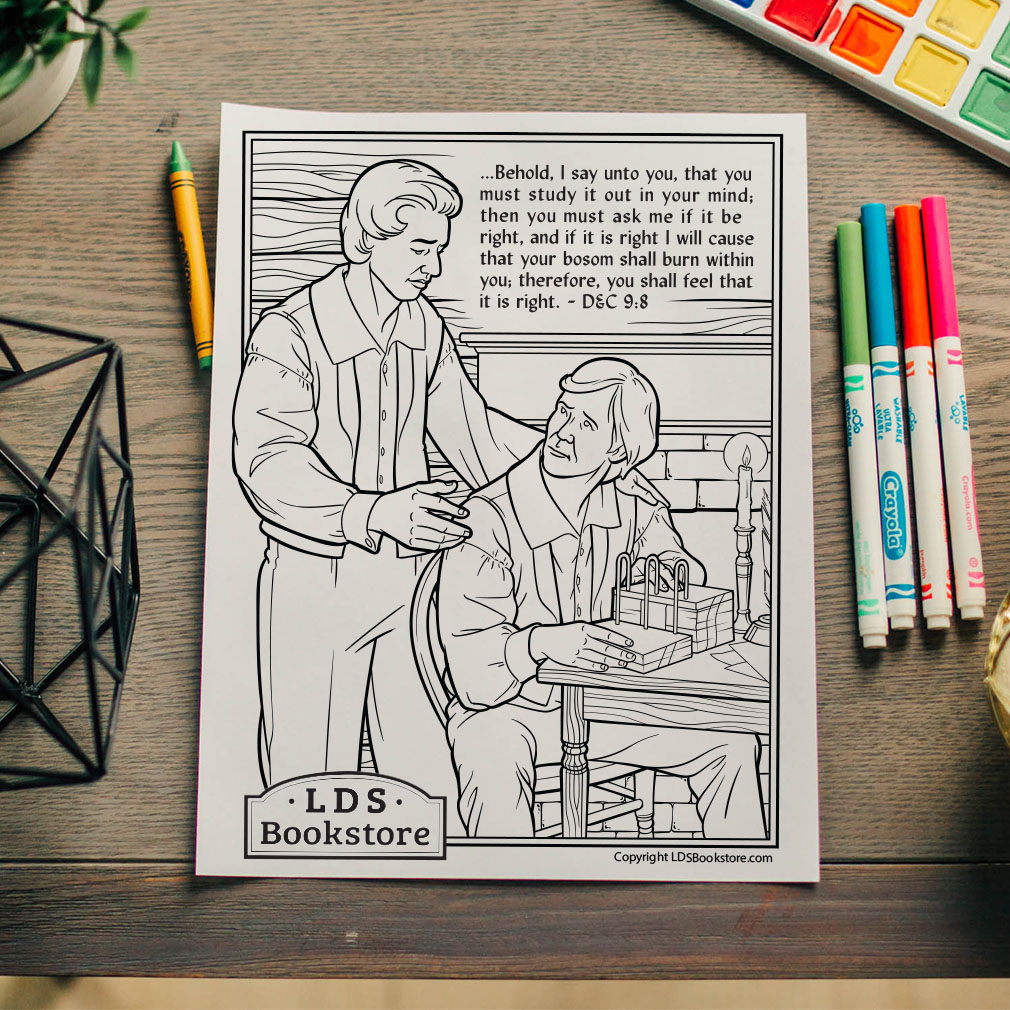 Treat
Ingredients: 
1 pkg Kool-Aid mix in any flavor
1 cup sugar
3 cups milk
Directions:
In a large bowl, whisk together all three ingredients until sugar and Kool-Aid mix is dissolved. Pour into a shallow dish, cover and then place in the freezer for about 2 hours, or until mostly set.
Place the partially frozen sherbet back in a bowl and mix with an electric mixer until smooth. Refreeze in the covered, shallow container until set (at least a few hours, I freeze mine overnight). Set the sherbet out about 10-15 minutes prior to serving to make it easier to scoop.
(Courtesy of butterwithasideofbread.com)
Activity
DIY Circle Spinners
For this fun craft, you'll need:
Twine
Cardboard
Markers
Scissors
Glue sticks
To make, print off the circles and color them in. The more color and designs, the better. Cut out the circles and use them to trace circles on the cardboard. Cut out the cardboard circles. Glue the paper circles onto each side of the cardboard. Poke two holes in the middle of the cardboard. Run a length of twine through the holes so you end up making a loop on one end. To spin, twist the twine multiple times. Then, pull it apart. Keep relaxing and pulling to keep it spinning!
(From makeandtakes.com)