Before they could begin teaching others about the gospel, early Church leaders needed to learn about the worth of souls. This Doctrine and Covenants FHE lesson helps us understand what our worth is to God and how that changes our actions towards ourselves and others. 
Scripture
Remember the worth of souls is great in the sight of God.
Hymn
Every Start Is Different | Children's Songbook Pg. 142
1. Ev'ry star is diff'rent,
And so is ev'ry child.
Some are bright and happy,
And some are meek and mild.
Ev'ry one is needed
For just what he can do.
You're the only person
Who ever can be you.
[Chorus]
A shining star, shining brightly,
Not so very far, shining brightly;
Be a shining star. Shine so brightly;
Shine right where you are, brightly!
2. I can shine for others
And let them feel my love,
Follow the commandments
That come from God above.
I can help another
To learn to choose the right.
Having faith and courage
Will let my star shine bright.
Lesson
FOR CHILDREN
Begin the lesson by showing each child a brand new dollar bill. If appropriate, give each child a bill to keep. Ask them how much the money is worth and what they can buy with it. Then, have each child crumple up the bill. Ask them how much it is worth now.
Read aloud: We are worth so much to our Heavenly Parents. When Joseph Smith was being taught about how to share the message of Jesus Christ with others, God told him "the worth of souls is great." We are worth more than all of the money in the entire world and so is everyone else.
Sometimes the world wants to make us feel like we aren't worth very much at all.
Ask: What are some of the things that make us feel bad about ourselves? What should we do when someone or something tries to make us feel worthless?
Read aloud: The world today can be a very mean place. Sometimes people say unkind things. Sometimes people hurt us or laugh at us. Sometimes, people judge others because of how they look, what their skin looks like, or the way they speak. This is wrong. Our Heavenly Parents love us all, no matter who we are, what we look like, or what we've done.
Ask: If our Heavenly Parents love everyone and think they are of great worth, how should we treat others?
Finish the lesson by discussing how you can treat others as children of God. If necessary, discuss how to deal with bullies or address anger issues. Close with your testimony.
FOR TEENS & ADULTS
Begin the lesson by giving everyone a notecard or piece of paper. Have them answer the following question: Why am I of great worth in the eyes of my Heavenly Parents?
Read aloud: As Joseph Smith began the process of building up the Church of Jesus Christ in the latter days, he was taught about the worth of souls. In Doctrine and Covenants 18, the process of calling apostles began.
Have someone read Doctrine and Covenants 18:9-14.
Ask: Why do you think the Lord wanted Oliver and David to know about the worth of souls?
Read aloud: In these scriptures, we also learn that the Atonement of Jesus Christ is the great evidence of our worth to God. As we go throughout our lives, however, our worth is often questioned. Sometimes we question our worth ourselves. Take a look at what you wrote down on your card. It's important to remember that we don't have to do anything to be of worth to God. We don't have to be perfect or fit into any sort of mold and neither does anyone else. Our individual worth is inherent and unchanging.
Ask: How should we treat ourselves and others once we know about our individual worth?
Finish by discussing how to confront any prejudices we may hold against others. Close with your testimony.
FOR SINGLE STUDY
Read or watch the following talk about the worth of souls. Specifically, look for ways disciples of Christ should act when they know their worth and the worth of others and write it down. Make a personal goal of one thing you'd change when interacting with those around you.
Featured Products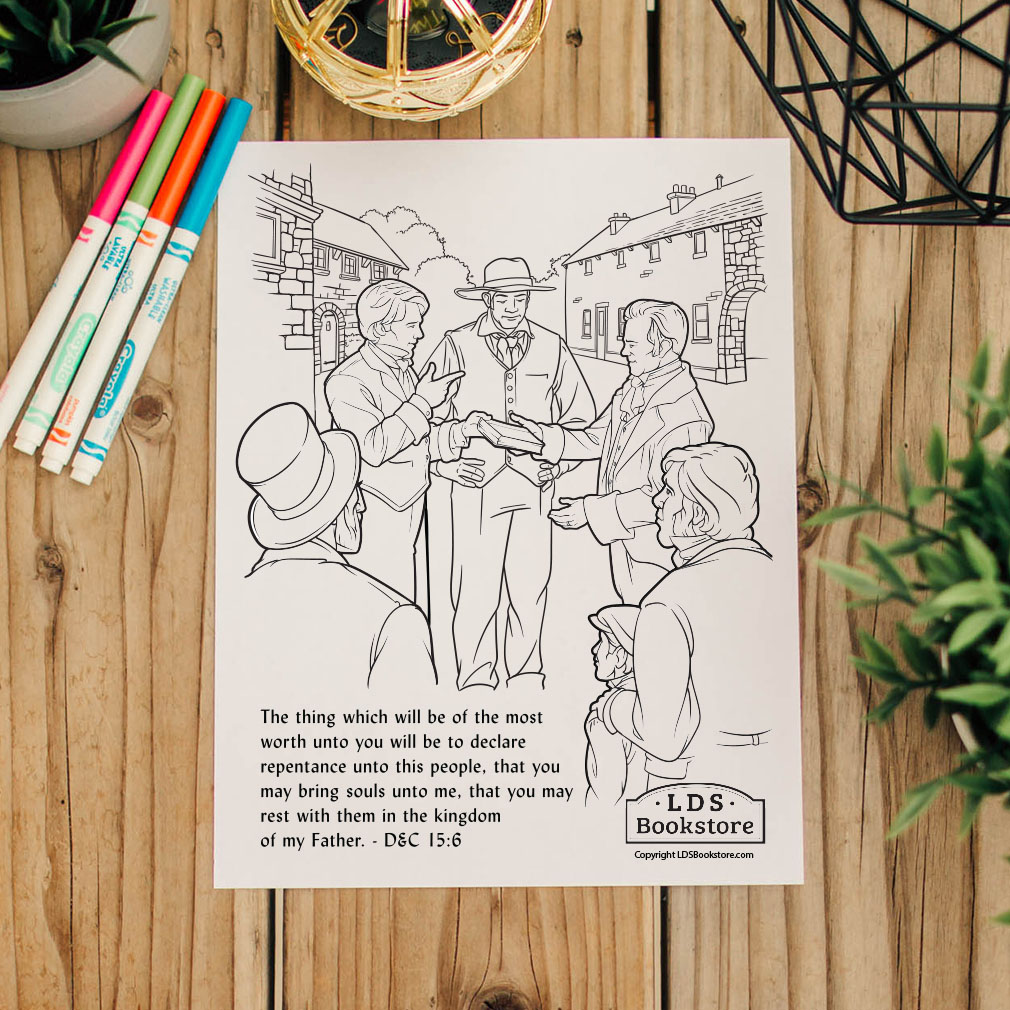 Treat
Pineapple Coconut Sherbet
Ingredients: 
1 quart cultured buttermilk
1 1/2 cups superfine sugar
1/3 cup canned cream of coconut
1 (20-ounce) can crushed pineapple, drained
1/2 teaspoon vanilla extract
Directions:
1. Whisk together the buttermilk, sugar, and cream of coconut in a large mixing bowl until it is evenly blended. Stir in the pineapple and vanilla extract.
2. Cover the bowl with foil and place it in the freezer for 1 hour. Then remove the bowl and stir the mixture briefly, scraping the sides well. Return the sherbet to the freezer for another 45 minutes and then stir it again. Repeat this process once more, then let the mixture freeze overnight.
3. When you're ready to serve it, allow the sherbet to soften slightly, then process it briefly in a chilled blender to make it smooth and easy to scoop. Serve it at once in chilled dishes. Makes 6 to 8 servings.
Activity
Pom Pom Shooters
For this fun craft, you'll need paper cups, balloons, scissors, strong tape, and scissors. You'll also want any decorating supplies such as fancy paper, markers, and paint. To make a pom pom shooter, cut the end off of a paper cup. Then, cut the top of a balloon off and knot the end. Stretch it so it covers the cut end of the paper cup. Make sure the knot is in the middle. Tape the balloon securely to the cup. Decorate as you'd like! Fill it with pom-poms. Pull back on the balloon knot and then release. The pom-poms should fly out.