Studying the scriptures can lead to revelation and a closer relationship with Jesus Christ. This FHE lesson on scripture study focuses on how recording impressions enhances our ability to learn from the scriptures and from God.
Scripture
Let not mercy and truth forsake thee: bind them about thy neck; write them upon the table of thine heart.
Hymn
Seek the Lord Early | Children's Songbook pg. #108
I'll seek the Lord early while in my youth,
And he will help me to know the truth.
I'll search the scriptures and find him there,
Then go to our Father in fervent prayer.
I'll seek the Lord early, and I'll obey
His living prophets in all they say.
I'll keep his commandments; his love will abound.
I will seek the Lord early, and he will be found.
Lesson
FOR CHILDREN
Begin the lesson with the following activity. Create a long list of words. Have your children try to remember all of the words and repeat them aloud after hearing them only once. Then, give each child a piece of paper and something to write with. Have them write down each word as you say them. Ask them to repeat the words. They can do it with ease.
Have a discussion about how writing down something helps you remember it.
Read aloud: Reading the scriptures is an important commandment. The scriptures help us learn about Jesus Christ and follow him. Throughout our whole lives, we will learn a lot from the scriptures. Most importantly, the Holy Ghost will give us impressions and revelation as we read.
Ask: How do you feel when you read the scriptures? Have you ever felt inspired to do something after reading?
Share a personal experience when the scriptures inspired you to act.
Read aloud: When we have impressions from the scriptures, we should write them down. When we write down what we learn and feel, we show Heavenly Father our gratitude and willingness to act. Later, we can look back on what we've written and be inspired again and again.
Ask: How can we do a better job at writing down what we learn for the scriptures?
Come up with a goal as a family on how to write down impressions more often. You can give your children journals or notebooks. Encourage them to write, or if they're younger, draw, what they read and feel. You can set time as a family after FHE to write down feelings. Regularly follow up with your children on if they've been writing.
Finish your lesson by bearing your testimony.
FOR TEENS & ADULTS
Begin the lesson by asking: Why is it important to write down impressions and promptings when you read the scriptures?
Read aloud: While the scriptures are full of inspired words, much of our inspiration comes not from what we read, but what we feel while we read. By writing down our feelings and thoughts, we continue the process of revelation.
Have someone read the following quote from Elder Richard G. Scott aloud. Before they read, ask everyone to think about the blessings from writing down promptings.
"Write down in a secure place the important things you learn from the Spirit. You will find that as you write down precious impressions, often more will come. Also, the knowledge you gain will be available throughout your life. Always, day or night, wherever you are, whatever you are doing, seek to recognize and respond to the direction of the Spirit. Express gratitude for the help received and obey it. This practice will reinforce your capacity to learn by the Spirit. It will permit the Lord to guide your life and to enrich the use of every other capacity latent in your being."
Ask: What blessings does Elder Scott talk about from writing down what we learn?
Read aloud: In our busy lives, it can be difficult to carve out time to read the scriptures, let alone write down our impressions. However, it is important to give our time to Jesus Christ. As we seek to spend more time in the scriptures and learning from them, we will find help in our efforts.
Ask: What are some ways we can improve in recording our impressions?
Share any personal experiences about the benefits of writing impressions. Finish the lesson by bearing your testimony.
FOR SINGLE STUDY
Read, listen to, or watch the talk To Acquire Spiritual Guidance by Elder Richard G. Scott. Pay particular attention to what says about writing down revelation. Ponder on how this relates to your scripture study. Sit down and record your impressions from the last week. Make a plan on how you will combine writing and scripture study in the future.
Featured Products
Treat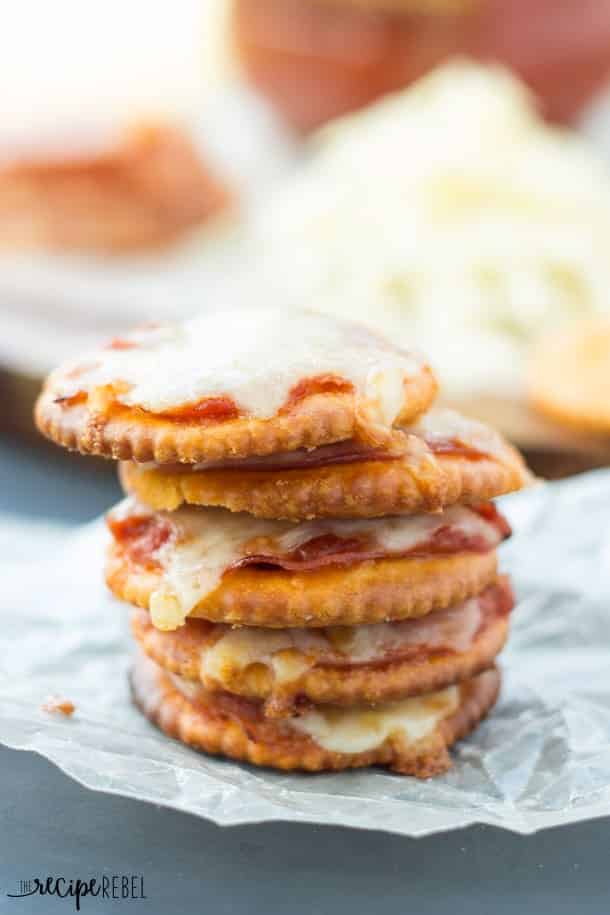 Pizza Crackers
Ingredients
-10 Ritz crackers original, or mix it up
-10 tsp pizza sauce
-10 thin slices of pizza pepperoni
-1/2 cup shredded cheese
Directions
Preheat the broiler.
Line a baking sheet with tin foil. Spray with non-stick spray. Place crackers on a baking sheet.
Top each cracker with a piece of pepperoni and spread with about 1 tsp sauce. Sprinkle with cheese.
Broil for 1-2 minutes, just until the cheese is melted. Serve immediately.
(Courtesy of thereciperebel.com)
Activity
Act Out a Scripture Story
Act our your children's favorite scripture stories. We suggest choosing stories with adventure elements, such as Nephi going to get the plates, Ammon protecting the flocks, or Samuel on the city wall.