As Paul preaches to the Corinthian Saints, he teaches them of the importance of unity and the sacred nature of our bodies. In this Come Follow Me FHE lesson, you will learn more about how to be united and build your foundation on Christ. Our FHE lessons include three lesson plans for different ages, treat recipes, activity ideas, and more.
Scripture
Now I beseech you, brethren, by the name of our Lord Jesus Christ, that ye all speak the same thing, and that there be no divisions among you; but that ye be perfectly joined together in the same mind and in the same judgment.
Hymn
The Lord Gave Me a Temple | Children's Songbook, pg. 153
1. The Lord gave me a temple to live within on earth.
Once in Heaven I was spirit, but I left my home at birth.
I'll make my temple brighter; I'll keep my spirit free.
My body is the temple my Father gave to me.
2. If I keep my body clean and pure and habit-free,
I may in Father's temple claim blessings promised me.
On resurrection morning, I'll take my body bright
And in celestial glory forever live in light.
Lesson
FOR CHILDREN
Activity: Prepare for the lesson by writing six things we believe in the church, one of these should be Jesus Christ. Tape these words onto six different blocks. To start your lesson, you can have the children build a tower or pyramid with the blocks, using the block that says Jesus at the bottom. Then try to remove the Jesus block from the pyramid.
Ask: What happened when we removed Jesus from our tower?
Scripture: Read 1 Corinthians 3:10–11 and Helaman 5:12 aloud to the class.
Ask: According to these scriptures who should be our foundation?
Read: When we build our lives on the foundation of Jesus Christ we will be able to stand strong during the storms of life. Just like with our pyramid, if we remove the foundation of Jesus Christ we will see our testimony crumble. The Savior is the base of any other piece of our testimonies. Our faith will not survive without the strength of the Savior as our foundation.
Sing: "The Wise Man and the Foolish Man" (Children's Songbook, 281) with the class using the actions.
Ask: How can we be more like the wise man rather than the foolish man?
Read: We all want to be like the wise man. We need to have a strong foundation and continue to build on that foundation by reading our scriptures, being kind to others, praying, and attending church.
Share: Tell the children about how you have built a strong foundation for your testimony.
Testimony: Close with your testimony.
FOR TEENS & ADULTS
Video: Begin the lesson by watching this video on how to be one in Christ.
Ask: What did you learn from this video about the power of becoming one in Christ?
Scripture: Read 1 Corinthians 1:10-17
Ask: What is Paul trying to teach the Corinthian Saints in these verses?
Read: It is much better to have unity with one another than to be divided. Just like the two rivers are more powerful when they are united, we are more powerful when we work together with each other for Christ's purpose.
Share: Tell about an experience when you have seen why it is important to be united.
Ask: How can you become more united with those around you?
Read: We can strive to be more united in all that we do. Being a peacemaker, serving others, and refraining from judgment can help us become more united with others. Love should be our focus as we try to find peace and unity in our family, community, church, and world.
Testimony: Close with your testimony of unity.
FOR SINGLE STUDY
Study Sister Wendy W. Nelson's talk "Love and Marriage" along with 1 Corinthians 6:13–20 to learn more about why it is important to be chaste.
Featured Products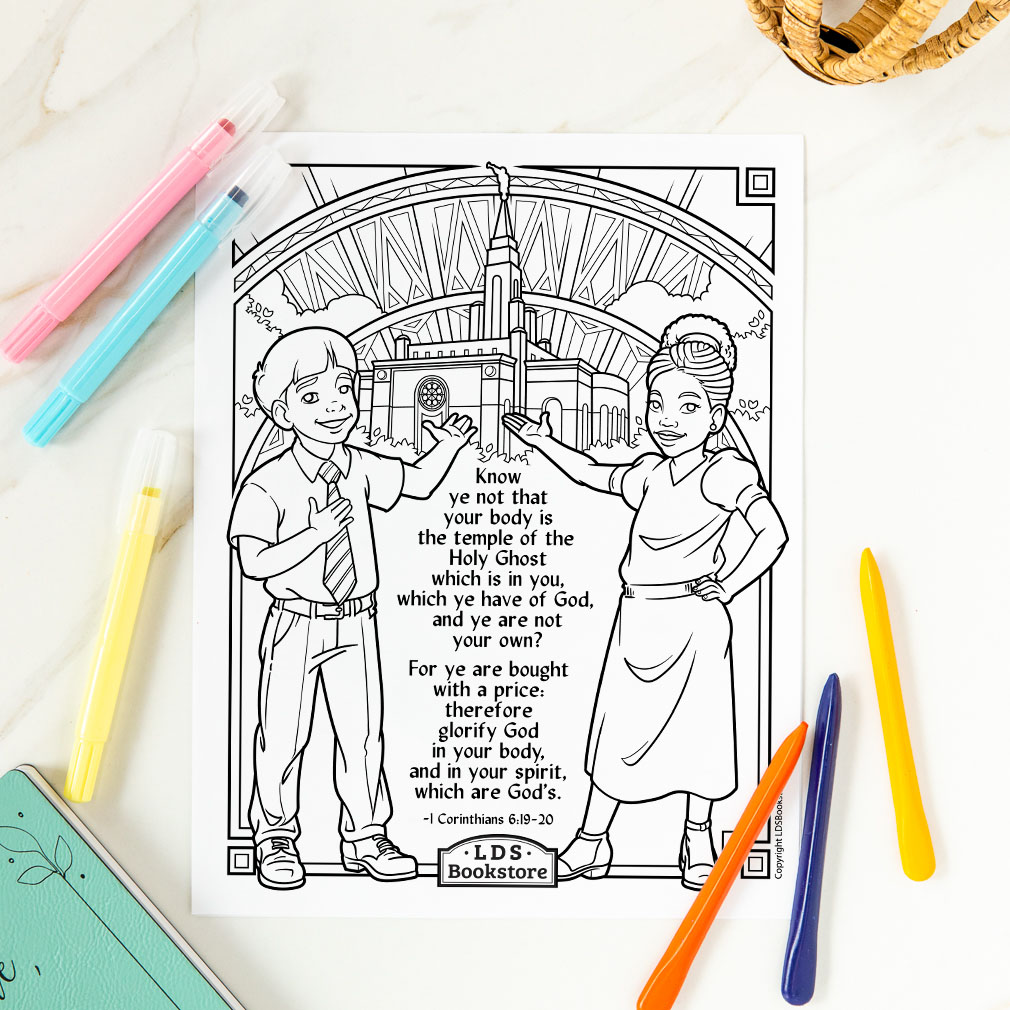 Peach & Cream Popsicles
Try out these delicious peaches and cream popsicles this week!
Activity
Remember to build your life on the rock of our Redeemer by painting some rocks. Here are 30+ easy rock painting ideas.