This week Paul writes to Timothy, Titus, and Philemon. His council to them can be beneficial to each of us today. In this Come, Follow Me FHE lesson, you will learn more about gaining wisdom from the scriptures, the importance of doing good works, and how to be an example of the believers. Our FHE lessons include three lesson plans for different ages, treat recipes, activity ideas, and more.
Scripture
Let no man despise thy youth; but be thou an example of the believers, in word, in conversation, in charity, in spirit, in faith, in purity.
Hymn
Have I Done Any Good? | Hymn #223
1. Have I done any good in the world today?
Have I helped anyone in need?
Have I cheered up the sad and made someone feel glad?
If not, I have failed indeed.
Has anyone's burden been lighter today
Because I was willing to share?
Have the sick and the weary been helped on their way?
When they needed my help was I there?
[Chorus]
Then wake up and do something more
Than dream of your mansion above.
Doing good is a pleasure, a joy beyond measure,
A blessing of duty and love.
2. There are chances for work all around just now,
Opportunities right in our way.
Do not let them pass by, saying, "Sometime I'll try,"
But go and do something today.
'Tis noble of man to work and to give;
Love's labor has merit alone.
Only he who does something helps others to live.
To God each good work will be known.
Lesson
FOR CHILDREN
Activity: Ask the children what their most prized possession is. How do they treat this possession? Why is it so important to them? Then show the children a set of scriptures. Tell them why the scriptures are a prized possession to you. You can let the children take turns holding the scriptures.
Read: The scriptures provide us with great words of comfort, guidance, peace, and hope from God. We can be blessed when we regularly study our scriptures. We can read our scriptures on our own or with our family. Scripture study does not need to take a lot of time, we can study a little bit everyday.
Ask: What is your favorite scripture story?
Share: Tell the children about your favorite scripture story and why it is your favorite.
Scripture: Read 2 Timothy 3:15–17
Ask: How can the scriptures make you wise?
Testimony: Close with your testimony of the scriptures.
FOR TEENS & ADULTS
Video: Watch this music video for "Have I Done Any Good?"
Ask: What line stood out to you from this song?
Scripture: Read 1 Timothy 2:9–10. together.
Ask: How can you adorn yourself with good works?
Scripture: Read James 1:22, 27 and Alma 9:28.
Ask: Why is it important to do good works?
Share: Share an experience when you have been blessed by the good works of others.
Ask: What good works can you do this week to bless those around you?
Read: We all need to listen to the teachings of Paul and prepare now for the second coming of the Lord. If we prepare now, we'll be ready for the Lord's return.
Testimony: Close with your testimony of the importance of good works.
FOR SINGLE STUDY
Learn more about how to become "an example of the believers" by studying "Be an Example and a Light" by President Thomas S. Monson.
Featured Products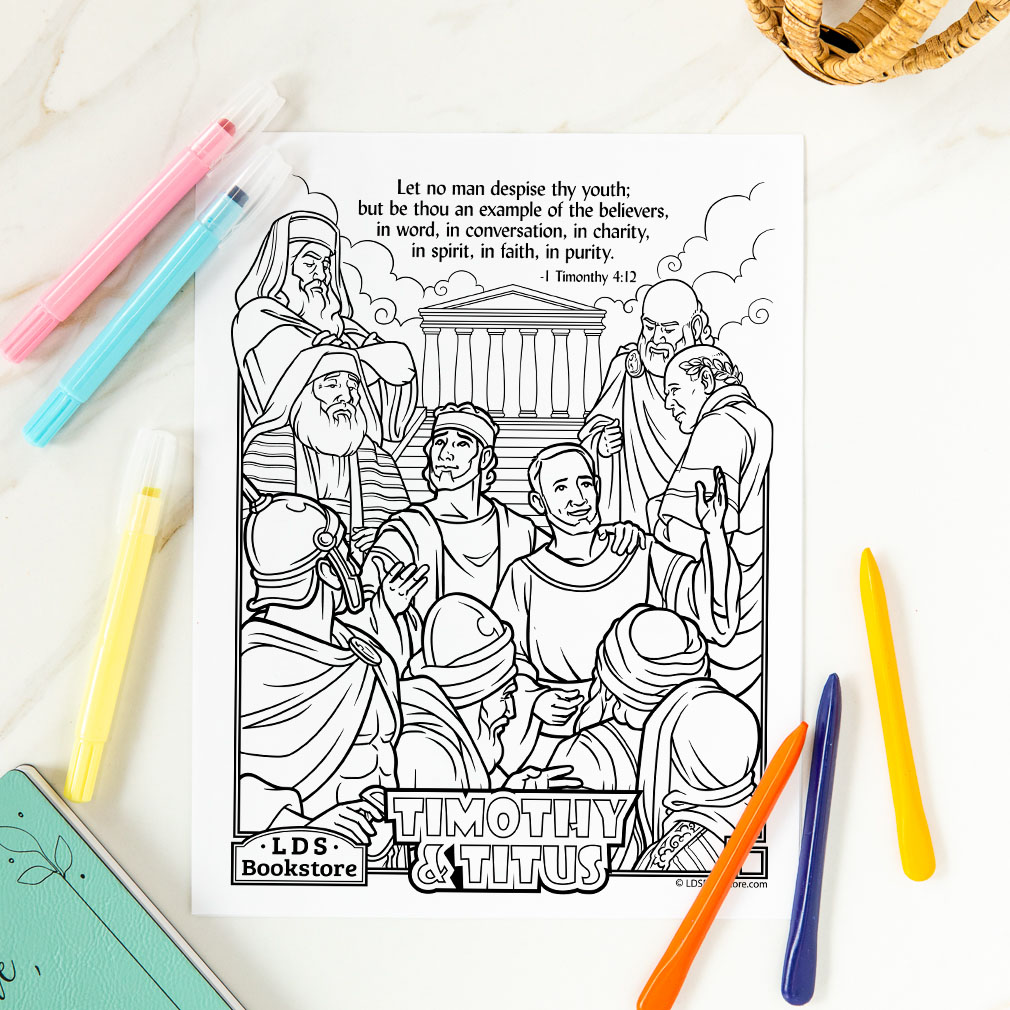 Caramel Apples
The perfect fall treat! Make some caramel apples with your family this week!
Activity
Go on a fall scavenger hunt! Make lists of items to find, such as pumpkins, Halloween decor, different colored leaves, etc. Go on a walk and see what you find.