Paul continues his teachings to the saints in Corinth. He asks them to remember the truths they have been taught. In this Come Follow Me FHE lesson, you will learn more about the role of women in the church, the resurrection of Jesus Christ, and our eternal potential. Our FHE lessons include three lesson plans for different ages, treat recipes, activity ideas, and more.
Scripture
For God is not the author of confusion, but of peace, as in all churches of the saints.
Hymn
1. He is risen! He is risen!
Tell it out with joyful voice.
He has burst his three days' prison;
Let the whole wide earth rejoice.
Death is conquered; man is free.
Christ has won the victory.
2. Come with high and holy hymning;
Chant our Lord's triumphant lay.
Not one darksome cloud is dimming
Yonder glorious morning ray,
Breaking o'er the purple east,
Symbol of our Easter feast.
3. He is risen! He is risen!
He hath opened heaven's gate.
We are free from sin's dark prison,
Risen to a holier state.
And a brighter Easter beam
On our longing eyes shall stream.
Lesson
FOR CHILDREN
Activity: Show pictures of the sun, moon, and stars. Invite the children to put them in order from the brightest to the least bright. Explain that the sun, moon, and stars represent the kingdoms we can live in after we are resurrected.
Scripture: Read 1 Corinthians 15:40–41 together.
Read: The three kingdoms we can live in after we are resurrected are the telestial, terrestrial, and celestial. We can live with our Heavenly Parents and our eternal families again in the celestial kingdom. This is where we are all striving to be someday.
Scripture: Read or summarize the doctrine taught in Doctrine and Covenants 76:50–53, 70; 76:71–79; 76:81–82
Ask: What are some of the qualities of those who are part of the celestial kingdom?
Watch: Play this video for the children about what we believe about eternal life.
Share: Tell the children about a time when the plan of salvation brought you comfort and peace.
Ask: How can God's plan of happiness bring joy and hope to your life?
Testimony: Close with your testimony of eternal life.
FOR TEENS & ADULTS
Video: Begin the lesson by watching this video on how we can "stay in the boat"
Ask: What can you do to "stay in the boat"?
Read: Just like this example of the river rafting experience, we will all experience hard times throughout our lives where we could easily be knocked off the boat, but if we choose to hold on with both hands we can stay secure inside the safety of the boat. The rough waters of life may be sin, temptation, loss, or many other difficulties. We can hold on with both hands to our testimony and choose to allow our difficulties to bring us closer to the Savior rather than taking us away from him. Even when we make mistakes and end up falling off the boat, we can find comfort in knowing that there will always be someone to help us back into the boat.
Scripture: Read 1 Corinthians 16:13
Ask: How can you stand fast in your faith?
Share: Tell about an experience when you learned how to stand fast in your faith.
Scripture: Read 1 Corinthians 15:55–57.
Ask: How does the Savior take away the sting of death?
Read: Through the atonement of Jesus Christ we can all be resurrected and live with our families and loved ones again. This can give us hope as we navigate grief and loss in this life. Though we will undoubtedly feel sorrow when a loved one passes away we can also find peace as we come to understand the comfort the Savior can give each of us.
Testimony: Close with your testimony.
FOR SINGLE STUDY
Learn more about women's role in the church by studying A Plea to My Sisters, by President Nelson.
Featured Products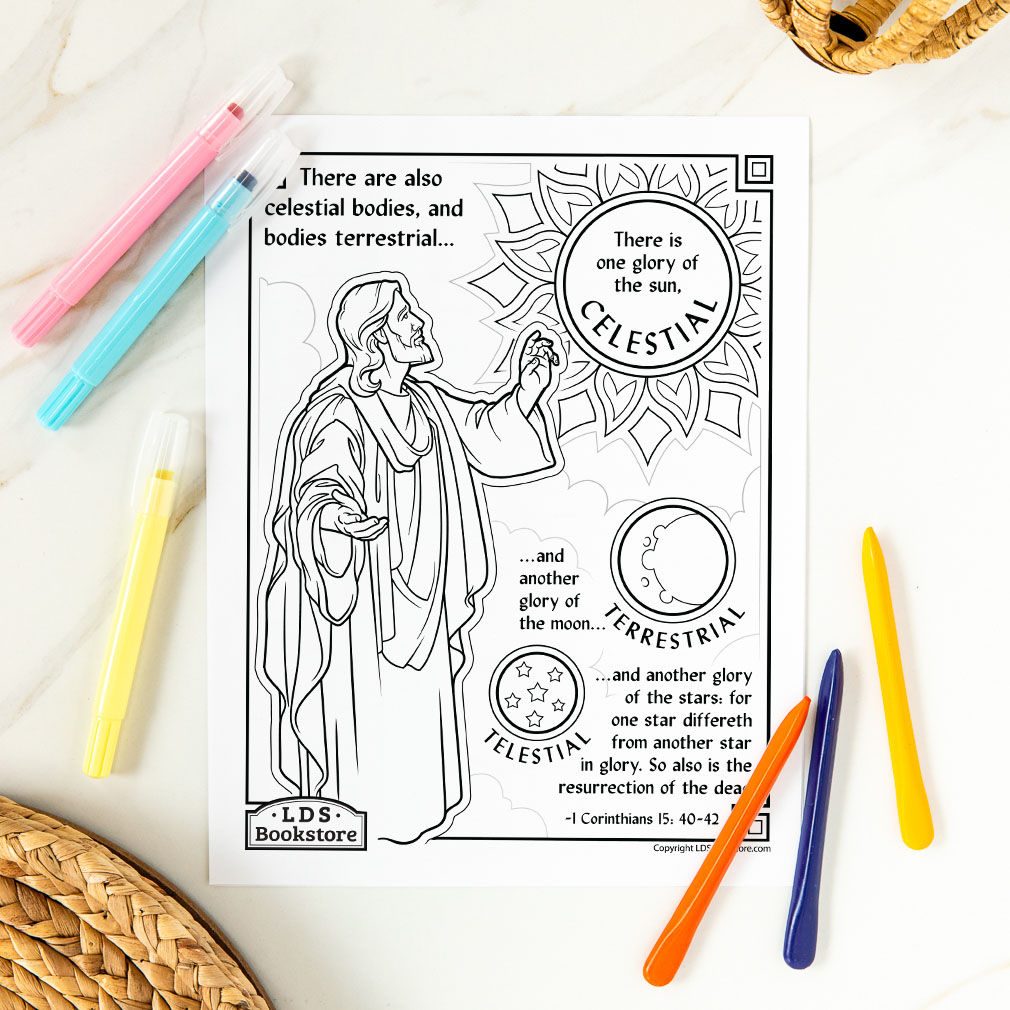 Galaxy Popcorn
Have fun making this cute and delicious galaxy popcorn.
Activity
Make these fun and simple constellation sensory bags for your kids to play with this week.