Jesus Christ is risen! Because He conquered death, our lives are eternally blessed. In this Come Follow Me FHE lesson, we go over the power and miracle of the Resurrection while also covering our duty to share this good news with all the world. Each of our FHE lessons includes three lesson plans for different ages, treat recipes, activity ideas, and more.
Scripture
He is not here: for he is risen, as he said. Come, see the place where the Lord lay.
Hymn
Abide with Me; 'Tis Eventide | Hymn #165
1. Abide with me; 'tis eventide.
The day is past and gone;
The shadows of the evening fall;
The night is coming on.
Within my heart a welcome guest,
Within my home abide.
[Chorus]
O Savior, stay this night with me;
Behold, 'tis eventide.
O Savior, stay this night with me;
Behold, 'tis eventide.
2. Abide with me; 'tis eventide.
Thy walk today with me
Has made my heart within me burn,
As I communed with thee.
Thy earnest words have filled my soul
And kept me near thy side.
3. Abide with me; 'tis eventide,
And lone will be the night
If I cannot commune with thee
Nor find in thee my light.
The darkness of the world, I fear,
Would in my home abide.
Lesson
FOR CHILDREN
Activity: Start the lesson by showing a box with an object inside that the children can't see, and describe the object to the children. Ask them if they believe the object is really inside the box and why. Then show them the object, and explain that faith is believing in things we can't see. The most important faith we can have is faith in Jesus Christ.
Read: Just like you couldn't see the object in this box, we can not see Jesus Christ. However, we can still have faith that he is real and that he lives.
Scripture: Ask one of the children to read John 20:29: "Jesus saith unto him, Thomas, because thou hast seen me, thou hast believed: blessed are they that have not seen, and yet have believed."
Read: Thomas struggled to believe without seeing that Christ had truly risen from the dead. Jesus wants us to have faith in him even when we can not see him.
Ask: Why is it important to have faith in things we cannot see?
Read: It requires more faith to believe in something you have not seen. After you have seen something it no longer requires you to exercise faith that it exists. God has asked us to have faith in him and his son.
Ask: How can we strengthen our faith in Jesus Christ even though we can not see him?
Share: Tell the children about a time when your faith in the Savior was strengthened.
Testimony: Close with your testimony of Jesus Christ and His Resurrection.
FOR TEENS & ADULTS
Video: Begin the lesson by watching this video of Jesus Christ inviting his apostles to "feed my sheep". As you watch this video consider how you might have responded to Christ's questions if you were Peter.
Ask:
How can you show your love for the Savior?
Read: Jesus has said, "If ye love me, keep my commandments." We can show that we love the Lord by choosing to keep his commandments. The second great commandment is to "love thy neighbor". We can show our love for the Lord by serving those around us.
Scripture: Read John 21:15-17 together. Discuss as a group what Christ means when he invites Peter to "feed my sheep."
Ask: How can we all join Peter in feeding Christ's sheep?
Share: Tell a personal story about when you "fed his sheep."
Testimony: Close with your testimony of the importance of showing our love for the Savior.
FOR SINGLE STUDY
Study the Resurrection by reading in the Bible Dictionary under "Resurrection". As you study, consider what you have learned about the resurrection and how you can apply it to your own life. What blessings are possible in your life because of the resurrection of Christ?
Featured Products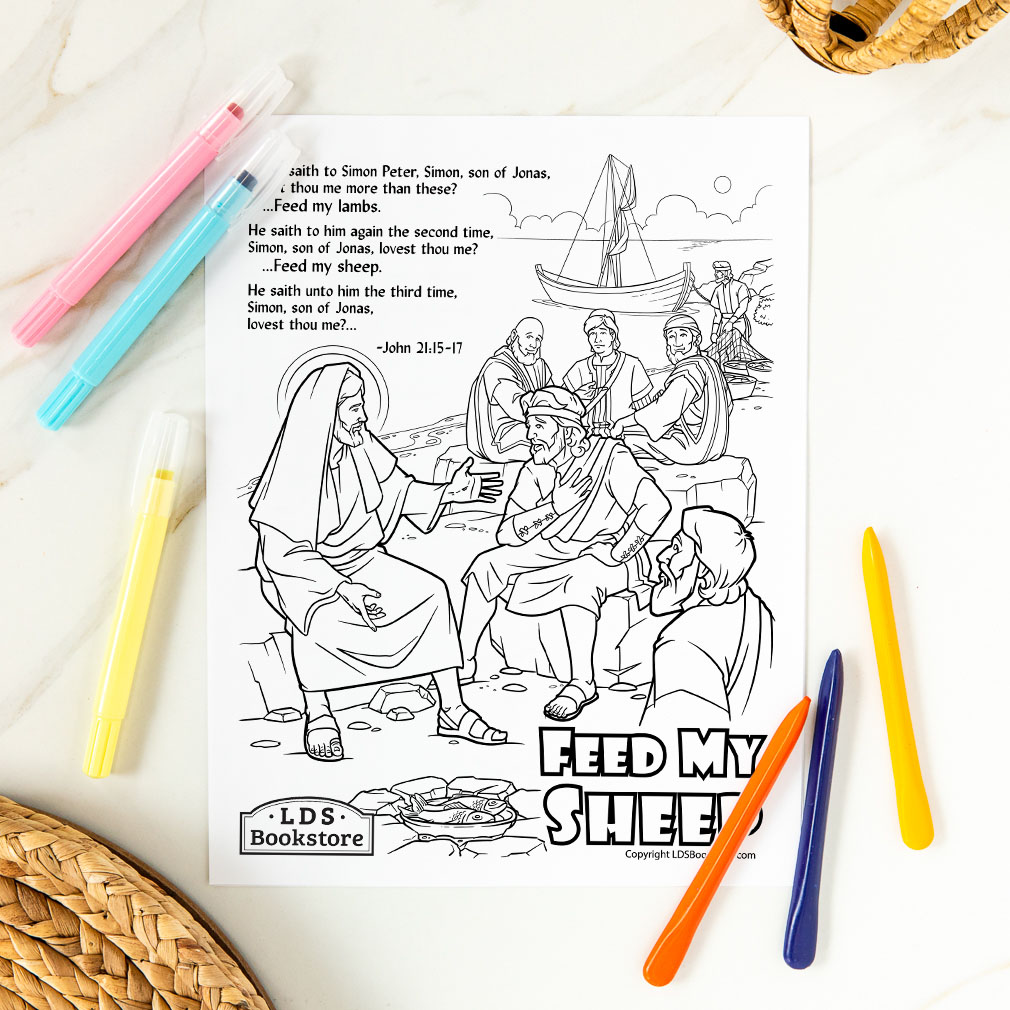 Treat
Resurrection Rolls
These resurrections rolls are the perfect treat to make as you learn more about the resurrection this week.
Activity
Make these super easy paper plate tombs.