Simeon and Anna diligently served the Lord and were blessed to be able to see the Christ child. They then bore a powerful witness of Him. Today, we can follow their example by seeking Christ and bearing powerful testimony of Him. This Come Follow Me FHE lesson aligns with the Church's curriculum and contains three different lesson plans for different ages and life circumstances.
Scripture
And she coming in that instant gave thanks likewise unto the Lord, and spake of him to all them that looked for redemption in Jerusalem.
Hymn
Go Forth with Faith | Hymn #263
1. Go forth with faith to tell the world
Of Jesus Christ, the Lord.
Bear witness he is God's own Son;
Proclaim his wondrous word.
Go forth with hope and courage strong
To spread the word abroad
That people of all nations
Are children of our God.
2. Go forth with love to tell the world
The joy of families—
That we may be with those we love
Thru all eternity.
Go forth to serve and do your best
With no thought of reward;
Then you shall know the boundless joy
Of serving Christ, the Lord.
3. Go forth with pow'r to tell the world
The gospel is restored,
That all may gain eternal life
Thru Jesus Christ, the Lord.
Go forth to preach his glorious truths
Of peace, of joy, and love,
That all who heed his holy word
May praise the Lord above.
Lesson
FOR CHILDREN
Discuss: Begin the lesson by asking your children how they feel when someone special comes to visit. If you can, discuss when loved ones who live far away visit. This could be grandparents or other close family members. If your children haven't had this experience, talk about one of your own.
Picture: Show the following picture of Simeon in the temple.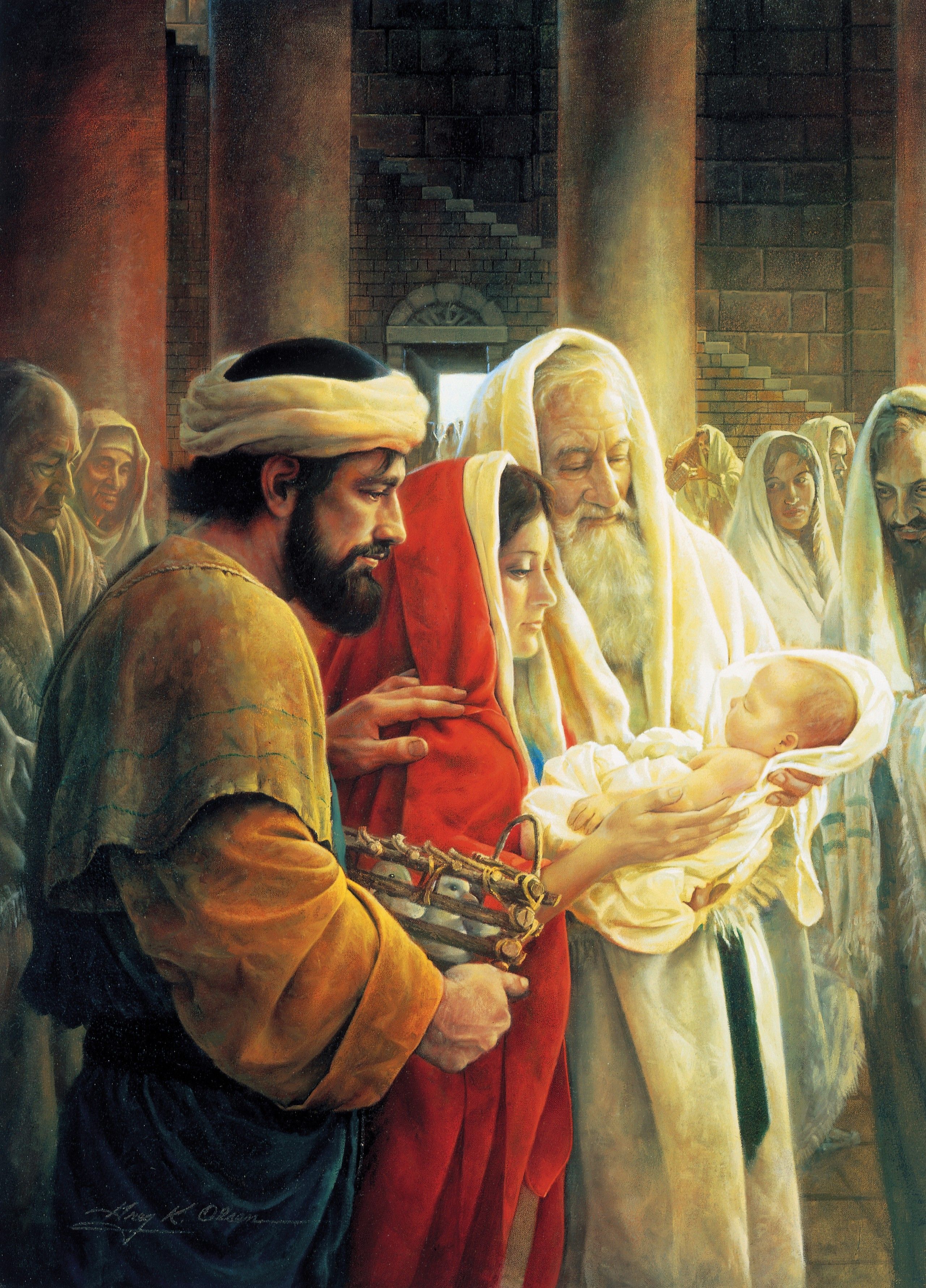 Read: After Jesus was born, his parents took him to the temple. A man named Simeon and a woman named Anna had been looking forward to when the Messiah would come. When they saw baby Jesus in the temple, they knew that moment had come. They were excited and praised God. The scriptures tell us that Anna told anyone who was looking for the Messiah about Jesus.
Ask: What do you want to do when you know something exciting? [Share it!]
Read: Simeon and Anna were witnesses to Christ's birth. Though we haven't seen Jesus, we know He was born! We know He is our Savior. Just like Simeon and Anna, we can share our witness of Jesus with others.
Ask: What do you know about Christ's birth?
Discuss: Go over the Christmas story with your children. You can watch a video like the one below.
Ask: How can you share the story of Christ's birth with others?

Testimony: Finish by bearing your testimony about the life of Jesus Christ.
FOR TEENS & ADULTS
Scripture: Read Luke 2:36-38 together.
Ask: What do we learn about Anna from these verses? How are we different from her? How are we similar?
Read: Just like Anna, we serve God with the hope and faith that we can connect with our Savior. And just like Anna, we can share our testimony of his reality as it grows. Anna "spake of him to all them that looked for redemption in Jerusalem."
Quote: Have someone read this quote from Heather Farrell who expounded on Anna's story.
"Some knowledge and experience does not come easily. Anna's example of faith, shown by her commitment to serving the Lord, is a reminder to all of us about how to receive additional light and understanding. God has promised that if we knock, we will receive. He doesn't say how many times we will have to knock or how long it will take before He answers the door. He only promises that if we diligently seek Him, as Anna did, we will find Him."
Ask: How can we be more like Anna and diligently seek the Lord?
Share: Share a personal experience about a time in your life when you sought more truth about Christ and received it. If you can, also share how you have sought to share this truth with others.
Ask: What are some ways we can be a witness of Christ's birth today?
Testimony: Finish with your testimony of the life and ministry of Christ.
FOR SINGLE STUDY
Read through the following article about Anna. As you read, make a list of qualities Anna had that you want to emulate in your life. Pick one that you want to work on in the upcoming week.
Featured Products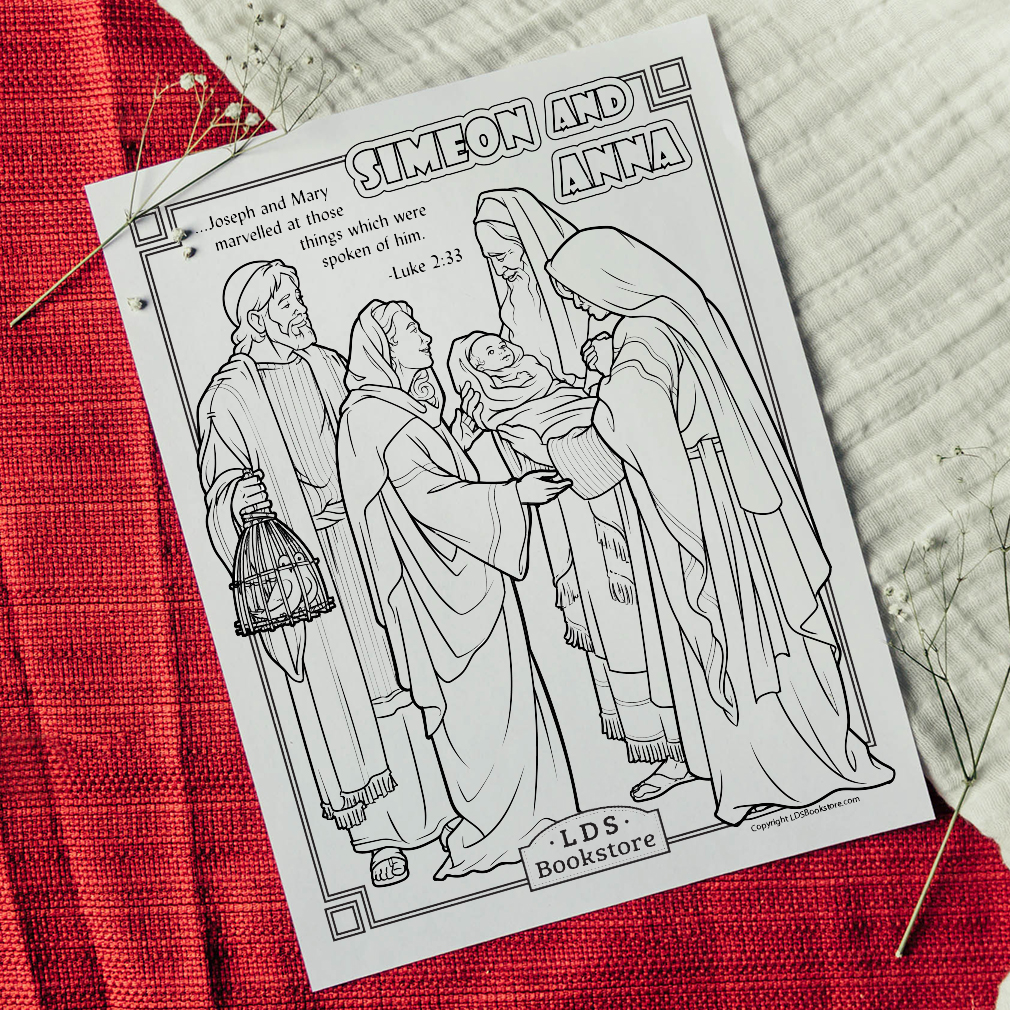 Treat
Christmas Pretzel Rods
Christmas may be over, but embrace the joy of the season with these easy Christmas pretzel rods, covered in chocolate and sprinkles.
Activity
Make fake snow with shaving cream and baking soda. Learn how to here!