As Jesus taught His gospel, He shared with His followers a radical way at look at others and at themselves. This New Testament FHE lesson goes over the Beatitudes and how they can provide a vision for our discipleship. Each of our FHE lessons includes three lesson plans for different ages, treat recipes, activity ideas, and more.
Scripture
Blessed are the peacemakers: for they shall be called the children of God.
Hymn
I'm Trying to Be Like Jesus| Children's Songbook, pg. 78
1. I'm trying to be like Jesus;
I'm following in his ways.
I'm trying to love as he did, in all that I do and say.
At times I am tempted to make a wrong choice,
But I try to listen as the still small voice whispers,
[Chorus]
"Love one another as Jesus loves you.
Try to show kindness in all that you do.
Be gentle and loving in deed and in thought,
For these are the things Jesus taught."
2. I'm trying to love my neighbor;
I'm learning to serve my friends.
I watch for the day of gladness when Jesus will come again.
I try to remember the lessons he taught.
Then the Holy Spirit enters into my thoughts, saying:
Lesson
FOR CHILDREN
Prepare: Before the lesson, read through Matthew 5:2-10. Ponder on which of the beatitudes will be the most impactful for your children. You can choose to focus on these more in-depth than provided in this lesson. Write down on notecards or pieces of paper the attributes listed by the Savior in the Beatitudes. On the other side, write a simple explanation. We've provided examples below.
"Poor in spirit" – We are humble and remember that we need God.
"They that mourn" – Share our emotions with God and turn to Him when we are sad.
"Meek" – We are gentle, patient, and long-suffering
"Hunger and thirst after righteousness" – We want to be close to God and want to learn more about Him
"Merciful" – We are forgiving and compassionate to those who make bad choices
"Pure in heart" – We follow God and keep His commandments out of love
"Peacemakers" – We try to help others get along and treat others kindly
"Persecuted for righteousness' sake" – When people make fun of us for what we believe, we turn to Jesus
Activity: Begin the lesson by laying out the flashcards or papers with the words on the top. Point to one and ask your children if they know what it means. After their answer, turn over the cards and discuss what it means
Read: The world tells us a lot of things about who we should be. We shouldn't listen to the world. We should focus on being who Jesus wants us to be. These are the things Jesus taught His disciples. He wants us to be kind, loving, and with soft hearts. He wants us to be more like Him!
Ask: How can we be more like Jesus?
Testimony: Bear your testimony about how we can be more like Jesus. If relevant, share a short personal experience about when you sought to embody one of the beatitudes and how it helped you.
FOR TEENS & ADULTS
Discuss: Begin the lesson by having a discussion about the pressures and expectations the world places on us. You may want to ask the question, what does the world tell us we need to be like? What does the world teach about how we need to act?
Video: Watch the following video. Ask everyone to ponder on what attributes stand out to them and how Christ's teachings differ from what the world tells us.
Ask: What stood out to you from Christ's teachings? How are they different from what the world tells us?
Read: As Jesus taught His gospel, He shared with His followers a radical way at look at others and at themselves. The despised and disenfranchised were called blessed. We live in a world that wants us to be tough and hard and perfect in a way that leaves little room for grace or humanity. Christ shows us a different way to be, a way that leads to peace, hope, and love. Understanding the Beatitudes can help us become the sort of disciples Jesus wants us to be—disciples fit for the kingdom of heaven.
Ask: How have you worked to develop one of the Beatitudes in your own life? How would you define some of these groups today?
Share: Share an experience from your own life where you either tried to embody one of these traits or were blessed because you saw one of these traits in others.
Testimony: Finish with your testimony.
FOR SINGLE STUDY
Read the talk "The Beatitudes and Our Perfection" by Elder Royden G. Derrick. As you read, look for ways you can incorporate each beatitude into your life. Ponder and record your feelings and thoughts.
Featured Products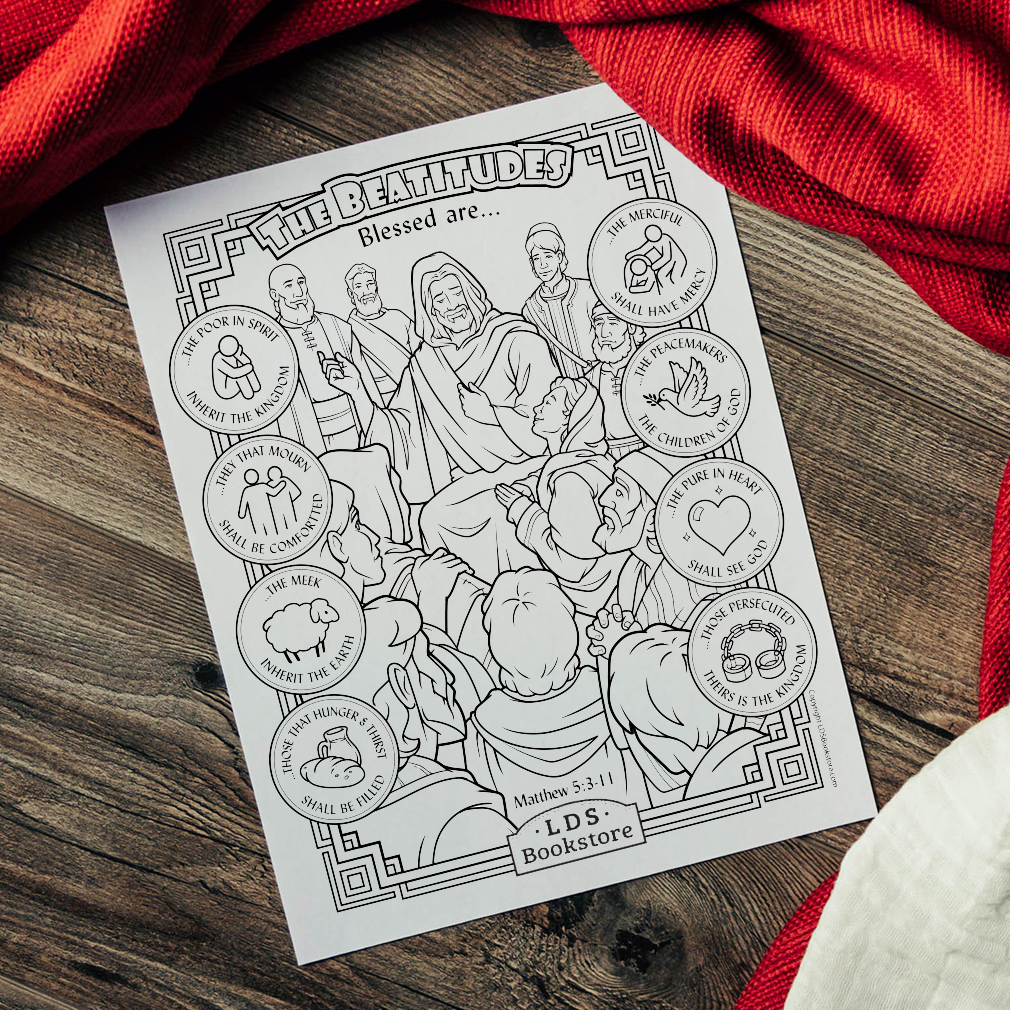 Treat
Sugar Cookies
Since you're studying the BEE-atitudes, make this old-fashioned honey taffy together.
Activity
Valentine's Day is coming up. Make these easy salt dough conversation hearts.