We are all loved children of God. Paul wanted the Romans to know that they could overcome sin and evil through the goodness of God. In this Come Follow Me FHE lesson, you will learn more about the love of God, how to hear the word of God, and what eternal blessings we have been promised. Our FHE lessons include three lesson plans for different ages, treat recipes, activity ideas, and more.
Featured Art by Del Parson.
Scripture
Be not overcome of evil, but overcome evil with good.
Hymn
I Feel My Savior's Love | Children's Songbook, pg. 74
1. I feel my Savior's love
In all the world around me.
His Spirit warms my soul
Through ev'rything I see.
[Chorus]
He knows I will follow him,
Give all my life to him.
I feel my Savior's love,
The love he freely gives me.
2. I feel my Savior's love;
Its gentleness enfolds me,
And when I kneel to pray,
My heart is filled with peace.
3. I feel my Savior's love
And know that he will bless me.
I offer him my heart;
My shepherd he will be.
4. I'll share my Savior's love
By serving others freely.
In serving I am blessed.
In giving I receive.
Lesson
FOR CHILDREN
Activity: Start the lesson by showing the children a picture of General Conference, church classes, family scripture study, or other settings where they might be able to hear the word of God.
Scripture: Read Romans 10:17 together.
Ask: When have you the word of God?
Share: Tell the children about a time when your testimony was strengthened when you listened to the word of God.
Read: We can all hear the word of God as we listen to the teachings of modern prophets and as we study our scriptures. The word of God can help strengthen our testimonies and increase our faith.
Song: Sing the song "Faith" from the Children's Songbook.
Ask: How is faith like a little seed?
Read: Faith is like a little seed because it might start out small, but as we take time to nourish it we will see it grow into something beautiful.
Ask: How can you strengthen your faith?
Testimony: Close with your testimony
FOR TEENS & ADULTS
Video: Begin the lesson by watching this video on God's love for His children.
Ask:
What did you learn about God's love from this video?
Scripture: Read Romans 8:31–39
Ask: What do these verses teach us about how our Heavenly Father and Jesus Christ feel about us?
Read: In Romans 8:38-39, Paul teaches us that there is nothing that can separate us from God's love. We are all children of loving Heavenly Parents. Their love is eternal and unchanging. God loves us so much that He sent His son Jesus Christ to atone for our sins so we could someday return to live with Him.
Ask: When have you felt the love of God in your life?
Share: Tell about a time when you felt God's love.
Testimony: Close with your testimony of God's love
FOR SINGLE STUDY
Learn how to find hope during trials as you study "Worthy of Our Promised Blessings," by Sister Linda S. Reeves. This week focus on looking for God's love in your life.
Featured Products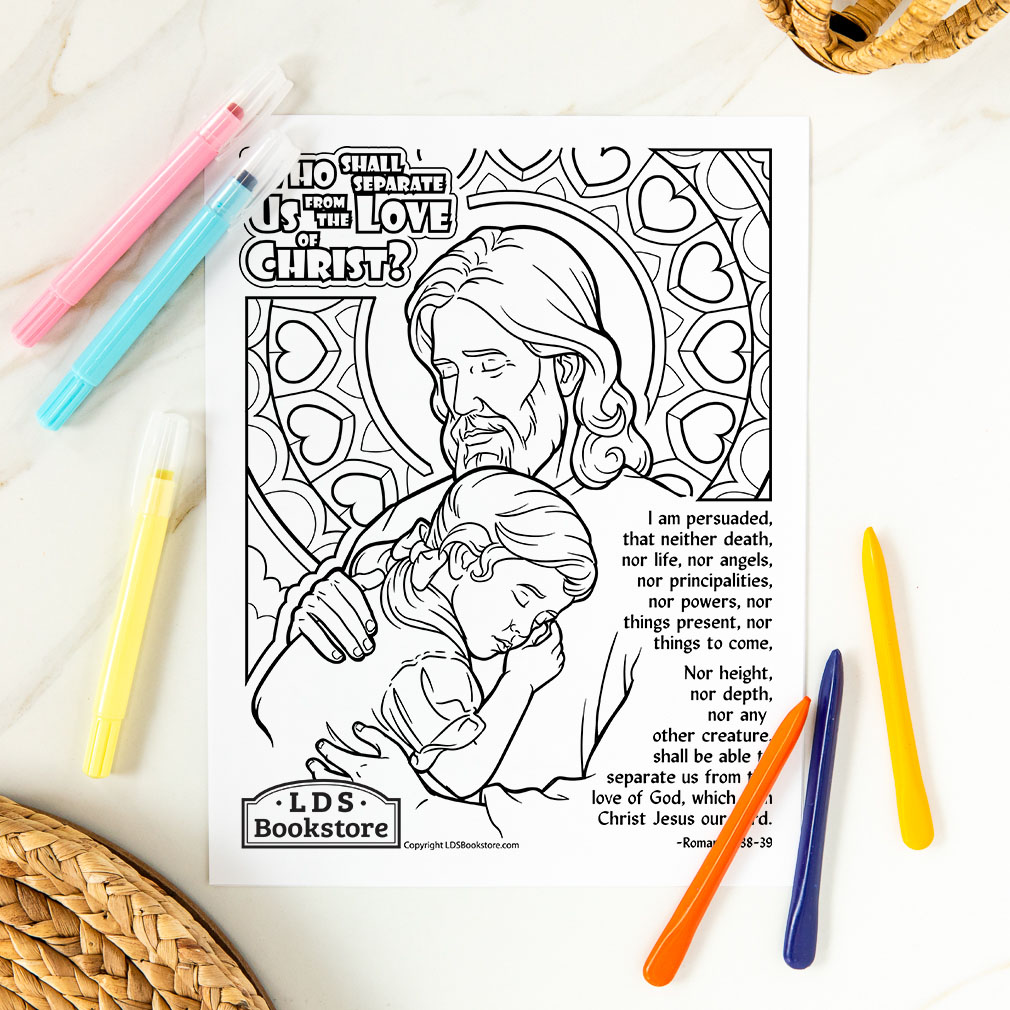 Pencil Cookies
These sugar-wafer pencil cookies are the perfect treat to make for back-to-school.
Activity
Get ready for back-to-school by making this cute yarn apple garland.