The Epistles of Peter are filled with promises of joy and hope despite suffering. In this Come, Follow Me FHE lesson, you will learn more about your divine nature and missionary work in the spirit world. Our FHE lessons include three lesson plans for different ages, treat recipes, activity ideas, and more.
Scripture
Whom having not seen, ye love; in whom, though now ye see him not, yet believing, ye rejoice with joy unspeakable and full of glory:
Hymn
Family History—I Am Doing It | Children's Songbook #94
1. Fam'ly history—I am doing it,
My fam'ly history.
And the love I feel when I'm doing it
Is very sweet to me.
I learn stories of my progenitors;
I write their history.
I keep records of my loved ones
On my own fam'ly tree.
2. Fam'ly living now and the ones who've died
Can all be sealed to me,
And someday I'll meet ev'ry one of them,
I'm sure as I can be.
Oh what joy we'll have when they say to me,
"We're all a family.
I am yours and you are mine now,
Through all eternity."
Lesson
FOR CHILDREN
Activity: Help the children create a simple family tree with some of their ancestors. They could write out the names or draw a picture of each of the ancestors.
Share: Tell the children about some of their ancestors who have passed away.
Scripture: Read 1 Peter 3:19 and 1 Peter 4:6.
Read: Missionary work continues even in the spirit world. Those who pass away without learning of the gospel and getting baptized will have the opportunity to be taught the gospel in the spirit world. This is also why we perform proxy ordinances at the temple for those who were not able to receive these ordinances while they were on Earth.
Share: Tell the children about a time when you were able to go to the temple to receive ordinances for one of your ancestors.
Ask: Why does God give us so many chances to accept the gospel?
Testimony: Close with your testimony of family history and temple work.
FOR TEENS & ADULTS
Scripture: Read 1 Peter chapters 1-4 and make a list of words you find in these scriptures that describe hardship and another list of words that describe joy.
Ask: Why do you think there are so many hopeful words mixed into these verses describing hardships?
Share: Tell of a time when you were able to find joy and hope during a trial and what helped you during this time.
Ask: When have you experienced joy during trials?
Quote: President Russell M. Nelson has taught us, "When the focus of our lives is on Jesus Christ and His gospel, we can feel joy regardless of what is happening—or not happening—in our lives."
Ask: What brings you joy in your everyday life?
Testimony: Close with your testimony.
FOR SINGLE STUDY
Learn more about developing your divine nature by studying "Becoming a Disciple of Our Lord Jesus Christ," by Elder Robert D. Hales and "Exceeding Great and Precious Promises" by Elder David A. Bednar.
Featured Products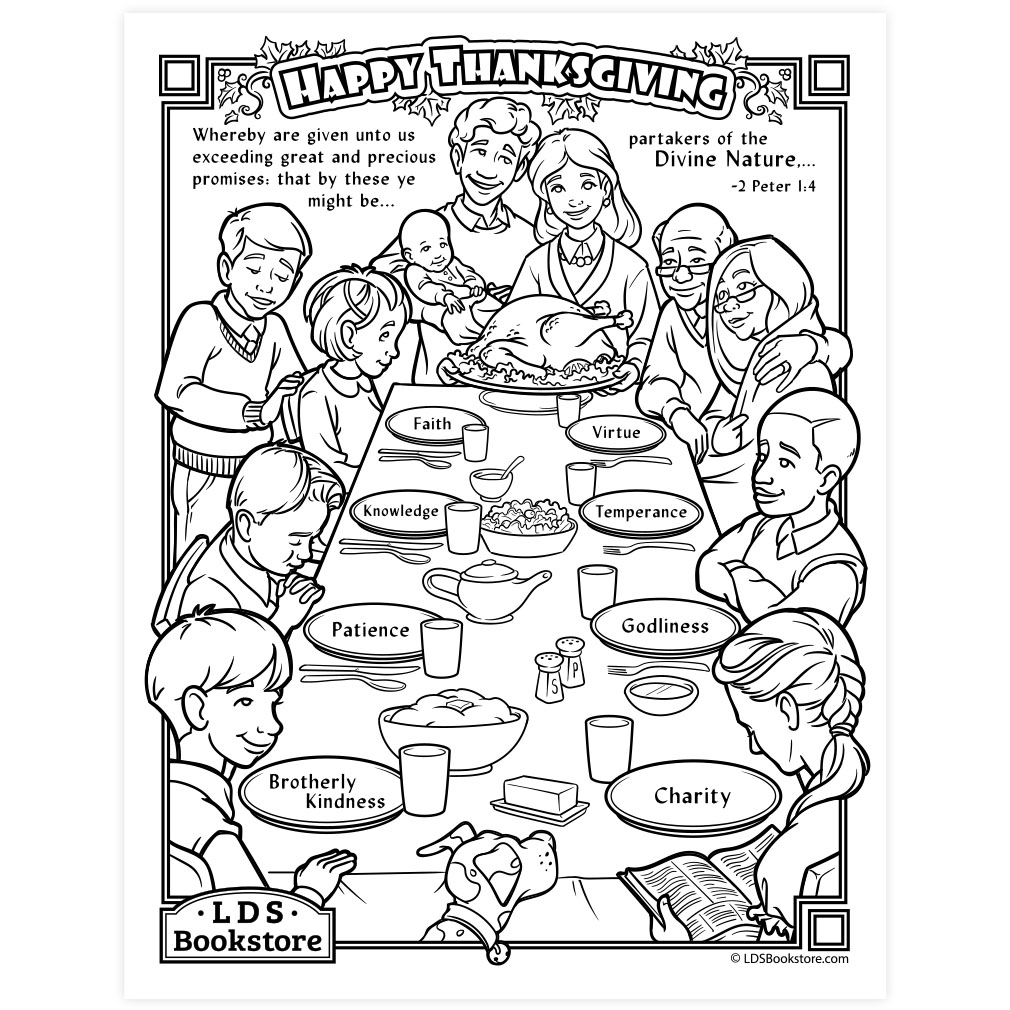 Reese's Turkeys
These Reese's turkeys are a fun and easy treat for Thanksgiving.
Activity
Make this cute paper plate pie garland to decorate for Thanksgiving this week!