Jesus Christ taught in parables that still have power in our lives today. This New Testament FHE lesson goes over why parables are important and how we can cultivate good soil for our testimonies to grow in. Each of our FHE lessons includes three lesson plans for different ages, treat recipes, activity ideas, and more.
Scripture
Therefore speak I to them in parables: because they seeing see not; and hearing they hear not, neither do they understand.
Hymn
Sarch, Ponder, and Pray | Children's Songbook, pg. 109
1. I love to read the holy scriptures,
And, ev'ry time I do,
I feel the Spirit start to grow within my heart-
A testimony that they're true.
[Chorus]
Search, ponder, and pray
Are the things that I must do.
The Spirit will guide, and, deep inside,
I'll know the scriptures are true.
2. So, prayerfully I'll read the scriptures
Each day my whole life through.
I'll come to understand.
I'll heed the Lord's command
And live as he would have me do.
Lesson
FOR CHILDREN
Activity: Invite the children to grab their favorite storybook and have them explain why they like it.
Read: Stories help us learn! Jesus used stories to teach His disciples. His stories were about gardening, bread, and pearls. However, a lot of people didn't understand what Jesus was trying to say. We need to prepare our hearts so we can understand.
Ask: Is it hard to understand the scriptures sometimes? Why?
Share: Tell your children about a time when you struggled to read the scriptures or understand something God was trying to teach you.
Scriptures: Read or summarize the parable of the pearl of great price from Matthew 13:43-46.
Read: The gospel of Jesus Christ is like treasure or pearls. It is priceless! When we take care of our testimonies like a treasure, our hearts become better prepared to understand God.
Ask: How do we take care of our testimonies?
Testimony: Close with your testimony about the importance of learning Christ's teachings.
FOR TEENS & ADULTS
Quote: Begin the lesson by reading this quote from the Bible Dictionary.
Most teachers, especially those in the Middle East, have used some form of parable in their instruction, but none so exclusively as Jesus at one period of His ministry. During part of the Galilean ministry the record states that "without a parable spake he not unto them." From our Lord's words we learn the reason for this method. It was to veil the meaning. The parable conveys to the hearer religious truth exactly in proportion to his faith and intelligence; to the dull and uninspired it is a mere story, "seeing they see not," while to the instructed and spiritual it reveals the mysteries or secrets of the kingdom of heaven. Thus it is that the parable exhibits the condition of all true knowledge. Only he who seeks finds.
Ask: What do we learn about parables from this quote? Why do you think it's important that we receive truth in proportion to our faith?
Read: We hope that we will understand and accept what the Lord says to us. However, it can be hard to understand. We may not even like what the Lord is trying to teach us. Through parables, the Savior taught us that our hearts must be prepared to receive His word.
Scriptures: Read Matthew 13:3-13. Ask everyone to ponder on how we can cultivate good ground for the word of the Lord.
Ask: How do these verses about the seed relate to us today? How can we cultivate good ground?
Share: Tell about a time in your life when you struggled to understand or accept something the Lord was trying to teach you. Discuss what you did to increase your understanding.
Testimony: Close the lesson with your testimony.
FOR SINGLE STUDY
Read "Parable of the Sower" by Dallin H. Oaks. Ponder on specific actions you can take to make your soil good.
Featured Products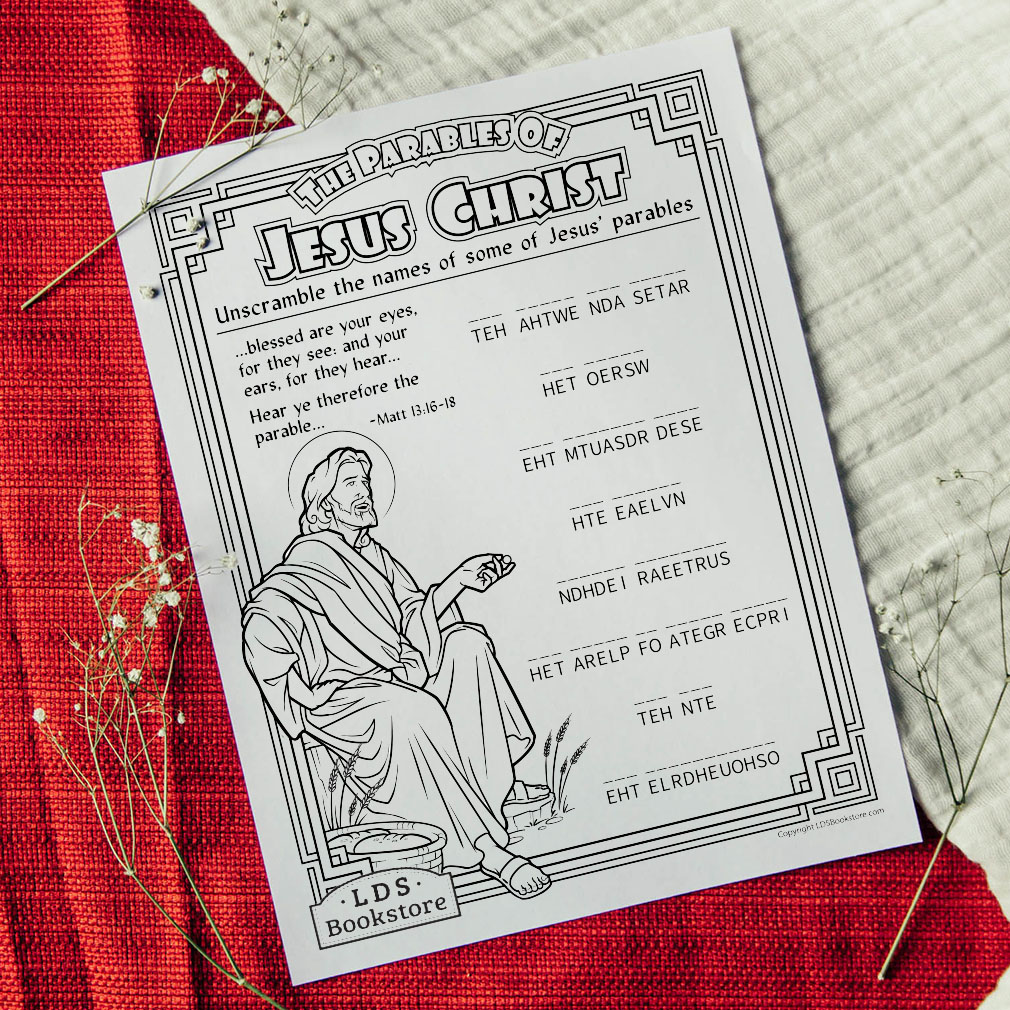 Treat
Easy Flat Bread
Leavened and unleavened bread makes an appearance in these scriptures. Make some unleavened flatbread like this one.
Activity
Jesus often used parables related to seeds and sowing. Plant little seeds together as a family and watch them grow!