Paul teaches the saints in Corinth what it means to be "baptized into one body." In this Come Follow Me FHE lesson, you will learn more about using personal spiritual gifts to build unity and serve others. Our FHE lessons include three lesson plans for different ages, treat recipes, activity ideas, and more.
Scripture
Now ye are the body of Christ, and members in particular.
Hymn
Love Is Spoken Here | Children's Songbook, pg. 190
1. I see my mother kneeling with our family each day.
I hear the words she whispers as she bows her head to pray.
Her plea to the Father quiets all my fears,
And I am thankful love is spoken here.
2. Mine is a home where ev'ry hour is blessed by the strength of priesthood pow'r,
With father and mother leading the way,
Teaching me how to trust and obey;
And the things they teach are crystal clear,
For love is spoken here.
3. (3rd ending) I can often feel the Savior near
When love is spoken here.
Lesson
FOR CHILDREN
Activity: Begin the lesson by telling each of the children one of the spiritual gifts you can see in them. Explain to them that God gives us spiritual gifts because he loves us.
Scripture: Read 1 Corinthians 12:7-11 aloud.
Ask: What are some of the spiritual gifts that are mentioned in these verses?
Read: Our Heavenly Father gives us each spiritual gifts. Not everyone has the same gifts. Our gifts are unique to us and can help us in our lives. They may aid us in serving others or strengthening our own faith.
Ask: How can we know what our spiritual gifts are?
Read: Sometimes it can be difficult to recognize our own spiritual gifts, but there are others around us who can see them. We can always ask our friends or family to help us recognize our spiritual gifts. God knows each of us perfectly and individually. We can ask him through prayer to help us recognize our spiritual gifts and how we can use them.
Share: Tell the children about one of your spiritual gifts, or a spiritual gift you recognized in someone else.
Ask: How can you use your spiritual gifts to bless others?
Testimony: Close with your testimony of spiritual gifts.
FOR TEENS & ADULTS
Video: Begin the lesson by watching this video on resisting temptation through Christ.
Ask: What did you learn from this video about resisting temptation?
Scripture: Read 1 Corinthians 10:13.
Ask: What is an escape from temptation for you?
Read: There is temptation all around us, but when we choose to focus on Christ He will help us overcome it. In this verse, Paul teaches the saints that God will create a way to escape temptation. That escape is the atonement of Jesus Christ. The atonement can give us the strength to overcome our temptations and the power of repentance allows us to be forgiven of our sins when fall into those temptations.
Share: Tell about an experience when you were able to overcome temptation through Christ.
Scripture: Read Alma 13:27–30.
Ask: How can Paul's teachings of escape from temptation give you hope?
Read: The Atonement gives us hope that we can overcome temptation and sin. The savior is always there for us and wants to help us escape our temptations.
Testimony: Close with your testimony of overcoming temptations.
FOR SINGLE STUDY
This week learn about being unified and working together by reading and studying Jean B. Bingham's talk Bingham, "United in Accomplishing God's Work."
Featured Products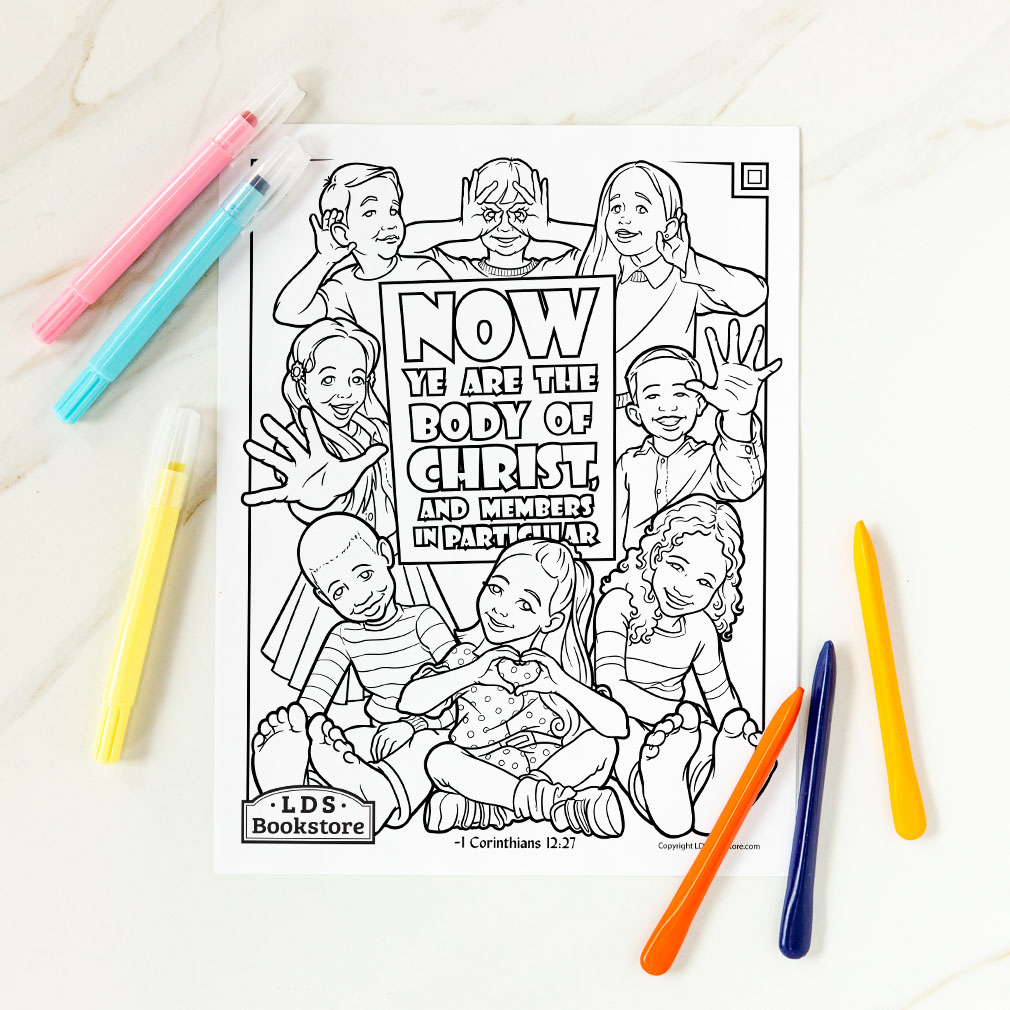 Pretzel Pie Dessert
This fun pretzel dessert is easy to make and features both salty and sweet flavors. Get the recipe here!
Activity
Be creative with these super cute bean art mosaics!