Jesus Christ taught Nicodemus that we all must be born again. This New Testament FHE lesson helps us understand what this means and how it relates to our baptismal covenants. Each of our FHE lessons includes three lesson plans for different ages, treat recipes, activity ideas, and more.
Scripture
Jesus answered and said unto him, Verily, verily, I say unto thee, Except a man be born again, he cannot see the kingdom of God.
Hymn
Father in Heaven, We Do Believe | Hymn #180
1. Father in Heav'n, we do believe
The promise thou hast made;
Thy word with meekness we receive,
Just as thy Saints have said.
2. We now repent of all our sin
And come with broken heart,
And to thy covenant enter in
And choose the better part.
3. O Lord, accept us while we pray,
And all our sins forgive;
New life impart to us this day,
And bid the sinners live.
5. We will be buried in the stream
In Jesus' blessed name,
And rise, while light shall on us beam
The Spirit's heav'nly flame.
6. Baptize us with the Holy Ghost
And seal us as thine own,
That we may join the ransomed host
And with the Saints be one.
Lesson
FOR CHILDREN
Activity: Begin the lesson by making plain sugar cookies or another treat to decorate. Put these treats in a location in your home, such as a kitchen table or counter. Make stations throughout your house where you'll place the items necessary to decorate your treat. Either create a hopscotch path with pieces of paper or give your children a task at different stations. For example, they may need to read a scripture, do 10 jumping jacks, or answer a gospel question in order to gather their items. Once they reach the treat, decorate them together.
Read: Just like we needed to take steps to get to our treat, Jesus Christ gives us steps in His gospel. In fact, He told us we needed to be "born again" by being baptized and receiving the gift of the Holy Ghost.
Ask: What do you know about baptism and the Holy Ghost?
Read: When we are baptized, our sins are washed away. The gift of the Holy Ghost helps us choose the right. When we take the sacrament, we promise to listen to the Holy Ghost and we become clean again, even if we've made mistakes. Heavenly Father wants us to be like Him! We can change and become better every day.
Share: Talk about your baptism day and what you remember.
Discuss: Discuss what steps your family can take to follow Jesus Christ this upcoming week and how to keep your baptismal covenants.
Testimony: Close with your testimony of being "born again."
FOR TEENS & ADULTS
Video: Begin the lesson by watching the following video. Ask everyone to ponder on what it means to be born again.
Ask:
What do you think Jesus Christ is teaching us about being "born again?"
Read: The process of being born again will take a lifetime. It involves learning to listen to the promptings of the Holy Ghost and embracing ordinances. This occurs at baptism, when we partake of the sacrament, and make covenants in the temple. It may seem daunting at first, but with Christ's help, we can change for the better throughout our lives.
Ask: What are some things we can do every day to continue the process of being "born again?"
Scripture: Have someone read Mosiah 5:7.
Read: As we follow the gospel of Jesus Christ, we are promised we will fulfill our divine identity as sons and daughters of God. When we are discouraged about changing or feel like we can't stop making mistakes, we should remember that God loves us and will help us. He wants us to return to him.
Share: Share a time in your life when you felt discouraged and remembering your covenants helped encourage you or gave you the strength to make a good choice. Invite others to share.
Testimony: Close with your testimony of how Christ can help us be born again.
FOR SINGLE STUDY
Read "Ye Must Be Born Again" by Elder David A. Bednar. In his talk, he walks us through unique steps of change. Write in your journal spiritual experiences that have occurred at each step for you. Ponder on where you are right now and where you want to be. What will it take to get you there?
Featured Products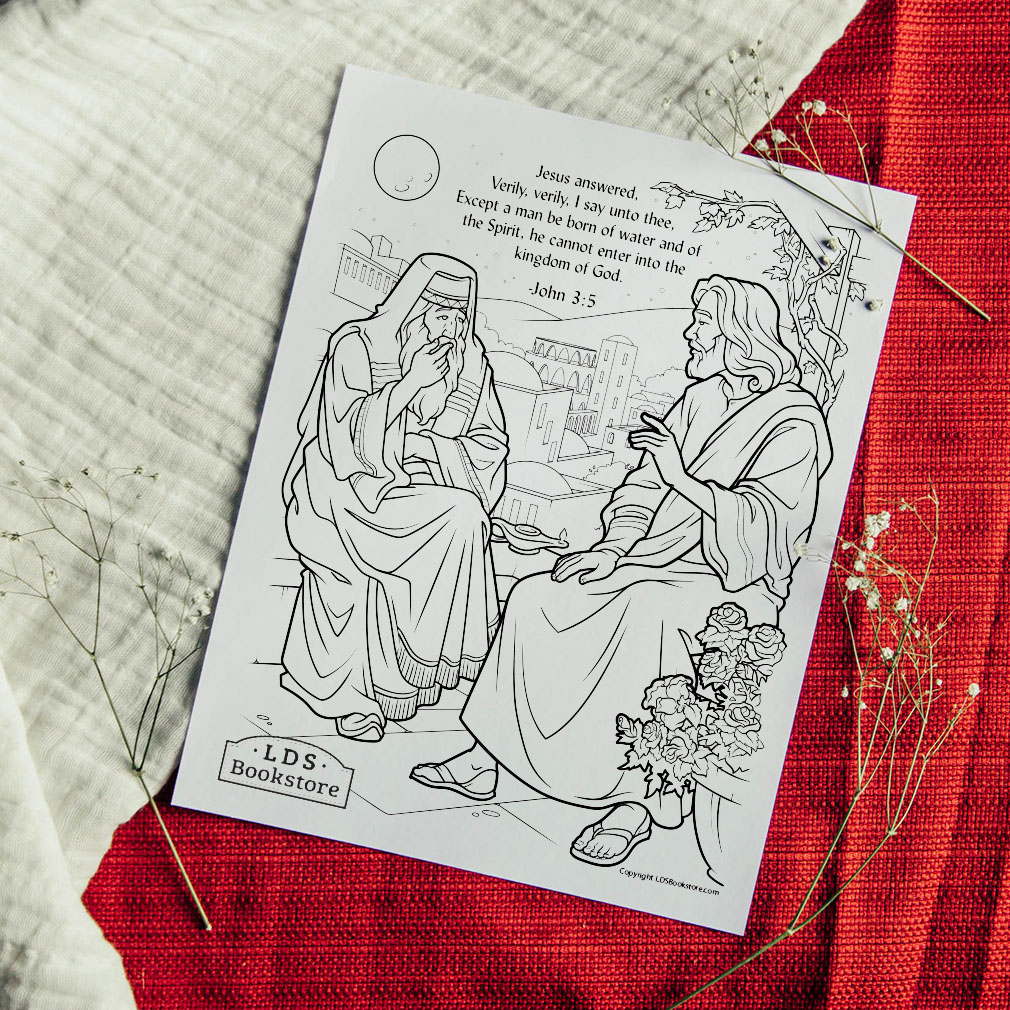 Treat
Sugar Cookies
These sugar cookies only need three ingredients and are fun to decorate as part of our children's activity.
Activity
Memorize Articles of Faith 1:4 together.