Though Christ's mortal ministry was coming to a close, the work of salvation was not finished. In this Come Follow Me FHE lesson, you'll learn about the loyal disciples who carried on His message and how we can share the gospel today. Each of our FHE lessons includes three lesson plans for different ages, treat recipes, activity ideas, and more.
Scripture
But ye shall receive power, after that the Holy Ghost is come upon you: and ye shall be witnesses unto me both in Jerusalem, and in all Judæa, and in Samaria, and unto the uttermost part of the earth
Hymn
Let the Holy Spirit Guide | Hymn #143
1. Let the Holy Spirit guide;
Let him teach us what is true.
He will testify of Christ,
Light our minds with heaven's view.
2. Let the Holy Spirit guard;
Let his whisper govern choice.
He will lead us safely home
If we listen to his voice.
3. Let the Spirit heal our hearts
Thru his quiet, gentle pow'r.
May we purify our lives
To receive him hour by hour.
Lesson
FOR CHILDREN
Activity: Begin the lesson by playing a matching card game with pictures of the living prophets and apostles. When a match is made, share the name of the apostle and a short fact about them. This will help the children get to know the current prophets and apostles better.
Read: The Church of Jesus Christ of Latter-Day Saints is led by living prophets and apostles today. After Jesus Christ left the earth he also called apostles to lead His church. Prophets are called to lead and direct the Church through revelation.
Ask: Why is it important to have living prophets and apostles?
Share: Tell the children about a time when you were blessed by listening to the words of the prophets.
Scripture: Ask one of the children to read Acts 2:36-37.
Read: The Spirit can testify to us, comfort us, and guide us to choose the right. This scripture describes the spirit as feeling "pricked in their heart". We can all feel the spirit in many different ways at different times in our life.
Ask: How have you felt the spirit before?
Testimony: Close with your testimony of the living prophets and apostles.
FOR TEENS & ADULTS
Video: Watch this video of Peter and John healing a man crippled from birth. As you watch the video look for the way the man was expecting to be healed in comparison to how he actually found his healing.
Ask: How have you been healed or blessed in ways you were not expecting?
Read: In the world, it can be easy to look for healing from worldly solutions, but Christ's healing power is much more powerful than any earthly healing. He can heal our bodies and our spirits through the Atonement. However, this healing often comes in unexpected ways that we do not choose.
Scripture: Read Acts 3:1-10 together. As you read these verses look for phrases that stick out to you and how they can be applied to our lives today. Ask everyone to share a phrase they liked from these scriptures.
Read: Peter and James are both worthy priesthood holders, which gave them the power to heal this man. We all have access to that same power today through worthy priesthood holders in our lives.
Ask: When have you seen the power of the priesthood used to bless someone?
Read: Immediately after being healed the man begins to praise God and enters the temple. We can follow his example. When we are blessed we should thank God and rejoice in his goodness. The temple is a great place to go to thank God, but we can also praise God in our everyday lives. Just as people recognized this change in the man who was crippled, people will recognize a difference in us when we choose to show gratitude toward God.
Share: Tell about an experience when you were blessed in an unexpected way and how you showed gratitude toward Heavenly Father.
Testimony: Close with your testimony of the power of the priesthood.
FOR SINGLE STUDY
Learn how apostles are called in the Church in modern days by reading the talk "God Is at the Helm" by Gordon B. Hinkley. As you study this talk look for the differences between how the Lord called leaders for His Church and how the world chooses individuals to be leaders.
Featured Products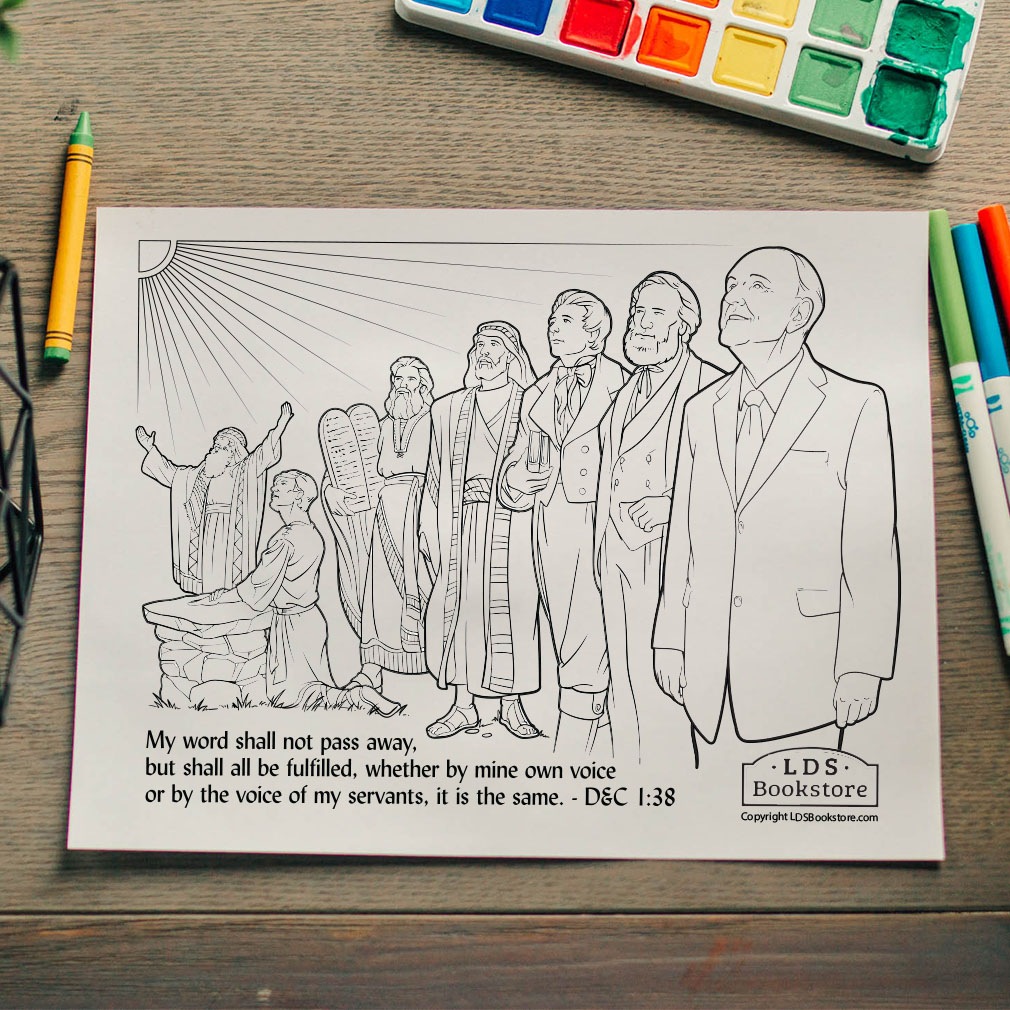 Treat
Patriotic Fruit Kabobs
Celebrate the 4th of July this week by making these super simple and delicious patriotic fruit kabobs.
Activity
Get to know the current prophets and apostles by creating a trivia game with facts about each of the apostles. Find more information for your trivia on the Quorum of the Twelve Apostles here.