The Lord always provides a way back for us. He doesn't want us to be loyal to Him out of appearances, He wants us to give to Him our whole hearts, our whole selves. When we submit to Him, He is there with open arms to receive us, forgive us, and renew our covenant with Him.
Art by Kelly Pugh
Scripture
I will heal their backsliding, I will love them freely: for mine anger is turned away from him.
Hymn
1. Come unto Jesus, ye heavy laden,
Careworn and fainting, by sin oppressed.
He'll safely guide you unto that haven
Where all who trust him may rest.
2. Come unto Jesus; He'll ever heed you,
Though in the darkness you've gone astray.
His love will find you and gently lead you
From darkest night into day.
3. Come unto Jesus; He'll surely hear you,
If you in meekness plead for his love.
Oh, know you not that angels are near you
From brightest mansions above?
4. Come unto Jesus from ev'ry nation,
From ev'ry land and isle of the sea.
Unto the high and lowly in station,
Ever he calls, "Come to me."
Lesson
FOR CHILDREN
Teach: The Lord told Joseph Smith exactly what He wanted His church to be called in the last days as found in D&C 115:4. "For thus shall my church be called in the last days, even The Church of Jesus Christ of Latter-day Saints." The Lord has not revealed when He is returning to the earth, but we do know these are the last days. We know He is returning soon.
Some of what will happen before the Lord returns can be found in the book of Joel.
Read: Joel 2:1–3, 10
1 Blow ye the trumpet in Zion, and sound an alarm in my holy mountain: let all the inhabitants of the land tremble: for the day of the Lord cometh, for it is nigh at hand;
2 A day of darkness and of gloominess, a day of clouds and of thick darkness, as the morning spread upon the mountains: a great people and a strong; there hath not been ever the like, neither shall be any more after it, even to the years of many generations.
3 A fire devoureth before them; and behind them a flame burneth: the land is as the garden of Eden before them, and behind them a desolate wilderness; yea, and nothing shall escape them.
10 The earth shall quake before them; the heavens shall tremble: the sun and the moon shall be dark, and the stars shall withdraw their shining:
Ask: What are some things Joel prophesied would happen in the last days? [Fire, darkness, desolation, earthquakes, darkness, etc.]
Ask: How does it feel knowing these things will happen in the last days before Christ's return and that we are also in the last days before Christ's return?
Teach: It may feel frightening at times to think of what has been prophesied for the last days, but the Lord knows our fears and wants us to have faith in Him–not fear.
Read: Joel 2:21, 23, 26
21 Fear not, O land; be glad and rejoice: for the Lord will do great things.
23 Be glad then, ye children of Zion, and rejoice in the Lord your God: for he hath given you the former rain moderately, and he will cause to come down for you the rain, the former rain, and the latter rain in the first month.
26 And ye shall eat in plenty, and be satisfied, and praise the name of the Lord your God, that hath dealt wondrously with you: and my people shall never be ashamed.
Teach: Tough days are ahead, but the Lord will deal "wondrously" with us if we trust in Him. We will have everything we need if we are prepared.
Ask: How do we prepare?
Video: We will need to be prepared temporally and spiritually. One way the Lord asks us to prepare the world for His return is through missionary work. Watch a video about this here.
Testify: Preparing now to serve a mission will help prepare you individually for the return of the Savior, and serving a mission will also help prepare the world for the Lord's return.
FOR TEENS & ADULTS
Teach: The Lord compares the covenant relationship of marriage to the covenant relationship between Him and His people. The Lord, however, is not like most people–even most marriages–because He will always forgive us and open His arms to receive us no matter how many times we have wandered away from our covenants.
Ask: The Lord remains true to His covenants with us, but each of us needs repentance when we break our covenants with Him. We covenant to keep His commandments and to always remember Him, but are there times we forget? Times we don't perfectly keep His commandments?
In what ways does the Lord reach out to us to bring us back to Him even if we have been unfaithful in our covenants?
[He may send ministering brothers and sisters if we have wandered from Him. He may prick our hearts with the Holy Ghost as a reminder of the Spirit we used to enjoy more fully. He may invite us to return to His temple. But He also might even allow us some suffering so we remember where our blessings and peace come from.]
Read: Hosea 6:1-3
1 Come, and let us return unto the Lord: for he hath torn, and he will heal us; he hath smitten, and he will bind us up.
2 After two days will he revive us: in the third day he will raise us up, and we shall live in his sight.
3 Then shall we know, if we follow on to know the Lord: his going forth is prepared as the morning; and he shall come unto us as the rain, as the latter and former rain unto the earth.
Quote: Elder Dieter F. Uchtdorf said, "Satan wants us to think that when we have sinned we have gone past a "point of no return"—that it is too late to change our course."
"Christ came to save us. If we have taken a wrong course, the Atonement of Jesus Christ can give us the assurance that sin is not a point of no return. A safe return is possible if we will follow God's plan for our salvation."
Watch: In this video, S. Michael Wilcox describes the Lord as a Fourth Watch God. He explains that the Lord does answer our prayers, but often not until the "fourth watch." For instance, the pillar of light descends on Joseph Smith at the moment before Joseph is about to yield to a powerful force of darkness. The Lord calmed the winds and the waves just before the apostles were going to perish. God often requires us to build our faith by patiently waiting on Him. S. Michael Wilcox says there is one time, however, when our God is a "First Watch God." Start at 11:33 and go until 13:10 to see how the Lord is there immediately when we need Him when it comes to our repentance.
Testify: The Lord wants us to return to Him–always and no matter what. No matter how far we have fallen, He is there with open arms to "bind us up."
FOR SINGLE STUDY
Consider or Journal: Depending on where we live or in whose company we keep, we may sometimes be tempted to outwardly live the gospel so as to keep up appearances, but not have a personal relationship with the Lord. Perhaps we feel compelled to go to the ward temple trip because others will take notice if we are there or not. Maybe we dress modestly at church or church activities but are tempted to yield to the world's standards on dress when in a different company. How do we steer clear of this hypocrisy?
The Lord frequently condemned hypocrisy (See Matthew 23). Some would claim that avoiding hypocrisy would be to dress immodestly everywhere we go. Or to skip going to the temple altogether. Or to toss out whatever commandments we don't like. But is this what the Lord wants for us?
Read: Joel 2:12-13
12 Therefore also now, saith the Lord, turn ye even to me with all your heart, and with fasting, and with weeping, and with mourning:
13 And rend your heart, and not your garments, and turn unto the Lord your God: for he is gracious and merciful, slow to anger, and of great kindness, and repenteth him of the evil.
Consider or Journal: At this time, rending, or ripping in two, a garment was a sign of great distress. "The Hebrew custom of tearing one's clothing was an expression of extraordinary emotion, usually of grief, terror, or horror."
Why would the Lord advise us to "rend [our] heart, and not [our] garments"? Rending the garment is a great outward display, but the Lord isn't calling for our clothes, our temple trip, or anything else as much as He wants our whole heart.
Quoting C.S. Lewis, Elder Jeffrey R. Holland said in October 2021 general conference, "I don't want … your time … [or] your money … [or] your work [as much as] I [just] want You. [That tree you are pruning.] I don't want to cut off a branch here and a branch there, I want … the whole [thing] down. [And that tooth.] I don't want to drill [it], or crown it, or [fill] it. [I want] to have it out. [In fact, I want you to] hand over [to me your] whole natural self. … [And] I will give you a new self instead. In fact, I will give you Myself: my … will shall become [your will]."
Journal: How can I more fully and freely give myself to the Lord?
Featured Products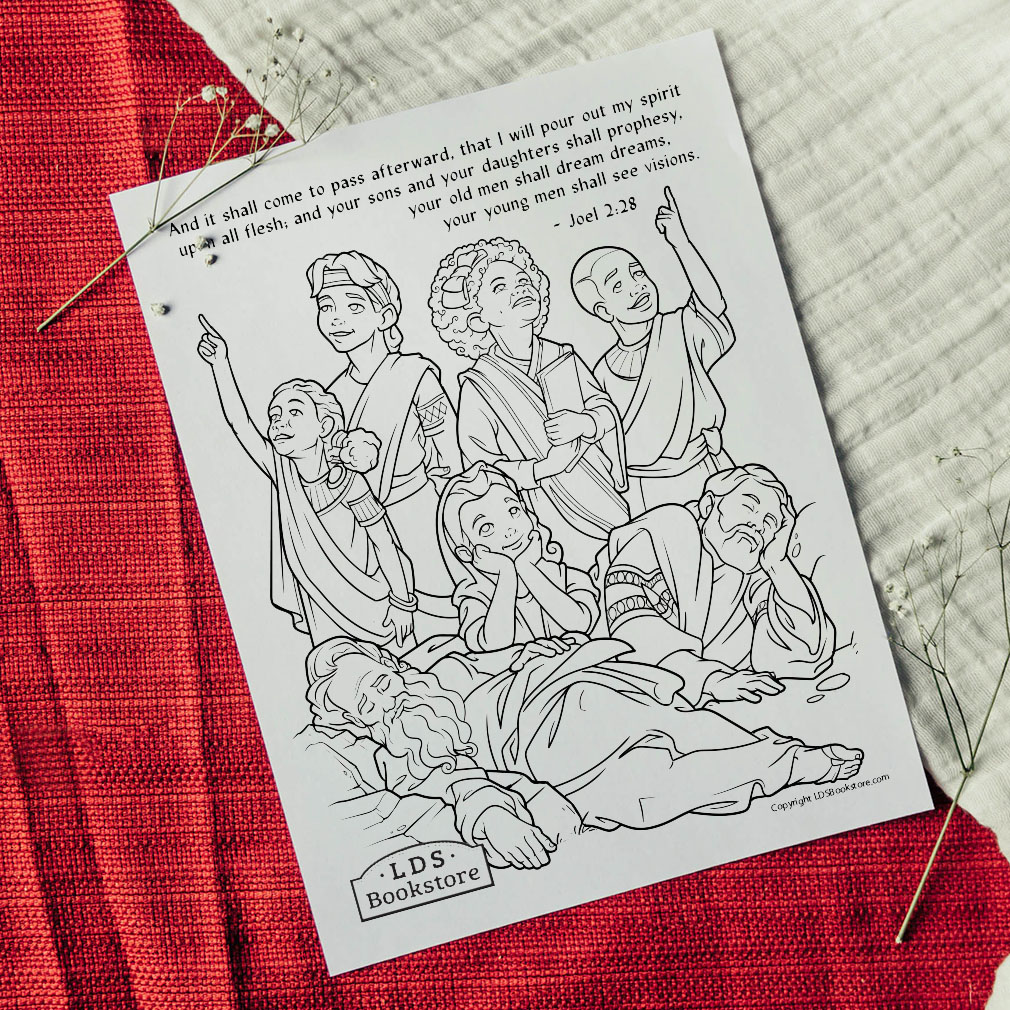 Treat
German Chocolate Brownies
Make these German Chocolate Brownies from scratch, or pump up your box brownie mix with this delicious, creamy coconut and pecan topping.
Activity
Have a picture of the Savior on the right side of the room and the word sin on the opposite side of the room. Have each child, while looking only at the word sin, try to safely walk to the picture of the Savior. Put soft obstacles in the way (stuffed animals, pillows, etc.) that represent the challenges of living a mortal life. Demonstrate how walking toward the Savior while keeping your eyes on sin is going to be difficult, if not impossible. Then, demonstrate how easy it is to walk toward the Lord when our eyes (and our focus are on Him). Even obstacles in the way are overcome when we keep our focus on Him.