Scripture
…live in thanksgiving daily…
Hymn
Can a Little Child Like Me? – Children's Songbook Pg. #9
1.Can a little child like me
Thank the Father fittingly?
Yes, oh yes! Be good and true,
Patient, kind in all you do!
Love the Lord and do your part;
Learn to say with all your heart:
Father, we thank thee!
Father, we thank thee!
Father in Heaven, we thank thee!
2. For the fruit upon the tree,
For the birds that sing of thee,
For the sunshine warm and bright,
For the day and for the night,
For the joyful work and true
That a little child may do,
Father, we thank thee!
Father, we thank thee!
Father in Heaven, we thank thee!
Lesson
*For Children*

Read aloud: During the Thanksgiving holiday, we take the time to learn about gratitude and being thankful.
Ask: What does it mean to be grateful?
Read aloud: Gratitude is a feeling of appreciation and thankfulness for blessings or benefits we have received, especially from God. As we cultivate a grateful attitude, we are more likely to be happy and spiritually strong.
Ask: What are some things that you are grateful for?
Read aloud: One of the best ways we can show Heavenly Father that we are grateful is by serving others. When we feel grateful for the things we have, we want to share with others so they can feel happy too.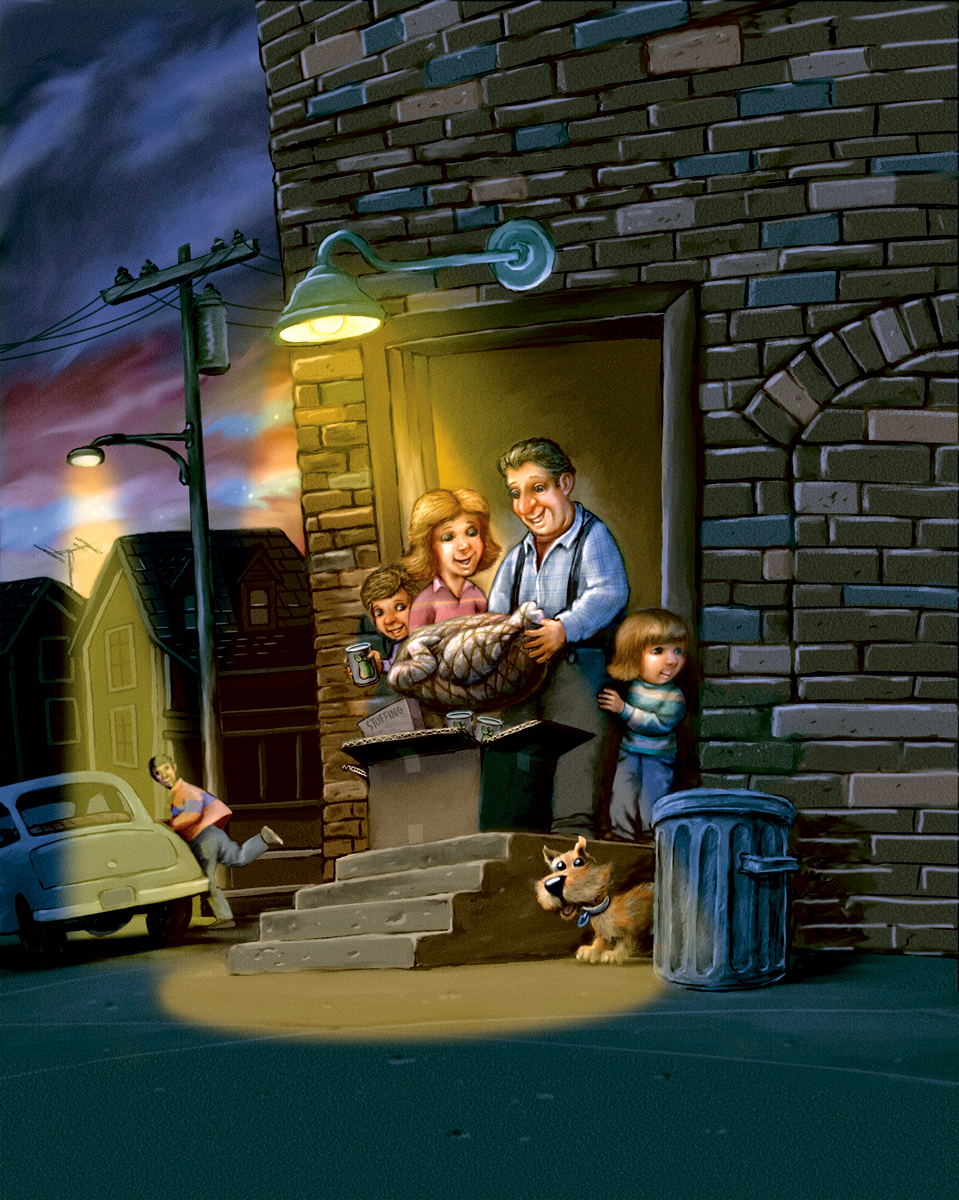 Show your family the following picture and ask them to point out what they see and think is going on in the picture. Then read this story from the Friend:
Cassie watched as Mom unloaded the one bag of groceries from the car. Thanksgiving was in two days, and they had just returned from shopping.
Cassie thought of their Thanksgivings in the past. There had been turkey, two different kinds of stuffing, rolls, pies, and lots more. Cassie didn't mind that they wouldn't have the same feast this year, but she wished that her parents smiled more.
Mom's eyes were filled with worry when she thought no one was looking. Things hadn't been easy for Cassie's family ever since Dad had started his own engineering company. He had been spending long hours at the small office he and his partner rented.
Cassie's parents had spent a family home evening explaining to the children that they would all have to do without some things until their dad's business picked up.
Six-year-old Cassie had struggled to understand what that meant. Her older brother Steve had looked concerned, then nodded and said, "Sure thing."
"We have enough money to support your brother on his mission, but there won't be much left for extras," Dad had added.
Cassie's brother Rob was serving a mission in California. She knew her parents had set aside money years ago to pay for his mission.
The day before Thanksgiving, Steve carried a large box inside and set it on the kitchen table. "Mom, look what I found on the porch."
Mom laughed and cried as she pulled things out of the box—a turkey, pumpkin and apple pies, cans of cranberry sauce, two loaves of homemade bread, and a sack of nuts.
"There's no name," Steve said, after searching through the box once more.
That made Mom cry some more. "Whoever sent this wanted to remain anonymous," she said.
"What's a—nonymous?" Cassie asked.
Mom wiped the tears trickling down her cheeks with the back of her hand. "That means the person who left all this wonderful food didn't want us to know who did it."
"Like when we did things for that family last Christmas?" Cassie asked. "We left a box on the porch, rang the doorbell, and then ran away."
"Just like that," Mom agreed.
"I liked doing that," Cassie said, remembering the warm feeling she'd had in leaving the gifts for the family.
"Me too," Steve said.
Cassie looked at the box of food. "Does this mean we're poor?" She remembered scripture stories from Primary about feeding the poor.
Mom gathered Steve and Cassie close and hugged them. "It means we're rich in friends. That's the best kind of rich there is."
Cassie thought about what Mom had said. She decided this Thanksgiving might be the best one of all.
Ask: What happened in this story? How did Cassie and her family feel at the end of the story? How can we express gratitude by serving others? [Saying thank you, telling someone you love them, helping a sibling with homework, doing the chores, etc.]
 *For Teenagers and Adults*
Begin by reading this story from Elder Joseph B. Wirthlin:
A long time ago in a faraway village lived a man who everyone did their very best to avoid. He was the type of person who believed that there was only one competent person in the world, and that one person was himself. Consequently, he was never satisfied with anything. His shoes never fit right. His shirt never felt comfortable. When his food wasn't too cold, it was too salty, and when it wasn't too hot, it was too bland.
If a field wasn't sowed by himself, it was not sowed well. If he didn't close the door, the door was not closed properly.
In short, he made a career of frowning, lecturing, criticizing, and mumbling about the incompetencies of every other person in the rest of the world.
Unfortunately, the man was married, which made matters all the worse. No matter what his wife did, in his eyes it was wrong. No matter what the unfortunate woman cooked, sewed, or cleaned—or even when she milked the cow—it was never satisfactory, and he let her know it.
She tried very hard to be a good wife, but it seemed the harder she tried, the less she pleased him. Finally, one evening she could take no more.
"I'll tell you what we'll do," she told him. "Tomorrow I will do your chores and you will do mine."
"But you can't do my chores," the man replied. "You don't know the first thing about sowing, hoeing, and irrigating."
But the woman was adamant. And on top of that, she was filled with a righteous anger that frankly astonished and frightened the man to the point where he didn't dare disagree.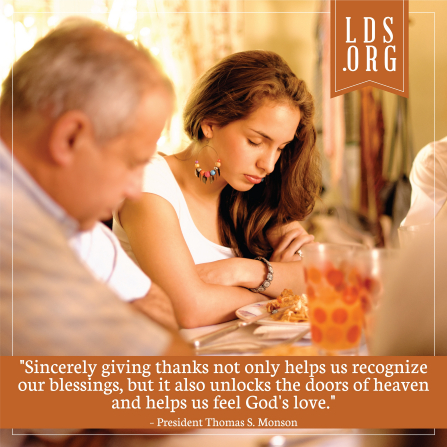 So the next morning the wife went off to the fields and the man began the domestic chores. After thinking about it, he had actually convinced himself he was looking forward to it. Once and for all, he would demonstrate to his wife how things should be done.
Unfortunately, not everything went according to plan. In fact, nearly everything the man touched turned into disaster. He spilled the milk, let the pig get into the house, lost the cow, burned the dinner, and ultimately set the house on fire, narrowly escaping with his own life.
When his wife returned, she discovered her husband sitting on a pile of ashes, smoke still rising from his clothes. But the woman wasn't the type to rub things in. She helped him up, wiped the soot from his beard, fixed him a little something to eat, and then prepared a bed of straw for them to sleep on.
From that day forward, the man never complained about anyone or anything else for as long as he lived.
Ask: What does this story teach us? How did the woman react when she saw that her husband had failed? Why did she react this way?
Read aloud: Gratitude is a Christ-like attribute that allows us to have soft hearts and to serve others. President Gordon B. Hinckley once said, "When you walk with gratitude, you do not walk with arrogance and conceit and egotism, you walk with a spirit of thanksgiving that is becoming to you and will bless your lives."
When we are grateful for the things the Lord has bless us with, we naturally want to share those blessings with others. We are kinder and we open our eyes, hearts, and arms. President Hinckley continued to say, "Don't wait to start. Open your eyes, open your hearts, and open your arms. I promise that as you do so, you will feel greater joy and happiness. Your life will have a new level of meaning. You will forge relationships that will transcend this life and endure through the eternities."
Ask: How can we show gratitude to those around us? Is there a time that expressing gratitude and serving made you feel good?
Featured Products
Treat
Acorn Treats or Turkey Leg Rice Krispies
Ingredients: 
-Hershey Kisses
-Bite Size Nutter Butter Cookies
-Mini Chocolate Chips
Directions: Melt 1/2 bag chocolate chips in the microwave for 20 seconds at a time, stirring until melted through. Dip the bottoms of the Hershey Kisses in the melted chocolate and press on a Nutter Butter cookie. Dip an unmelted chocolate chip and pressed on the other end of the Nutter Butter cookie. Let cool/harden and enjoy!
(Courtesy of Girls and their Meals)
Turkey Leg Rice Krispies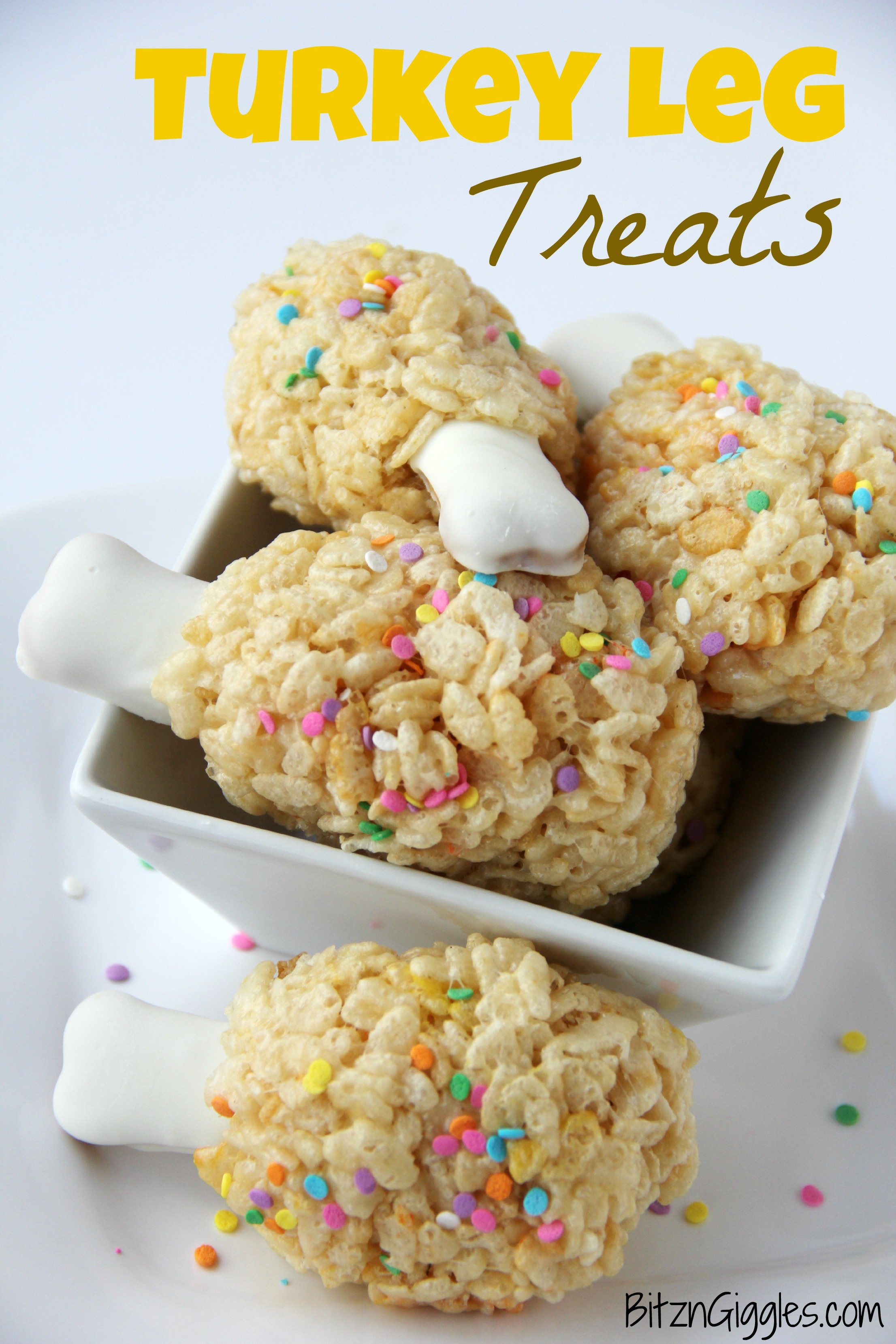 Ingredients
-3 tablespoons butter
-10 oz. package of marshmallows
-6 cups Rice Krispies Cereal
-Scooby Doo Baked Graham Cracker Sticks
-Vanilla CANDIQUICK
-Sprinkles for garnish (optional)
Directions:
1. Melt some CANDIQUICK in the microwave and dip the graham cracker sticks until about 3/4 coated.
2. Allow to set on some wax paper.
3. In microwave-safe bowl, heat butter and marshmallows on high for 3 minutes, stirring after 2 minutes. Stir until smooth.
4. Add cereal. Stir until well coated.
5. When the CANDIQUICK on the graham cracker sticks has cooled, spray your hands with nonstick cooking spray and mold the rice krisipe mixture around the sticks – like the meat on a turkey leg, pressing some sprinkles gently onto the rice krispie mixture to secure.
6. Set the legs aside to set on wax paper for about 10-15 minutes. Store in a covered container to keep fresh.
(Courtesy of Bitz & Giggles)
Activity
Count Your Many Blessings Worksheet or Lego Stamped Indian Corn 
Count Your Many  Blessings Worksheet
Give each member of your family a piece of paper and have them number 1 to 100. You can also use the printable provided in the link below. Explain that everyone is going to list 100 things that they are grateful for (and then listen to them moan and groan at the thought of coming up with THAT many.) Then, explain that they are only to list those things as you instruct.
First, have them list 10 THINGS they are grateful for. Then have them share a few or all of the things (If there is time, do this after every set of ten. If time is limited, choose which sets you would like to talk about)
Then, have them complete the following sets of 10 in this order:
10 PEOPLE they are grateful for
10 TEACHERS they are grateful for
10 THINGS ABOUT THEMSELVES they are grateful for
10 TRIALS/STRUGGLES they are grateful for
10 PEOPLE WHO LIVED BEFORE THEM they are grateful for
10 things they have a TESTIMONY of that they are grateful for
10 THINGS THAT HAPPENED THIS PAST WEEK that they are grateful for
10 things about TODAY they are grateful for
10 things about their FAMILY they are grateful for
When completed you can use any of the following discussion points:
Discuss with your family how blessed you are and how  you could have filled out WAY  more than 100 spaces. Discuss the top 10 blessings you never want to live without (to help them see how many things are important to them). Discuss how it makes them feel when they recognize all of their blessings. Challenge your family to say a prayer of gratitude this Thanksgiving. You can even keep your lists until next Thanksgiving, where you repeat the activity and compare the lists.
(Courtesy of The Read Headed Hostess)
Materials: 
-3 Legos
-Brown, yellow, and orange washable paint
-White and brown paper
-Glue
-Scissors
Directions: Put 3 globs of pain on a paper plate and let the kids dip their legos in it. Tell them to press hard against the whtie paper to make a print. They should cover the whole paper or at least a good portion of it. Once the paint is completely dry, cut out two corn shapes from the paper. Take some brown construction paper and cut 6 leaf looking shapes. Put them all on top of each and bend them back and forth making them look more 3D. Glue them onto the back of the corn and you're done! You can discuss how at the first Thanksgiving, the Pilgrims and Indians were grateful for corn, and they shared what they had.
(Courtesy of Crafty Morning)