This General Conference FHE lesson helps us understand why we need prophets and how they point us to Jesus Christ.
Scripture
We believe in the same organization that existed in the Primitive Church, namely, apostles, prophets, pastors, teachers, evangelists, and so forth.
Hymn
Come, Listen to a Prophet's Voice | Hymn #21
1. Come, listen to a prophet's voice,
And hear the word of God,
And in the way of truth rejoice,
And sing for joy aloud.
We've found the way the prophets went
Who lived in days of yore.
Another prophet now is sent
This knowledge to restore.
2. The gloom of sullen darkness spread
Thru earth's extended space
Is banished by our living Head,
And God has shown his face.
Thru erring schemes in days now past
The world has gone astray;
Yet Saints of God have found at last
The straight and narrow way.
3. 'Tis not in man they put their trust
Nor on his arm rely.
Full well assured, all are accursed
Who Jesus Christ deny.
The Savior to his people saith,
"Let all my words obey,
And signs shall follow living faith,
Down to the latest day."
4. Then heed the words of truth and light
That flow from fountains pure.
Yea, keep His law with all thy might
Till thine election's sure,
Till thou shalt hear the holy voice
Assure eternal reign,
While joy and cheer attend thy choice,
As one who shall obtain.
Lesson
For Children
Before the lesson begins, hide a treat somewhere in your home where it is unlikely to be found. When your family gathers, tell your children you are looking for something and ask them, "Go find it." Do not give them any more instruction than this.
Have them present the things they find or stop them after they've been searching for more than ten minutes. Let them know they did not find what you were looking for. Then say you are going to give them a little more direction. Tell them what they are looking for and where it is. Have them bring the treat down to you.
Have a discussion on why the first round was difficult and the second round easy.
Read aloud: Heavenly Father loves us and wants us to find peace, strength, and joy throughout our lives. He wants us to find Jesus Christ and follow his gospel so we can return home to live with them again.
As part of Heavenly Father's plan, we are separated from him. However, he has given us everything we need to learn about him and follow his instructions. Sometimes these instructions aren't easy to find on our own. So, we've been given prophets.
Ask: What is a prophet?
Read aloud: Prophets act as mouthpieces for Heavenly Father and Jesus Christ. They are given power and authority from Heavenly Father and they do a lot of things! They teach us about Jesus Christ and travel the world talking about him. They also receive revelation for the Church and share it with us so we can avoid danger and do what Heavenly Father wants us to do.
Hold up photos of the current prophet and Quorum of the Twelve.
We have a prophet and twelve apostles today to guide us.
Ask: Do you know any of their names? What are some things you've heard them say?
Read aloud: Having a prophet can bring us peace, help us make decisions, and provide comfort when we go through hard times.
Ask: How did you feel when you didn't have all of the instructions?
Read aloud: Without a prophet, we can become confused about the teachings of Jesus Christ and what God wants us to do. The goal of a prophet is to lead us to Jesus Christ. When the prophets speak, we should be prepared to listen.
Bear your testimony of prophets. If time permits, you can talk about how you are going to prepare for General Conference and why it is important.
For Teens & Adults
Begin the lesson by watching the following video. Before pressing play, ask everyone to consider how prophets have personally impacted and blessed their lives.
Ask:
What does this video teach us about prophets? What does this video teach us about God?
Read aloud: Elder Neil L. Andersen said, "A prophet does not stand between you and the Savior. Rather, he stands beside you and points the way to the Savior. A prophet's greatest responsibility and most precious gift to us is his sure witness, his certain knowledge, that Jesus is the Christ."
During General Conference, we have the privilege of coming closer to Jesus Christ through his chosen prophets. When General Conference is over, we can apply what we've learned to live a more peaceful and fruitful life. Prophets point us to Christ.
Ask: How have prophets pointed you to Christ? Why is having a prophet important to you?
Read aloud: God has spoken to his children through prophets through all ages and dispensations. He desires to communicate with us and help us learn his truths. All of the speakers in General Conference have been working hard to prepare to share God's words. We can show our appreciation and desire to receive revelation by preparing for General Conference.
Ask: What are some ways we can prepare for General Conference?
Finish the lesson by bearing your testimony of prophets.
For Single Study
Read Elder Neil L. Andersen's talk The Prophet of God. Keep a list as you read of the blessings we receive through prophets. Then, record why prophets are important to you personally. Finally, prayerfully consider one person you can invite to General Conference.
Featured Products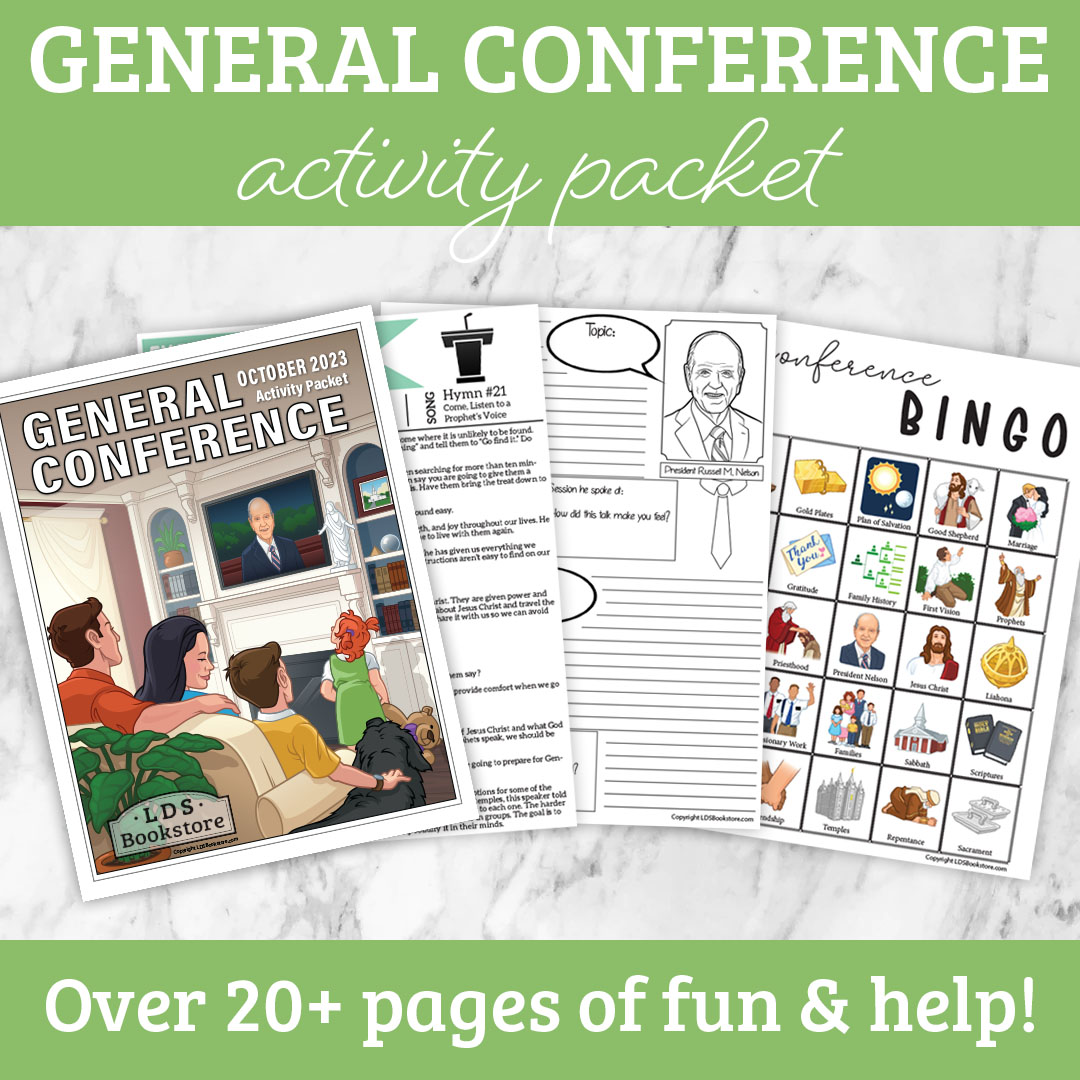 Treat
Rocky Mountain Avalanche Bars
Ingredients
-4 cups white chocolate, chopped (about 24 ounces)
-1/2 cup creamy peanut butter
-3 cups rice krispies
-3 cups mini marshmallows
-1/2 cup mini chocolate chips
Directions
Melt the white chocolate in a microwave on 50% heat in 30-second bursts, stirring between each burst, until melted.
Stir the peanut butter into the melted white chocolate until combined, then pour over the rice krispies in a large bowl and gently stir to coat.
Cool for 10 minutes, stirring once or twice until the melted chocolate is no longer warm to the touch.
Fold in the marshmallows and mini chocolate chips.
Gently press into a 9×13-inch pan lined with a parchment paper sling or buttered on the bottom and sides.
Refrigerate until set, about 15 minutes, then cut into squares.
(Courtesy of houseofnasheats.com)
Activity
Prophet Trivia
Visit this page about the prophets of the Church and gather trivia items from their lives. Have people guess which prophet matches each trivia item.