For the 2016-2017 school year, LDS seminary students will be studying from the New Testament. This is also the first year seminary students will be studying under the new doctrinal mastery program. Instead of memorizing scriptures, a new series of doctrinal mastery topics will be explored. These ten topics are the same every year, but the scriptures used to study them will change based on the book of scripture for the year.
Here are a few essentials that will make your life easier as a seminary director, teacher or parent of a seminary student!
At the core of the seminary program is hope that students will learn to love studying the scriptures in a meaningful way. To do that, they need to read! This simple bookmark is modern in design and was made especially for people reading through the New Testament. It has all the books of the New Testament in order that are easy to read and check off. You can get them here for only 99 cents each. There are also available as a printable which you can download directly to your computer and print off as many copies as you need.
Remember those doctrinal mastery points? Well, they are all here alongside their corresponding New Testament scriptures. It is perfect for breaking down the new system and remembering the scriptures to be studied, many of which are from the old scripture mastery program. They are only 99 cents here.
This brand new bookmark combines the old New Testament Chronology bookmarks with the brand new doctrinal mastery scriptures for the New Testament on the back. It is 7×4 inches and fits comfortably inside the scriptures. It is great for getting a bigger picture of the entire New Testament. They are available here for $2.99 each.
This 5 panel 3×5.25 reference guide provides Seminary students and teachers ready access to the 100 Doctrinal Mastery scriptures for Old Testament, New Testament, Book of Mormon and Doctrine and Covenants. One side lists the scripture passages and associated summary phrases by book of scripture, and the other side lists passages and phrases by Doctrinal Mastery topic. Get them now and be set for the next four years. You can get them for 99 cents each here.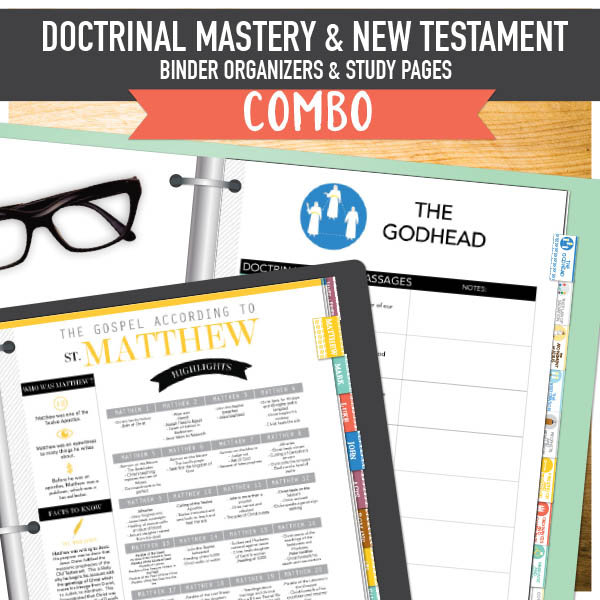 This is the ultimate binder kit for any seminary teacher! It includes binder dividers for each book in the New Testament with fun facts and tips, two-sided glue-on tabs, chapter study templates, suggested uses, and more! Beautifully designed, it will make you smile and keep you organized. It is a kit you print straight to your computer and print off at home or nearest printing store. Get it here!
Bright and sturdy, this 6 pack of scripture marking crayons will help students cherish the scriptures they're studying. They can be resharpened as needed and don't bleed through to the other page and can even be erased. You can get them here. If you want even more color options, these crayons are also available in a 12 pack.
If you haven't been introduced to the new resources for the seminary program on LDS.org, go check them out! There are resources for teachers, manual links, and everything you need to know about the doctrinal mastery changes. Best of all, it's completely free!