On September 11, 2001, nearly 3,000 people lost their lives in the most devastating terrorist attack on American soil. Among those thousands were six known Latter-day Saints with vibrant lives and deep testimonies. Their stories live on and can still inspire us today. Learn more about Mary Alice Wahlstrom, Carolyn Beug, Ivhan Bautista, Seamus Oneal, Brady Howell, and Rhonda Rasmussen.
Mary Alice Wahlstrom and Carolyn Beug
For Mary Alice Wahlstrom (78) and her daughter Carolyn Beug (48), September 11 marked the end of a very special vacation. Carolyn's twin daughters had received scholarships to a design school in Rhode Island. The mother-daughter duo had gone to settle them into school before their first semester of college. They booked passage on Flight 11 to take them back home. Both instantly perished when the plane was flown into the North Tower of the World Trade Center.
Mary Alice, according to obituaries and tributes, loved reading, music, and watching silent movies. She would volunteer to serve as an usher for Temple Square events, such as Music and the Spoken Word.
Carolyn worked as the senior vice president of Walt Disney Records and loved music, in addition to her work as a filmmaker and video producer. She even won an MTV Video Music Award. However, she left the music industry in 1998 to be with her family and work on a children's book. It was going to be the story of Noah's Ark as told by Noah's wife.
Margaret Wahlstrom, Mary Alice's daughter-in-law and Carolyn's sister-in-law, talked with Church News in 2011 about how their family faced the enormous loss with an eye towards Christ.
"From the beginning, I knew that everything was in the Lord's hands," she said. "For that reason, we had a lot of strength and purpose. No matter if the stock market crashes, if bad things happen, if your dad loses his job, if you have to go through a divorce, or anything else, the Lord is mindful of you. He's in charge, and if we have faith that everything is going to be okay, I think we can get through anything. That's the most important thing I've learned."
John Beug, Carolyn's husband, spoke to NPR in 2006. "In a time of need, you'll – you do find that people rise to the occasion and are there, and it sort of reinforces my faith in humanity, even though, you know, at a time when whomever perpetrated this disaster on the rest of humanity – it's difficult to put into words. It makes me stronger somehow. I think she would be happy that we haven't gone running down the street screaming, but rather we have acknowledged the loss and continued on."
Ivhan Luis Carpio Bautista
Ivhan Luis Carpio Bautista (24) wasn't supposed to be working at the famous Windows on the World restaurant on September 11, 2001. After all, it was his birthday. However, the Peruvian native wanted the extra work so he could send money back to his family.  In a legacy tribute, his cousin Rita Tatiana Palacio said, "He worked all the overtime he could. Too many people needed the money, including a niece whose school he paid for."
This go-getter skill applied to all areas of Ivhan's life. He'd moved to New York two years prior and spoke only Spanish. He'd worked hard at Windows on the World, became fluent in English, and a day before the attack had learned he had been accepted to the John Jay College of Criminal Justice—he had two-and-a-half years of law school credit from Peru. Rita said, "I remember him saying how he was so lucky, that everything was going to be so good from now on."
Ivhan was also a recent convert to the Church and a member of the Richmond Hill Spanish Branch. He'd been seriously contemplating missionary service but was disheartened because of visa and documentation issues. A few weeks prior the attacks, Ivhan met with Church leaders to discuss his options. President G. Lawrence Spackman, president of the New York City South Mission in 2001, was there at the meeting. He told Church News that he was inspired to say, "Brother Carpio, you just remain faithful and you will be able to serve a mission."
"He was so relieved and so happy, and he went away rejoicing," recalled President Spackman. "I went out to the car and said to my wife: 'I just made a huge mistake. I told a young man that he was going to be able to serve a mission, and he's not going to be able to. I don't know why I said it — and I feel terrible.'"
Looking back, President Spackman not only believes Ivhan is working on the other side of the veil, but that his life and death impacted his family to learn more about the gospel. He shared a story about how Ivhan's parents came to New York for the funeral and approched him. Ivhan's father was holding a Book of Mormon to his chest and told President Spackman, "The last thing my son said to me is that I should read this book and pray about it. And I tell you, Presidente, I will." Ivhan's mother was able to remain in the United States and was eventually baptized.
According to an anonymous comment in tribute, Ivhan's "memorial service was one of the most spiritual meetings."
Seamus L. Oneal
James Lee "Seamus" Oneal (52) was a man of many names and many faces, and all of them were good. Throughout his life, he had held a vast variety of jobs and pursued multiple passions. He was a hippie who joined the Army, a drama student at the University of Oklahoma, and a convert to the Church. He married his wife Janet, had three beautiful children, and ran a bed and breakfast by the Washington D.C. Temple. He also composed a sacred piece called "The Lord Hath Brought Again Zion." He then went on to study advanced computer science and eventually took a job as the Manager of Customer Integration at eSpeed, Cantor Fitzgerald's fully electronic trading platform.
He was so proud of the job, located in the Cantor Fitzgerald offices on the 101st to 105th floors in the North Tower, just 2 to 6 floors above the impact zone of the plane. His children shared, "Working for Cantor was like a dream come true for him. He was so proud of his office and loved introducing us to all his co-workers and showing us the fantastic view."
Throughout it all, Seamus' family connections remained strong even though they looked different from earlier years. In addition to being a devoted father, Seamus had found love with his partner Tom "Tom was one of the most wonderful things ever to happen to Dad," his children said. "Tom has always been a loyal, caring friend and ally. We are so grateful to him for everything he has done for Dad and for us."
Seamus is remembered for his vibrant nature and full life.  According to his brother John, Seamus had said, "There might be other Jameses, but there won't be other Seamuses." John went on to add, "He was something. A piece of art."
Brady Kay Howell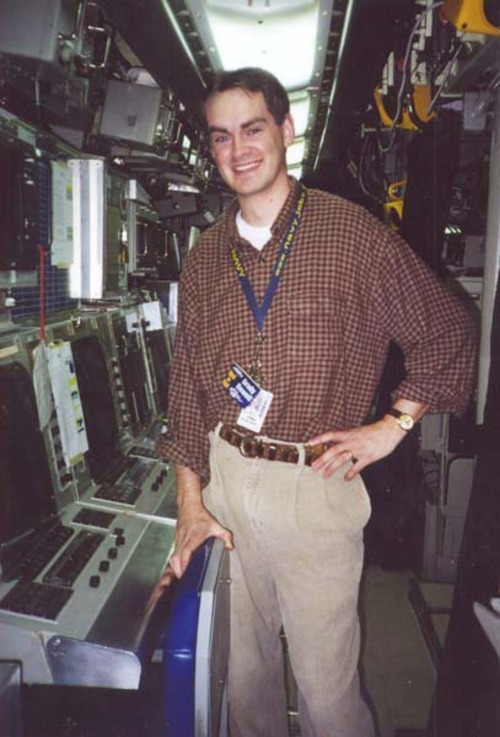 Brady Kay Howell (26) worked in naval intelligence at the United States Pentagon, occupying a highly competitive position working for the Chief of Naval Intelligence. A fan of Jack Ryan and James Bond, Brady had always wanted to earn Top Secret clearance.  It was a privilege he was granted just a few weeks before his death. He had been excitedly planning a trip home to Idaho with his wife, Liz, who he had married five years earlier in the Bountiful Utah Temple. They were scheduled to leave on September 13. Brady was among the 125 employees, contractors, sailors, and soldiers who died when Flight 77 hit the Pentagon.
Camille Mortensen, Brady's sister, shared their family's experience that day. Family members throughout Idaho and Utah knelt in prayer when they learned of the news and took comfort that only a small portion of the Pentagon had been hit. There was hope for Brady.
"As the day went on, we continued to pray," she said. "My parents' prayers were that their children would not lose faith and that we would be strong."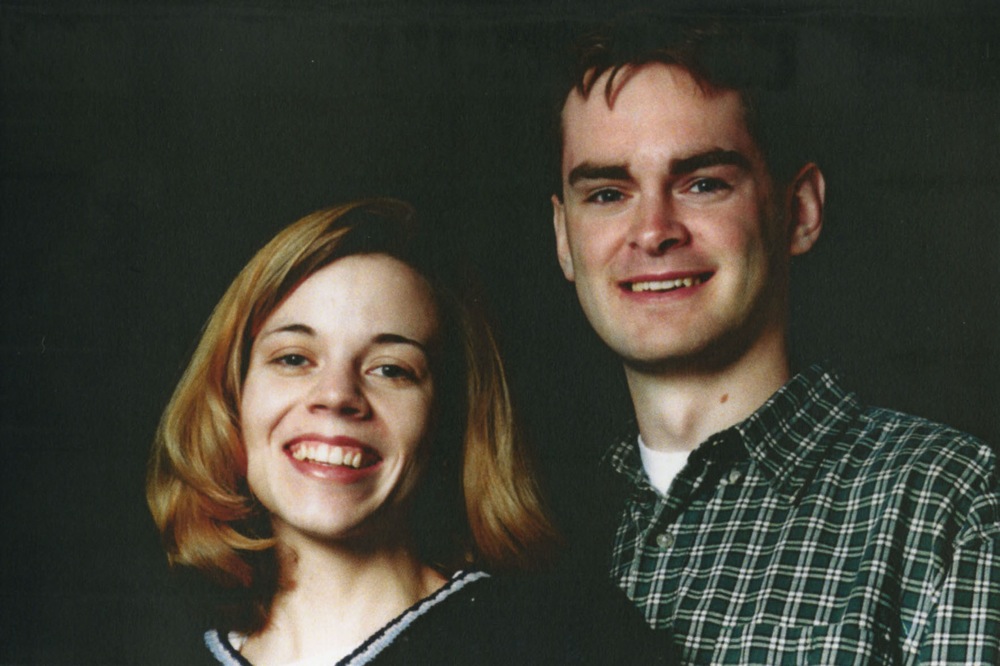 When commercial flights resumed on September 13, Camille and other members of her family gathered in Washington D.C. and "had twice-daily briefings where a captain came in and announced how many bodies they had found." It took a week before Brady's death was confirmed. In the upcoming days and months, Brady's family sought comfort and help from the gospel of Jesus Christ and were particularly strengthened after hearing the messages in the October 2001 General Conference. Carson Howell, Brady's youngest brother, even after all that has transpired, realized there is still hope for Brady and for us all.
"I know that millions of people have suffered the loss of a loved one. Eventually, we all go through that experience. … I would tell [others] … that there are people who love them and care about them and want to support them and that the gospel of Jesus Christ brings hope. You can overcome it. That is a message that I would like to share—that hope isn't lost, and life does go on."
In his Pentagon Biography, Brady was described as a man "loaded with a happy disposition, determination, and a love for anything fun…He conveyed his zest for life and kindness to all he met."
Rhonda Sue Ridge Rasmussen
Rhonda Sue Ridge Rasmussen (45) worked at the Pentagon with her husband Floyd. She worked in the Army budget office and Floyd was a management analyst. They moved 27 times during their 27-year-long marriage due to their work in the government. They originally met at a Church dance on New Year's Eve in 1973, married in the Los Angeles California Temple in late 1974, and raised four children together.  They loved reading together. Floyd's eyesight wasn't very good so Rhonda would read aloud to him every night—they'd just begun one of the Harry Potter books before the attack. Ten years before the attacks, Rhonda went to school in Upstate New York with the two younger kids while Floyd and the two eldest were stationed in Germany.
On September 11, 1991, Floyd wrote the following letter to Rhonda:
"I awoke this morning with an overwhelming sense of your presence near me, it was so strong that I felt that I could reach out and take you in my arms."
Fast forward a decade to September 10, 2001. Rhonda learned that she had been selected for a transfer to California, a move she and Floyd wanted to make. They contemplated staying home on September 11 to celebrate and start preparing, but a sense of duty led them to work. Floyd was able to quickly evacuate and assumed Rhonda had too. He only worked one floor above and one corridor over from where her office was and she had even called him with the startling news that a plane had hit the Twin Towers in New York. He spent the day wandering the area and calling her name.
That night, as he watched the replay of Flight 77 hitting the Pentagon, he realized the plane hit directly on Rhonda's office. He felt like they would never find a trace of her and today Rhonda is one of only five of the 125 victims on the ground at the Pentagon whose remains would never be identifiable.
According to one interview given, September 11, 2001, was an intense spiritual awakening for Floyd. "He felt certain that the doctrine was correct, that he would be reunited with Rhonda someday, and that she would be restored to perfection."