Enoch was still young and felt insecure when he was called to be a prophet. This lesson discusses what God can make of us when we give our best, though imperfect, offerings to Him.
Scripture
And when Enoch had heard these words, he bowed himself to the earth, before the Lord, and spake before the Lord, saying: Why is it that I have found favor in thy sight, and am but a lad, and all the people hate me; for I am slow of speech; wherefore am I thy servant? And the Lord said unto Enoch: Go forth and do as I have commanded thee, and no man shall pierce thee. Open thy mouth, and it shall be filled, and I will give thee utterance, for all flesh is in my hands, and I will do as seemeth me good.
Hymn
More Holiness Give Me | Hymn #131
1. More holiness give me,
More strivings within,
More patience in suff'ring,
More sorrow for sin,
More faith in my Savior,
More sense of his care,
More joy in his service,
More purpose in prayer.
2. More gratitude give me,
More trust in the Lord,
More pride in his glory,
More hope in his word,
More tears for his sorrows,
More pain at his grief,
More meekness in trial,
More praise for relief.
3. More purity give me,
More strength to o'ercome,
More freedom from earth-stains,
More longing for home.
More fit for the kingdom,
More used would I be,
More blessed and holy—
More, Savior, like thee.
Lesson
FOR CHILDREN
Read: Moses 6:26-27, 31-32, available here.
Ask: How did Enoch feel about being called to be a prophet?
Explain: Enoch felt inadequate because he was thinking and focusing on his weaknesses. Each of us has weaknesses and each of us sometimes feels like we can't measure up to what we are supposed to be.
Ask: What happens if we let our fears take over and we fail to step up to the task God set for us to do?
Story: Sister Sheri Dew, former counselor in the Relief Society general presidency tells a story of when she worried she was inadequate. She knew she was a good basketball player for Ulysses, Kansas—her small farming community—but she didn't think she could measure up against the competition at the collegiate level.
"On the day of tryouts, she reported to the Richards Building, opened the gym door a crack, peeked at the players inside and the confidence drained right out the bottom of her shoes. She couldn't make herself step through the door. She thought she could work up her courage if she paced the hallway outside the gym for a while. She walked back and forth — for three hours.
"She never did enter the gym. When the tryout ended, she walked slowly to her dorm, castigating herself for not having the guts to try out.
"'It is one of my biggest regrets," she says. 'I've never gotten over it.'"
Thirty years after this experience, she met up with Elaine Michaelis, the athletic director who coached women's basketball that year.
"Michaelis told Dew, 'I remember my 1971 team really well. You know why? We played all season one player short. I tried to fill my roster, and I couldn't. That year I was looking for a tall center who could post up.'
"Sitting in her office, Dew finishes this story and says, "I felt as if I had been kicked in the stomach when she told me that. That was supposed to be my spot on the team. You mean out of 25,000 students they couldn't find one girl who could fill that spot?!
"The truth is, nobody can take your place. That was a very interesting lesson. I thought I was good, but I'll never know. My fear and shyness paralyzed me. My whole life I've felt like I didn't quite measure up."
Read: Sister Dew's fears and feelings of inadequacy kept her from fulfilling one of her life-long dreams.
Ask: How can we be brave and resilient and fulfill the work the Lord has given us? How can we overcome our fears that we aren't good enough?
Testify: The Lord knows we are imperfect, but He knows we are good enough to accomplish all He asks for us to do. If we are humble and trust in Him, we can do all He asks us to do.
FOR TEENS & ADULTS
Read: Moses 6:26-27, 31-32, found above.
Explain: God called Enoch to be a prophet to people whose eyes and ears and hearts had been hardened against the Lord. Enoch did not believe he was equal to the task because he was young, hated, and slow of speech.
Ask: Have you ever been asked to do something you didn't feel like you had the skills or ability to do? How did you feel?
Quote: Bishop Gérald Caussé taught, "The scriptures are filled with stories of young and modest people who, having great faith and being magnified by the power of God, accomplished exceptional things. Among them were Enoch, who considered himself to be "a lad" who was "slow of speech" (Moses 6:31); Joseph Smith, who described himself as "an obscure boy" and "of no consequence in the world" (JS—H 1:22); and the Virgin Mary, who marveled that she had been chosen to become the Lord's mother, saying, "My soul doth magnify the Lord, . . . for he hath regarded the low estate of his handmaiden" (Luke 1:46–48).
"These great young people had pure and humble hearts. Yet the Lord made them powerful in words and deeds to accomplish His designs. The scripture was fulfilled that said, "God hath chosen the foolish things of the world to confound the wise; and God hath chosen the weak things of the world to confound the things which are mighty" (1 Cor. 1:27).
Video: Elder Uchtdorf shares what God can do with us, even if we may not be confident in our abilities. Available here.
Ask: How can we feel and know God's approval of us?
Consider: D&C 121:45 "Let virtue garnish thy thoughts unceasingly; then shall thy confidence wax strong in the presence of God."
Explain and Testify: If we are sincere, humble, and virtuous, we can be confident in the presence of the Lord—even if we are imperfect and feel inadequate. God can do marvelous things if we will be humble and trust in Him and His plan.
FOR SINGLE STUDY
Read: Moses 6:26-27, 31-32, available here.
Video: This short video provides a practical approach to dealing with feelings of inadequacy.
Video: Watch this brief video to see how President Spencer W. Kimball felt when called to the apostleship.
Optional Talk: "Overcoming Feelings of Inadequacy" by Elder David S. Baxter. Available here.
Ponder or Journal: If God doesn't need talents or special gifts to make good of us, then what does He need? What characteristics do Joseph Smith, Enoch, President Kimball and others have despite all feeling inadequate to the tasks they were called to perform? How can I develop these same attributes to be more useful in the hands of the Lord?
Featured Products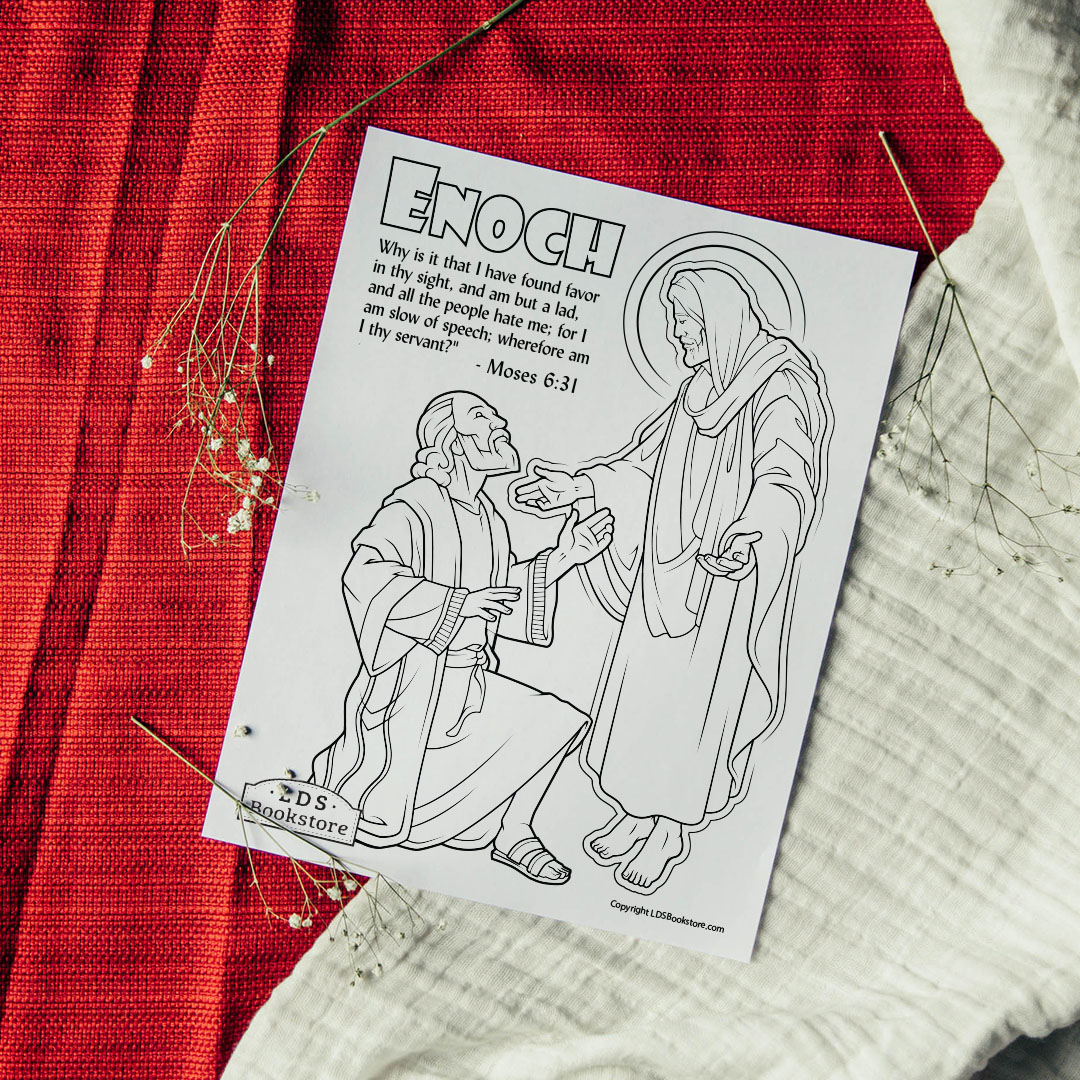 Treat
No-Bake Nutella Pie
Activity
Put together a small puzzle. Before beginning, pull out and pocket several pieces. When the puzzle is complete, observe what pieces are missing. While placing the pieces you held out, explain that the Lord is able to "fill our gaps" and make more of ourselves than we can make alone.